How to prevent blisters when hiking
Take the pain out of your trip by learning how to prevent blisters when hiking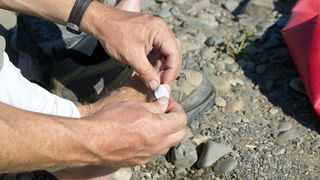 (Image credit: Getty)
The humble blister can be uncomfortable to deal with in day-to-day life, but on the trail or out and about in the hills they can ruin a trip and leave you limping for home. So how to prevent blisters when hiking is something you need to know.
I've hiked over 13,000miles in the last three years and never once had a blister. Here's a rundown of some things to consider when it comes to foot care on the trail.
Cause and effect
Hotspots and blisters are caused by friction and wearing between the skin and a piece of fabric. It is most common for hotspots to develop on the heel, on the top of toes, or the soles of your feet. There are various ways to deal with blisters once they rear their ugly heads, but prevention is better than cure every time, and what you wear on your feet will make a massive difference.
Socks and boots
When you buy hiking boots it is generally best to aim for at least half a size bigger than your usual shoe fit, perhaps even a full size larger. This is because your feet naturally swell up throughout the day, especially when you are putting in the miles on a hot trail. Having a boot that is too small to accommodate the swelling of your feet will lead to the formation of friction points aka hotspots.
One tip is to try on walking boots in the afternoon when your feet will have swollen slightly as they do every day. Make sure you take a couple of pairs of socks to wear when you try them on – thin socks are good for revealing any areas of discomfort in the shape and design of the boot while hiking socks are the kind that you'll be wearing on the trail, so the size needs to be big enough to comfortably accommodate those as well as your foot. Also, try both boots on – often people have one foot that's slightly bigger or wider than the other.
Equally, if your boots are too big your feet will move about freely and this can also lead to rubbing. Always wear your new boots around the house for a few days before taking them out onto the trail to get a proper perception of how they feel throughout the day. This will also help to break them in.
New boots come in standardized sizes and shapes that are designed to mold to your feet as you wear them and the fabrics loosen. Once you are sure you are comfortable with your boots, try taking them out for short day walks and build up from there. Jumping straight onto a long-distance trail with new boots can put you at risk of developing blisters and sores.
Wearing the correct sock is just as important. Socks that are too big will likely fall down and scrunch up, leading to friction between the skin and the fabric, thus causing hotspots. The same can be said for socks that are too small. Aim to use a merino wool-blend of fabric, as these will breathe better and dry out quicker, aiding the overall wellbeing of your foot.
Foot care
Once you are on the trail, try to establish a good routine of foot hygiene. For example, I change my socks every few days, and in-between keep my feet clean and aired as much as possible. If the weather is nice I will air my feet a couple of times a day when I stop for a brew or lunch.
I wash my feet each night without fail, whether that is in a stream, lake or loch, or by using a hosepipe at a campsite. I then let my feet air until I go to bed when I massage in soothing peppermint cream and wear a loose-fitting sock to sleep. I usually keep my socks in my sleeping bag with the aim of drying them out by the morning so that my feet can be comfortable as the new day begins.
Treatment
Lastly, if you do find yourself feeling friction on your feet as you walk, stop and
address it straight away. There are lots of brands of blister-specific plasters you can use to protect from sores, such as Compeed.
I usually use KT physio tape to protect my feet, especially my heels, as it is super sticky, waterproof, and longer-lasting than many off-the-shelf plasters. The debate is still out as to whether draining blisters is a good idea or not. It comes down to personal preference. If you do drain your blister, though, always make sure to use a sterile needle and be gentle.
All the latest inspiration, tips and guides to help you plan your next Advnture!
Abbie runs Spend More Time In The WILD, a campaign and YouTube channel that seeks to inspire and empower individuals to get outside for the benefit of mental and physical health, while building meaningful connections with the natural world and each other. Abbie's area of expertise is long-distance backpacking – in other words, she likes to hike a long way carrying heavy stuff. She loves wildflowers, dogs, playing the handpan and maintaining her existence through drinking a never-ending stream of tea.