How to start trail running: hit the muddy ground running with our 11 expert tips
When you start trail running, these expert tips will ensure you get the most out of your first acquaintance with the trails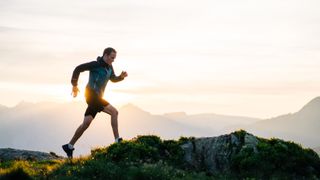 (Image credit: Getty)
When you start trail running, you open yourself up to a new way of interacting with the trails. Perhaps you're a hiker who has shed their heavy backpack and lost the boots. Maybe you're a road runner who has only just begun to discover the beauty of backcountry paths. However you've come at it, the liberating thrill of trail running is sure to ensnare you. It's no wonder trail running is one of the world's fastest growing sports.
At its core, it's a simple activity. Just a case of putting one foot in front of the other and following wherever the forest tracks, mountain ridges or coastal paths lead. But when you start trail running, there are a few things to consider that will make your first foray into this exciting pursuit more fun and, above all else, safer.
Here's our expertly crafted, 11-point guide on how to start trail running. With this knowledge and a pair of the best trail running shoes, there'll be nothing stopping you getting out there and making your mark.
How to start trail running
1. It's all about the shoes
The single biggest best thing you can do to maximize your trail running experiences is invest in quality footwear. Bear in mind that the best women's trail running shoes differ in design to men's and are tailored to the shape of the female foot.
While you can run on many trails in your typical road-running shoes or even some lightweight hiking boots, a pair of shoes specifically designed for trail running will allow you to run better and feel better out on the trails. Trail running shoes typically provide enhanced traction from a knobby rubber outsole and additional protection from a reinforced upper and a rock plate embedded in the midsole foam under your foot. Key models include the Salomon Ultra Pro, Nike Pegasus Trail 2, La Sportiva Bushido II and Raid Light Revolutiv.
Check out our guide to the best trail running shoes you can buy to understand the wide range of footwear available so you can find a shoe that matches the type of terrain you run most frequently. If you're still not sure which one to buy, learn how to choose trail running shoes.
2. Find good trails to run
Like snowflakes, every single trail is different. There are smooth dirt trails, rugged rocky routes, gravel pathways and just about everything in between. Some are flat, some are steep, some dip and rise like a rollercoaster. Some are clear and clean of gravelly debris, others are strewn with tree roots, rocks and other obstacles. You don't have to be in the mountains or the countryside to find good trails. Most metropolitan and suburban areas have great routes for trail running. Look for trails in your area by visiting apps and online sites of TrailRunProject (opens in new tab), AllTrails (opens in new tab), Gaia GPS (opens in new tab) and komoot (opens in new tab), or check in with local running clubs for more route details and group runs.
3. Lose your expectations
Trail running is different from any other kind of running you've ever done. At times it will feel easy or exciting, but at other times, because of the changing characteristics of the trial, it can be a physical, mental and emotional challenge. The best approach is to let go of any preconceived expectations and enjoy the feeling of moving over the terrain. Don't compare your trail running experiences to your road running exploits – as we explain in our road running vs trail running comparison, there are pros and cons to both.
Don't worry about keeping a consistent pace. Don't stress about falling behind other runners. Don't worry about the precise distances you're running. Don't be afraid to walk on steep or challenging sections. When you're out on the trails, just go with the flow and enjoy it in the moment.
4. Ignore your pace
If you've been mostly running roads, you're probably aware of your various paces for slow, medium and fast runs and workouts. But because of the varying condition and characteristics of trails, it's nearly impossible to keep a consistent pace so monitoring it on your watch can be an act of futility. Whereas the roads you run are mostly flat and smooth, the trails are often undulating with constantly changing surface qualities that can make it difficult to run at the same pace consistently. For example, if you typically run 8-minute mile pace on the roads (or 5 minutes per km), you'll find yourself running both faster and slower than that out on the trails at any given time. If you like to track your running data, the best advice is to do it after your run is complete when you can review your pace, distance and vertical gain on your watch or via apps like Strava (opens in new tab), MovesCount (opens in new tab), Endomondo (opens in new tab), Runkeeper (opens in new tab) or MapMyRun (opens in new tab).
5. Run happy, run easy
There is a certain beauty to the simplicity of trail running that allows you the opportunity to turn off the stress and commotion of the rest of your life. Before you start a trail run, focus on being mentally present in the moment so you can turn down that collateral stress and noise. Just hit the trail and run, adjusting your pace, cadence and form according to the terrain. Immerse yourself in the simple joys of being in the outdoors, take in the sights and the sounds of the natural world, and don't worry about what's happening back in the 'real world' that you temporarily left behind. (And definitely avoid 'checking in' with your phone until your run is complete.)
If you can disconnect from the world, you'll be able to run with a tangible sense of freedom and still get a great workout that builds fitness and muscular strength. Some prefer the serenity of nature, while others switch off with their favorite tunes. Getting a pair of the best running headphones allows you to enjoy music while on the trails.
6. Run smartly, run safely
There are vastly different inherent dangers in road running and trail running. On the roads, the biggest concern being awareness of traffic and pedestrians, and being visible so others can see you. On the trails, you need to be aware of many more variables, including the constant changes in terrain, variability of weather, encounters with wildlife, the precise route you're running, your energy level relative to fitness and much more.
Doing as much basic research as you can prior to running an unknown trail and being aware of all of those variables will go help keep you out of harm's way. Carry your phone as a safety device, both for the possibility of looking at downloaded maps as .gpx files or by calling for help if you need it. Get yourself one of the best running jackets so that you can stay warm and dry should the weather change for the worse.
7. Run slower, run longer
There are no set parameters for any given trail run except for the length and terrain-related challenges of the route you're on, but it's important to be aware the details of the route you're running and the limits of your fitness. Because most trail running is done at a slower pace than road running efforts, you'll find you'll be able to run for a much longer duration. If your long runs are normally 90 minutes on the roads, there's a good chance you'll find yourself running much longer than that on the trails.
Just be sure you have the right gear and can stay properly hydrated while you're out there. This is why trail runners often wear hydration packs, carrying their essential items of clothing, as well as easy-to-access water and spare food.
8. Mind the weather
No matter where you are running, be aware that weather conditions can change frequently out on the trails. If you're running in the hills and dales, mountains or fells, plains or desert, temperatures can change drastically from the morning to mid-day and from afternoon to evening. Bone-chilling cold, scorching heat, heavy wind, rain, fog, mist and even snow can emerge out of what initially appeared to be a clear, blue-sky day. Knowing the precise route and length of your trail, having an understanding how long you'll be running and taking the proper gear, apparel and accessories are all crucially important to a good experience. A warm, moisture wicking base layer is the foundation of a trail runner's layering system, while a waterproof outer shell is also recommended.
9. Get the gear
On one level, trail running is as simple as wearing a t-shirt and a pair of shorts and lacing up your shoes and going for a run. But depending on where you're running, the type of trail, how long you'll run and the range of weather you might experience, trail running can require some extra gear – as this guide to what to take trail running explains.
At the very least, it's important to take an extra layer of clothing such as a long-sleeve shirt or a lightweight shell jacket that's windproof, water-resistant or waterproof. Lightweight running gloves, a hat and tights might also come in handy, too. How can you carry those extra pieces? In a lightweight trail running pack that can also carry hydration (water or sports drink) and fuel (energy snacks or gels). Generally speaking, the longer you run and the more remote trails you choose, the more you'll want and need extra gear to help make the journey comfortable and safe.
10. Be aware of wildlife
One of the most exciting aspects of trail running is the possibility of encountering wildlife in their natural habitats. Depending on where you live and the trails you're running on, that might mean squirrels, deer, fox, marmot or a variety of birds, snakes and insects. But it also could mean bigger animals such as bears, elk, moose, lynx, ibex or mountain lions. In general, avoid interacting with wild animals and never try to feed or pet them. But it's also important to understand what to do if those animals become aggressive toward you – as these guides to handling encounters with mountain lions, bears, moose, bobcats, wolves and coyotes explain.
11. Run a race
Trail running doesn't have to be about moving fast, running a trail race can be a lot of fun and bring a different perspective to daily running. Racing is one the cornerstone activities of pushing your own limits as a runner, but running a race on trails is nothing at all like running a local 5K race in your community or a big-city marathon, even if the race distances are similar. Trail running races typically have a small number of participants, often fewer than 500 runners (and many times as few as 100 or less), which makes the ambience of trail races much more peaceful and solitary.
But the inherent challenges can be much greater because of the terrain and specifics of the race course. Steep climbs, sharp descents, slippery, muddy trails, rocky, unstable footing, creek crossings, high winds, scorching heat and long sections between aid stations are all things you'll encounter during a trail running race. However, you'll find the community vibe at trail running races is very uplifting, encouraging and engaging, no matter how fast or slow you complete the course.
Brian is an award-winning journalist, photographer and podcaster who has written for Runner's World, The Times, Outside, Men's Journal, Trail Runner, Triathlete and Red Bulletin. He's also the author of several books, including Kicksology: The Hype, Science, Culture and Cool of Running Shoes. He lives in Boulder, Colorado, and loves to run, bike, hike, camp, ski and climb mountains. He has wear-tested more than 1,500 pairs of running shoes, completed four Ironman triathlons, as well as numerous marathons and ultra-distance running races.
All the latest inspiration, tips and guides to help you plan your next Advnture!
Thank you for signing up to Advnture. You will receive a verification email shortly.
There was a problem. Please refresh the page and try again.