10 best National Parks for bird watching in the US
From owls to flamingos and from raptors to warblers, these National Parks stun with their birding opportunities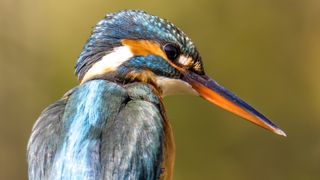 (Image credit: Yaorusheng)
National Parks don't just protect stunning landscapes like the Grand Canyon and the Everglades from development; they are a safe haven for hundreds of species of birds, making many of them an absolute paradise for bird watching as well as hiking.
Some birds live in National Parks year-round, such as the ladder-backed woodpecker which is a full-time resident of Carlsbad Caverns, while others pass through on their journey north or south like the hawks and owls that take out a short-term lease in Acadia. One thing is common across many parks, however, and that's that birds can be found in practically every nook and cranny of the landscape, from the river basins and rainforests to the alpine meadows and shorelines.
We've compiled our list of the 10 best National Parks for bird watching in the US, so make sure you have a pair of the best binoculars as well as your hiking boots when you visit these parks.
1. Big Bend, Texas
Many of us visit the wilderness seeking solitude and you'll find that in large doses in Big Bend National Park, where the remote location (it's located in southwest Texas close to the border with Chihuahua) and diverse landscape (Big Bend is home to the entire Chisos mountain range and much of the Chihuahuan Desert) make it a hotspot for birding. Some 450 species of birds can be found in the area throughout the year, with only about 56 making the park their year-round home while some such as the painted bunting merely stop off here in the spring. Rio Grande Village offers some of the best year-round birding in the park, where you can view green kingfishers, golden-fronted woodpeckers and northern cardinals while you'll need to head for Laguna Meadow in the Chisos Mountains to see a colima warbler in the spring or summer months.
2. Acadia, Maine
Acadia National Park protects areas of coastal Maine, including 19 of its outlying islands and the highest rocky headlines of the Atlantic Coastline and is considered one of the best bird watching spots in the country. From owls to shorebirds and from raptors to warblers, over 350 species of birds call this park home or stop off here to breed and nest. In the springtime, take a stroll through the woods to see warblers. During the summer months, head out on the Ship Harbor Trail to see shorebirds like guillemots, sandpipers and eiders or to Jordan Pond and Eagle Lake where you can see loons, eagles, and mergansers. There's also a program called Peregrine Watch in the parking lot for the Precipice Trail in the warmer months where you can watch them through a telescope. Come the fall, head to Cadillac North Ridge Trail to view migrating hawks and if you visit in winter, you might catch a snowy owl while you're snowshoeing or cross-country skiing on the Cadillac Summit Road.
3. Everglades, Florida
Everglades National Park is the largest subtropical wilderness in the US and is made up of grassy marshlands and mangroves that move slowly and are home to hundreds of subtropical species. Grab your binoculars, because in Everglades National Park you can stroll, kayak or take a boat cruise through the tropical wetlands and glimpse some 360 different species of birds. In addition to wetland wading birds such as flamingos, ibis and wood storks, you'll find water birds like pelicans, land birds like mangrove cuckoos and even birds of prey including golden eagles and osprey.
4. Grand Canyon, Arizona
The Grand Canyon is 277 miles long and up to 18 miles wide, making it one of the biggest canyons in the world and providing a lot of real estate for nearly 450 species of birds. Birds of prey are some of the most exciting birds on show here at Grand Canyon National Park and include the northern pygmy owl and California condor as well as hawks, eagles, falcons, ospreys, owls, and vultures. Down on the Colorado River, discover great blue herons, belted kingfishers and American dippers waiting for the opportunity to pluck a fish from the currents.
5. Carlsbad Caverns, New Mexico
Though the main appeal of Carlsbad Caverns are its 119 caves, you can explore this park above ground too, with hiking trails that take you across the ancient sea ledges and deep rocky canyons of the Chihuahuan Desert where you might encounter over 350 different species of birds. The birds in Carlsbad Caverns include the ladder-backed woodpecker, a year-round resident of the park, bell's vireos, which nest in the spring at Rattlesnake Springs and Gray vireos which nest in the trees of the dry canyons.
6. Death Valley, California
Death Valley holds the distinction of being the hottest, driest and lowest National Park in the US, and while that may sound foreboding, its geography also means it stuns its visitors with looming sand dunes and peaks, endless salt flats and basins and – despite the name – surprising diversity of wildlife. During spring and fall migration periods, hundreds of species of birds flood through the valleys here and during these times, you may be able to see meadowlarks, rufous hummingbirds, coots and loggerhead shrikes while roadrunners are year-round residents of the park. Park officials recommend Furnace Creek Ranch, Scotty's Creek Castle, Wildrose, High Panamints and Saratoga Spring for the best birding.
7. Olympic, Washington
Olympic National Park boasts three distinct ecosystems and is an International Biosphere Reserve where scientists can study ecosystems that have barely been touched by humans. It has four regions each with a distinct flavor. To the west are temperate old-growth rainforests where you'll discover warblers and winter wrens and to the drier eastern side are pine forests which house northern pygmy owls. The Pacific coastline region protects 70 miles of rocky shoreline where peregrine falcons and eagles swoop down on their prey and the alpine area has high meadows that are home to sooty grouse.
8. Haleakala, Hawai'i
Haleakalā National Park is well known for its large, low-profile shield volcano, but its lush rainforests house many species of rare and endangered birds that you can't see anywhere else in the world. Honeycreepers are a unique group of forest songbirds found only in Hawai'i. The islands here once had more than 50 species of honeycreepers, but today, only 17 species remain. The endangered Hawaiian goose can be found in the volcanic lava flows while the Hawaiian petrel hunts for squid over the water and nests atop the volcano.
9. Pinnacles, California
The landscape on show at Pinnacles National Park started forming 23 million years ago, when multiple volcanoes erupted on the San Andreas fault 200 miles away and flowed to eventually form spectacular rock spires. Visitors here can explore high rock walls, talus caves and excellent bird watching including peregrine falcons and California Condors which are released here, as well as raptors and woodpeckers.
10. Indiana Dunes, Indiana
Indiana Dunes National Park boasts sand dunes, woodlands, prairies and wetlands and its position at the southern tip of Lake Michigan makes it a lively birding area during migration. Over 350 species of birds have been recorded here including hawks, kestrels, egrets, cranes and warblers. Watch birds along the shoreline, in the dunes or the wetlands of the Great Marsh.
All the latest inspiration, tips and guides to help you plan your next Advnture!
Julia Clarke is a staff writer for Advnture.com and the author of the book Restorative Yoga for Beginners. She loves to explore mountains on foot, bike, skis and belay and then recover on the the yoga mat. Julia graduated with a degree in journalism in 2004 and spent eight years working as a radio presenter in Kansas City, Vermont, Boston and New York City before discovering the joys of the Rocky Mountains. She then detoured west to Colorado and enjoyed 11 years teaching yoga in Vail before returning to her hometown of Glasgow, Scotland in 2020 to focus on family and writing.