Can I hike a 14er in the fall?
It's easy to realize you haven't done as much hiking this summer as you'd hoped – but can squeeze in one more peak before ski season arrives?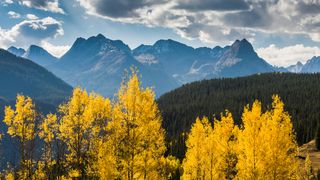 (Image credit: Robert Cable)
Hiking may be a perennial activity, thanks to technology like snowshoes and crampons, but when you're talking about hiking 14ers, the window of opportunity is substantially smaller for most of us. It's easy to get to autumn and realize that you haven't done nearly as much hiking this summer as you'd hoped and wonder if you can squeeze in one more peak before ski season arrives. But can you hike a 14er in the fall?
When I was living in the Rockies, I managed to summit 27 of Colorado's 53 peaks over 14,000 feet, including all of the easiest ones and only one of the most difficult ones. I had 11 years out there, so you might be thinking that at a rate of just 4.8 peaks per summer, I could easily have checked them all off my list and while many other climbers have, I found that my ambitions were restricted by several factors, not least of which was weather.
If you live in Colorado, you'll know that, while most of the rest of the country is wearing shorts and grilling by the lake starting in May, the Rockies can have snow and cold weather all the way through June, meaning most 14ers aren't easily accessible until July. My friends and I would always try to enjoy a smattering of 14ers in July and August, but often by the time mid-September rolled around, the white stuff would be back and the season would end. For us, anyway.
Now I'll admit that, as a hiker, I tend to err on the side of living to see another hike, as it were, but I also have good reason to be prudent. I've been caught in an early snowstorm on the summit of Grays Peak, which turned out fine but was a hairy moment. Worse, my community of Vail was crushed in 2014 when two of our own became stranded on North Maroon Peak in October and one died. Of course, hikers die on 14ers in the summertime too, but you definitely increase the risk factor if you wait for the cooler weather to return. If this is all news to you, please read on to find out why hiking 14ers in the fall is more dangerous, and what it actually means for you in terms of gear and expertise.
Can I hike a 14er in the fall?
Theoretically speaking, you can hike a 14er in any season, assuming that you have the gear and expertise, but if you're talking about just donning a pair of regular hiking boots and walking uphill without using mountaineering equipment, it all depends a bit on the 14er in question, what kind of fall you're having and your experience.
First, all 14ers are not created equal. You've got peaks like Mount Sherman where you start pretty high and it's a relatively short distance on a clear trail to the top, then you've got your technical 14ers like Capitol Peak which requires a death defying ridge scramble that claims lives even in the best of conditions. If you were to tackle a 14er in the fall, it would usually be wise to choose one with a clear path (even if it's boot prints in the snow) to the top rather than one that require an ice axe and ropes.
While mountains themselves remain largely the same from year to year, it's the weather that changes the conditions and each season does admittedly vary a bit. If it's been a long, hot summer and the weather shows no signs of abating, it's definitely possible that you can safely hike a lot of 14ers in the early fall, while other years the peaks might already be blanketed in snow by September.
Rather than looking at your calendar, you need to read a mountain weather forecast using a reliable weather app and also read recent trip reports to find out what conditions are like. Remember that with the nights growing shorter, it will always be colder at high altitudes even when you're having a warm fall, and any precipitation can turn deadly.
Then there's the question of you and your experience. As I said, there are people who climb 14ers in the dead of winter and even ski down them, so it's not to say that you can't hike a 14er in the fall, but it's important to know that it may not be like a summer hike. Once the weather turns, you'd need to own and know how to use mountaineering gear, possess avalanche safety training and have strong navigation skills since those trails disappear when it snows.
Now don't get me wrong, there are definite pros to hiking a 14er in the early fall if the conditions are forgiving. You'll probably catch the amazing fall foliage that turns Colorado into a world of quaking golden Aspen leaves and it can be a wonderful experience from that bird's eye view at the top of the world, plus the crisp weather can make for lovely hiking if you're wrapped up in a fleece jacket. Just bring a thermos full of hot coffee and don't forget your gloves.
How late can you hike 14ers?
If you're looking for a general ballpark date for regular hiking, 14er season usually ends for non-mountaineers by the end of September. After this time, you should assume that any 14er attempt means mountaineering and as I've already mentioned, I lost an acquaintance on a 14er in early October.
If you're going up in September, remember that the thing that all 14ers have in common is that they're all tall, so no matter what the forecast is like down in the valley, you'll want to be prepared for fall hiking – carry extra insulating layers including a down jacket and a waterproof jacket to keep the wind off, bring Yaktrax or Microspikes in case you encounter snow and know how to use a compass and map of the area since the usual markers may be hidden from sight if there's early snow.
What time of year is best for 14ers?
Summer is indisputably the best time for hiking 14ers. In July and August, you can count on the trails being both dry and visible, and even though they will be busier, you'll stand a much better chance at being able to navigate and hike without specialized equipment.
Remember, of course, that summer brings its own dangers in the form of afternoon thunderstorms, so it's important to start and summit early, then get back below treeline by noon. If you're not keen on the crowds, try hiking during the week if you can or grab your headlamp and leave in the dark to arrive on the summit for sunrise, which is a beautiful experience as long as you're confident hiking in the dark.
Ultimately, remember that if you missed out on hiking 14ers this year, they'll still be there next summer and it will be worth the wait.
All the latest inspiration, tips and guides to help you plan your next Advnture!
Julia Clarke is a staff writer for Advnture.com and the author of the book Restorative Yoga for Beginners. She loves to explore mountains on foot, bike, skis and belay and then recover on the the yoga mat. Julia graduated with a degree in journalism in 2004 and spent eight years working as a radio presenter in Kansas City, Vermont, Boston and New York City before discovering the joys of the Rocky Mountains. She then detoured west to Colorado and enjoyed 11 years teaching yoga in Vail before returning to her hometown of Glasgow, Scotland in 2020 to focus on family and writing.