Can I hike with my dog off leash?
When is it ok to hike with your dog off leash, and what do you need to know before you go?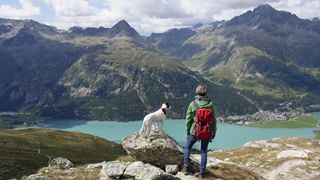 (Image credit: Getty)
If you own a pair of hiking boots and you have a dog, chances are high that you want to bring your canine companion along when you hit the trails. There's a lot to be said for hiking with your dog, not least because it's great exercise for you both, but if you want to let your dog off leash, there are some important factors you need to consider first.
Over the years, I've had many experiences where I've rounded a bend and come face-to-face with a wolf-sized dog that jumped up and put its front paws on my shoulders, an experience I find pretty unnerving. Friends of mine have been knocked down by frisky dogs on the trail and a few have been hurt quite badly. Then there was that one time when my friend's dog got a face full of porcupine quills when we were hiking up to Missouri Lakes in Colorado. Not fun.
Then again, I've had lots of great hikes with dogs off leash where everyone had a great time and no one got hurt. So can you hike with your dog off leash? And when should you keep it on leash? Read on to discover when it's ok to hike with your dog off leash, and what you need to know before you do so.
Can I hike with my dog off leash?
If you're asking whether or not you're allowed to hike with your dog off leash, the answer is that it all depends on where you are. If, for example, you're hiking in a US National Park that allows dogs, the answer is no – they have to be kept on leash at all times.
In US National Forests, State Parks and on BLM land, leash laws can often be more permissive, but the laws do vary from state to state so it's best to check in with the rangers wherever you intend to go and make sure you stay on the right side of the rules.
If you're asking whether it's a good idea to hike with your dog off leash, well that's another story altogether. If it's allowed, your dog is well-behaved and the area isn't rife with wildlife like rattlesnakes and coyotes, it might be okay, but there are still some good reasons why you might want to reconsider the idea.
Why should you leash your dog on a hike?
Leashing your dog on a hike can seem extremely unfair, preventing it from roaming free and depriving it of all those lovely smells to sniff, never mind how annoying it can be to have to pull on the leash for hours. However, even if you think your dog is perfect, there are some perfectly good reasons why hiking with your dog off leash can be a bad idea.
Even well-behaved dogs like to chase wild animals like birds, marmots and porcupines, which can risk injury to both animals. Fleeing your dog can be stressful to wildlife and affect their natural behavior, while domesticated pets can also carry diseases that affect the health of wild animals.
Your dog's pee and poop affects plant life and may also affect wildlife behavior. You should be doing your part to Leave No Trace and pick up after your dog, but when you can't even see where your dog is, you're bound to miss things.
Your dog might not seem as lovely to others as it is to you. You might love your dog's boisterous nature, but it can be intimidating to other hikers, especially on narrow trails which leave them with nowhere to go.
Hiking with your dog off leash: what you need to know
If you've checked that off leash hiking is allowed, there are still a few important details to keep in mind before you set off.
1. Training is crucial
Just because you're technically allowed to hike with your dog off leash, doesn't mean you should if your dog isn't obedient. Make sure your dog is highly trained to be under voice control and isn't in the habit of jumping up on other hikers before you hit the trail. Every few minutes, summon your dog to return to the trail with a voice command like "come" or "on the trail" to check in.
2. Bring treats
Even a well-trained dog can need a little motivation, so bring along a pocketful of treats and don't be afraid to use them if your dog goes bounding off after a deer.
3. Keep the leash out
Once you leave the trailhead, don't just throw the leash in your backpack. There are going to be times when you need to get your dog back under control in a hurry, whether that's to keep other hikers safe or prevent your dog from going after a moose. Hike with the leash in your hand at all times.
4. Pay attention
Leave the headphones at home and if you're hiking with friends, don't get so absorbed in conversation that you lose track of your dog. You need to keep one eye trained on it at all times to make sure it's not straying close to a herd of elk, facing up against a bear, pooping in a meadow of wildflowers or pestering another hiker.
5. Pick it up, no matter where it is
Speaking of poop, you might be on board with keeping the hiking trails clean but a little less fastidious when it comes to off-trail deposits (out of sight out of mind and all that). However, when you see your dog squatting in the undergrowth, you really do have to do some bushwacking and keep the place clean. If you're not up for that, keep your dog on a leash.
6. Give other hikers room
Uphill hikers usually have the right of way, but when you're hiking with a dog and you meet another hiker, it's best to leash your dog and step off the trail, allowing the other person to pass. This helps other trail users feel comfortable and prevents any unfortunate incidents from occurring, whether that means knocking someone down or annoying crotch sniffing.
All the latest inspiration, tips and guides to help you plan your next Advnture!
Julia Clarke is a staff writer for Advnture.com and the author of the book Restorative Yoga for Beginners. She loves to explore mountains on foot, bike, skis and belay and then recover on the the yoga mat. Julia graduated with a degree in journalism in 2004 and spent eight years working as a radio presenter in Kansas City, Vermont, Boston and New York City before discovering the joys of the Rocky Mountains. She then detoured west to Colorado and enjoyed 11 years teaching yoga in Vail before returning to her hometown of Glasgow, Scotland in 2020 to focus on family and writing.