Can you hike in sweatpants?
Read the pros and cons of hiking in sweatpants to learn when it's a good idea, and when it might be time for an upgrade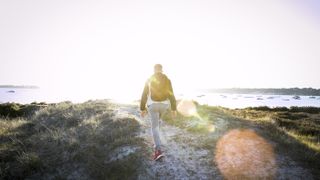 (Image credit: JAG IMAGES)
Can you hike in sweatpants? It's a common enough question amongst those of us who are just getting started with walks in the wild and may not want to shell out for a whole new wardrobe. We've previously written about wearing gym clothes for hiking and they have some definite advantages – they're built for exercise, stretchy, comfortable. Hiking clothing, and in particular hiking pants, tends to be more technical and activity-specific, but might be less comfortable and more expensive.
I don't know about you, but a lot of my teenage and twenty something hikes were done in sweatpants. I already owned them, they were comfortable and I really didn't know otherwise. I always came out of those hikes alive, so I'm not here to tell you that you can't hike in sweatpants. But is it a good idea?
Now that I do own lots of high-performing hiking pants, I can attest to their benefits, but for some hikes, a pair of sweatpants might not be the worst choice in the world. Read on for the pros and cons of hiking in sweatpants to learn when it's a good idea, and when it might be time for an upgrade.
Hiking in sweatpants: the pros
Obviously we're big proponents of dressing for the weather, and that tends to mean that we advocate for more technical gear. However, in the interests of balance, there are some arguments for hiking in sweatpants, which we've outlined below.
Comfort
Let's face it, the main reason you probably want to hike in sweatpants is that they're super comfy. When you're hiking up steep slopes, the thought of stiff hiking pants catching around your crotch and knees may be more than you can bear, but a pair of stretchy, loose sweatpants give you loads of room to move in all directions.
Loose fit for layering
The loose fit of sweatpants not only adds comfort, it allows room for layering them over thermal underwear, which helps to keep you warmer on cold days.
Versatility
Unless your hiking pants have ankle zips, they may not be really easy to roll up if you need to access your lower leg to remove a tick or apply a Band Aid, want to cross a stream without getting your pants wet or are just feeling hot. The design of sweatpants mean they're easy to roll up, making them more versatile.
Budget-friendly
Except for designer models, loved by billionaires to make them seem like they really don't care how wealthy they are, sweatpants are probably going to be cheaper than a pair of good hiking pants. Making matters even cheaper, you probably already own a pair or three, which is why you're wondering if you can go hiking in them.
Cons of hiking in sweatpants
If sweatpants were ideal for hiking, then presumably hiking pants wouldn't exist. There are some good arguments for not wearing sweatpants for hiking, which we've outlined below.
Lack of protection
If you're hiking on more rugged trails – let's say it's steep and rocky or slick and you might take a tumble, or it's overgrown with thorny bushes – most sweatpants won't offer much in the way of protection. A really thick pair of cotton sweatpants might hold back some prickly vegetation, but they have other issues which we'll get to. If you're looking at tough terrain, you want rugged pants like the Fjallraven Keb Curved Trousers, which use a tough polyester/cotton blend, offer better protection.
Zero weatherproofing
The biggest factor you want from any item of clothing intended for the hiking trails is, of course, weatherproofing, and that primarily means holding rain and wind at bay. Though most hiking pants won't be waterproof (you'll use rain pants for a downpour), they're often treated with a DWR to make them water-repellent, or made with a quick drying fabric. This is important for your safety in cool or cold conditions. Sweatpants won't have any such weather protection, and if they're made with cotton will retain moisture rather than repel it, so they're no good if it's not a bluebird day.
They can be bulky and heavy
Obviously, we can't speak for all sweatpants here as they're not all created equally, but by design, sweatpants are often bulky and they can be quite heavy too, especially when they get wet. Bulky sweatpants can be more difficult to move in, and more difficult to layer rain pants on top of, so if you're thinking you can easily get around the lack of weatherproofing with an extra layer, make sure your rain pants have plenty of room.
All of this said, you can find sweatpants that are made using quick-drying synthetic materials and a streamlined design, like the classic Adidas Tiro23 League pants, that don't have these issues.
No ventilation
In addition to keeping you dry in wet weather, whatever pants you wear for hiking need to help you cool off in summer, and sweatpants aren't usually made from the most breathable fabrics or with a particularly loose, breathable weave Combine this with the fact that they don't usually have thigh zips to help you dump heat and you could end up sweltering on a hot day.
Poor staying power
Sweatpants' loose fit makes them super comfy, but they also aren't known for staying up as well as a pair of trousers with an adjustable waistband and belt loops. They might be fine for regular walking, but if you load up the pockets with your phone and compass, or they get wet crossing a river, you might spend half your hike pulling them up.
Little storage
One final detail that makes for a great pair of hiking pants is a good amount of storage. Though lots of hikers choose to use their backpack or jacket pockets, you might like being able to carry items like your phone or a map in your pocket, and this can be more difficult in sweatpants that might have no pockets, shallow pockets, or non-zipped pockets where it's difficult to secure gear.
Can you hike in sweatpants?
Basically, if hiking for you means taking a gentle walk in the countryside, you're not going to be bushwhacking up a mountain or crossing a stream, you can probably wear a pair of sweatpants for hiking, assuming it's not going to be super hot or very rainy. That said, we do recommend you opt for a slimmer pair made from synthetic material like nylon or polyester that will dry quickly if they get wet.
If you're going up a mountain or likely to encounter any weather that isn't 65 degrees and sunny, it's a better approach to get yourself a pair of proper hiking pants that have some breathability, weather repellency, storage and protection.
Finally, if you're looking for a pair of hiking pants that shares some of the characteristics of sweatpants, consider a jogger-style pant like the Royal Robbins Women's Spotless Evolution, which are comfortable but light, breathable, quick drying and have zipped pockets.
All the latest inspiration, tips and guides to help you plan your next Advnture!
Julia Clarke is a staff writer for Advnture.com and the author of the book Restorative Yoga for Beginners. She loves to explore mountains on foot, bike, skis and belay and then recover on the the yoga mat. Julia graduated with a degree in journalism in 2004 and spent eight years working as a radio presenter in Kansas City, Vermont, Boston and New York City before discovering the joys of the Rocky Mountains. She then detoured west to Colorado and enjoyed 11 years teaching yoga in Vail before returning to her hometown of Glasgow, Scotland in 2020 to focus on family and writing.