Do you really need special socks for hiking?
Are hiking socks just a marketing ploy to get you to part with your hard-earned cash for what you already own?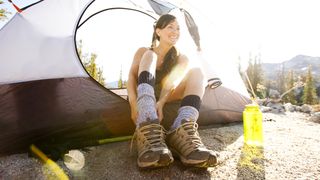 (Image credit: Getty)
I've got a drawer full of merino wool socks at home, but I'll be the first to admit that marketing claims about hiking socks can seem a bit dubious at first glance. Promises that these 'high performing' socks will speed up recovery and keep your feet fresh on what's obviously going to be a sweaty hike can feel like a marketing ploy to get you to part with $25 for something you already own a lot of, albeit in mismatched pairs. At that price, surely you'd want them to give you wings as well.
Do you really need special socks for hiking? You already own plenty of socks – surely they'll do? I must have hiked for 20 years before getting my first pair of Darn Tough Hiker socks and, though I definitely recall a lot more blisters back in my early days, it's not like I lost any toes to frostbite, even on a 75k trek across Lapland as a 17-year-old. But these days I exclusively wear merino wool blend socks meant for hiking and running, even when I'm not doing either of those activities.
Unconvinced? Read on to find out when a pair of bog standard socks will do you just fine, and why you might want to get yourself some hiking socks for your wild saunters.
Can you wear normal socks for hiking?
The price of hiking socks compared to regular socks alone most likely has you wondering if you can just wear normal socks for hiking, especially if you own a well-fitting athletic pair that you're sure won't bunch up inside your hiking boots. The short answer is, sure, you can wear normal socks for hiking. Just as people hike in sneakers and jeans and survive every day, you can hike in normal socks and you'll probably be fine.
If you're just heading out on the occasional short day hike in fair weather, you honestly may not even notice the difference. Most regular athletic socks contain cotton, however, so if your feet are going to get very wet, you'll soon discover that cotton is very slow to dry, which can mean you end up with rubbing and blisters, or very cold feet. In an emergency situation, this wouldn't do you any favors, and could theoretically increase your risk of cold-related conditions like hypothermia.
Now if you're talking about wearing a big, bulky pair of old school wool socks, they will keep your feet warmer, and help to manage moisture, but if they're not contoured, they might bunch up inside your boots. Again, for the occasional short hike, they'll probably do, but on a longer trek like a backpacking trip, you'll probably be more aware – and less happy – of not having hiking-specific socks.
Why do you need hiking socks?
If you've hiked in regular socks and been uncomfortable, or you're planning on putting in more miles on the trail this year, a good pair of hiking socks really might increase your comfort levels. The following are some good features of hiking socks that might sway you to pick up a pair or two:
1. Moisture-wicking
Regular cotton socks won't do much to pull moisture away from your skin. Hiking socks are made from moisture-wicking material, such as synthetic fabrics, merino wool or a blend of the two, to draw sweat away from your skin. This not only keeps your feet dryer and less clammy, but it reduces friction to help keep rubbing at bay.
2. Temperature control
Your regular cotton socks won't do a ton to regulate the temperature of your feet. Good hiking socks made with merino wool will help to regulate the temperature of your feet whether it's warm or cold out. That means that when it's hot and sweaty, they're breathable and allow heat to escape, but they also insulate your feet when it's cold.
It might not seem like the temperature of your feet can make a big difference to your overall experience, but I was once on a very cold sailing trip in Wales to test out some Helly Hansen gear. Despite pretty frigid air and water temperatures, and getting soaked, I remained reasonably comfortable for hours because I was wearing a base layer, thermal underwear and mid-calf socks all made with merino wool. The journalist next to me was wearing an identical outfit, except he'd chosen to wear no-show cotton socks with his sailing shoes. He might have looked more fashionable, but his lips were blue and he was miserable.
3. Padding
Athletic socks might have padding, but many hiking socks will have zone-specific cushioning in the areas where your boots tend to rub, such as around your pinkie toes and heels. This increases comfort on long walks.
4. Contoured fit
Perhaps the most annoying part of wearing regular socks on a hike is that if they're not designed to hug your foot, they can wrinkle inside your shoe and it can be really uncomfortable. Hiking socks, if they're the right size, will be contoured for a snug fit against your foot to avoid bunching inside your hiking boot.
5. Durability
Compared to your regular socks, your hiking socks should be pretty hardwearing and hold up to a lot of use without losing their shape or stretch or developing holes. You can increase the shelf life of your hiking socks by buying a couple of pairs of merino wool socks, which don't get stinky when you sweat in them (honestly!). This means you hardly ever need to wash them, and they stay in good shape for even longer.
All the latest inspiration, tips and guides to help you plan your next Advnture!
Julia Clarke is a staff writer for Advnture.com and the author of the book Restorative Yoga for Beginners. She loves to explore mountains on foot, bike, skis and belay and then recover on the the yoga mat. Julia graduated with a degree in journalism in 2004 and spent eight years working as a radio presenter in Kansas City, Vermont, Boston and New York City before discovering the joys of the Rocky Mountains. She then detoured west to Colorado and enjoyed 11 years teaching yoga in Vail before returning to her hometown of Glasgow, Scotland in 2020 to focus on family and writing.