What to look for in a campground
Here's what to look for in a campground to make sure your frontcountry camping experiences deliver the very best that outdoor life can offer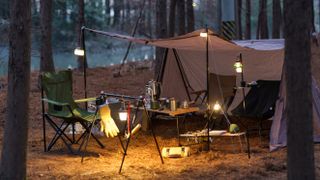 (Image credit: Ge JiaJun)
When you're backpacking and looking for a good spot to pitch your tent, there are some basic guidelines to follow, such as seeking higher ground that won't flood if it rains and avoiding camping right under a tree that could fall on you. Camping at a developed, frontcountry campground deals with a lot of those issues for you, as they should be in a safe place with tent sites already established. Beyond that, however, campgrounds can really run the gamut from idyllic lakeside retreats to bustling compounds and even random setups in a muddy farmer's field. Basically, the campground you choose can really make or break your experience, so we compiled this life of what to look for in a campground, from scenery to amenities to help you choose the perfect place to pitch your tent.
1. Scenery
Starting with the obvious, natural beauty is a huge bonus when it comes to finding a campground. You'd expect any self-respecting campground to be located in a rural setting, but there could be a difference between camping on farmland and camping next to lovely Flathead Lake in Minnesota. Think about what you want to enjoy – is it a secluded spot next to a rushing river, or a forest hideaway with big mountain views? If you're going to go to all the hassle of loading up the camping cooler and setting up your tent and camping kitchen just so you can sleep outdoors, you might as well have some gorgeous views to go with all that effort.
2. Amenities
Frontcountry camping means more amenities than backcountry camping, but exactly what you'll get depends on where you'll go. There are developed campgrounds that offer nothing more than your tent site, fire ring, picnic table and some primitive (AKA non-flushing) toilets. If that sounds like all the luxury you need, go for it, but if you'd be a bit more comfortable with running water to wash your hands and face, hot showers or even a store selling snacks and ice, make sure those facilities are provided before you book.
3. Access to hiking trails
Clearly, for us at Advnture, access to hiking trails is a huge factor when it comes to choosing a campground. It can be really nice not to have to get back in your car once you arrive and set up, so if there are trails leading directly from the campground, or close enough to walk to, we consider that a major bonus.
4. Campfire and BBQ permissions
If you're visualizing evenings spent kicking back in your favorite camping chair, warming your feet in front of the fire and laughing with friends, make sure your campground allows fires. Most campgrounds have fire pits for each site, but some have banned them altogether while others don't allow barbecues. If you're dead set on having a fire, you'll need to find a campground that allows it, but if the only restriction is on barbecues, you might be able to do quite a bit of good cooking over a double-burner stove as a compromise.
5. Solitude and privacy
Obviously, the best spot for total solitude is the backcountry, but that doesn't mean you shouldn't expect a little peace and quiet in the frontcountry. In summertime it's likely that there will be other campers nearby and it's nice if you can have a little privacy when you stumble out of your tent in the morning. If you're not keen on your camping experience feeling like a Saturday at the mall, see if you can find out what the capacity of the campground is. Lots of campgrounds that hold a lot of campers are well organized so that each party is spaced out, such as Upper Pines in Yosemite National Park, whereas if you find yourself camping in Telluride Town Park for one of their summer festivals, your tent pegs might be touching those of your neighbor. Look for a smaller campground with well-spaced tent sites that are a little removed from the road.
6. Access to water
If there's a natural water source nearby and you have a water filter or purification system, you can always source your own water in the wild, but when you're paying to camp, it's helpful if there is access to potable water. If there isn't, and you're driving in, you can carry large water jugs, but make sure you know what to expect before you go, and whether any running water is safe for drinking without being treated first.
7. Rules and restrictions
Believe it or not, you do want some rules and restrictions at a campground, otherwise you'll be cursing your drunk, yodeling neighbors at 3 a.m. but you also might not want a really restrictive camping experience where the ranger is patrolling and 9 p.m. and shushing you from the car window. Basically, know what you want from your camping experience – a bit of nighttime fun? A couple of friends coming and going? Total silence after 10 p.m.? – and check the campground rules to make sure it allows them.
8. Cost
If it's free camping you're after, head to BLM land, a National Forest (well, some of them anyway) or Scotland. If you want the privilege of being able to reserve your spot in the wild and the advantages of picnic tables, bear canisters, toilets and trash removal, you should expect to pay a nightly charge. The nightly fee for a regular campground isn't anything like paying for a hotel, though as we previously reported, prices are on the rise, but it all really depends on where you're going. If you're camping in one of the sought-after, outdoorsy states like California, you might be paying $25 - $35 per night, whereas in the midwest you could pay under $10 though a recent survey on the best states for camping found Colorado to be one of the cheaper camping states overall. Expect to pay a little more for camping in National Parks, and for a higher fee it's fair to expect more amenities. Once it starts getting up above $40 per night, you might want to look elsewhere.
All the latest inspiration, tips and guides to help you plan your next Advnture!
Julia Clarke is a staff writer for Advnture.com and the author of the book Restorative Yoga for Beginners. She loves to explore mountains on foot, bike, skis and belay and then recover on the the yoga mat. Julia graduated with a degree in journalism in 2004 and spent eight years working as a radio presenter in Kansas City, Vermont, Boston and New York City before discovering the joys of the Rocky Mountains. She then detoured west to Colorado and enjoyed 11 years teaching yoga in Vail before returning to her hometown of Glasgow, Scotland in 2020 to focus on family and writing.