"It's okay not to be okay" – the rewards and responsibility of saving lives
Mountain rescue operations are often exhausting and at times can be be downright harrowing – we speak to one rescuer about the toll it takes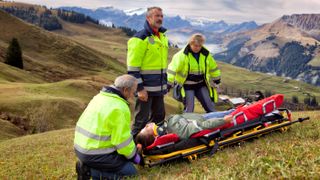 (Image credit: elkor)
When you think of mountain rescue, you probably picture superhuman folks storming up hills as though their giant backpacks are jet packs instead of dead weight, valiantly couriering a shivering hiker off an exposed ridge before returning home to a hearty meal where they laugh about another difficult-but-rewarding day in the office.
The reality of the job is more than just lots of hiking and ribbing each other in the Land Rover on the drive home. Often, mountain rescue callouts are prolonged and exhausting, and at times they can be downright harrowing.
"We've got to deal with some gnarly situations. We're sometimes dangling on the end of a rope at two o'clock in the morning in the pitch black and driving rain rescuing someone," says Alistair MacIntyre, a volunteer drone pilot for Arrochar Mountain Rescue Team in Scotland.
Through his work with AMRT, MacIntyre assists in search and rescue of mountainous terrain in the west of Scotland. In fact, the area comprises my own regular stomping grounds where I frequently make the hour-long drive from Glasgow with my hiking boots in tow to explore the area's numerous Munros. MacIntyre shares a similar love for mountain adventures in the area, and as we speak he's planning a tour of three peaks – the Cobbler, Beinn Narnain and Beinn Ìme – a spectacular circuit I've only just completed myself two weeks prior.
"The mountains, for me personally, are a place to relax. It's a place where I feel very comfortable. Being able to decompress after your normal nine-to-five job, go out, see the amazing views that not an awful lot of people have seen before, it does clear your mind, it does make you feel alive."
It was during one of his hikes here with a friend five years ago that MacIntyre saw the local mountain rescue team at work, prompting him to sign up. These days he's on-call 24 hours a day, 365 days a year.
"It does take it out of you. Yes we're trained, yes we know that we're safe, but there's still always a wee doubt there," he says, explaining that while he's laser-focused on the job at hand during a callout, it's afterwards, when he gets home, that the enormity of it can take hold.
"It's all running through your mind but it's not actually until after the callout, when you get time to reflect on it, that the mental health aspect sets in."
"Every callout I've been on has shaped who I am"
Aged 30, MacIntyre, a retail manager at a supermarket by day, has recently moved in with his girlfriend. They're planning a life together, something he realizes could be cut short, or drastically altered, if he makes a mistake or a piece of gear fails.
"The entire way up, you're looking after your own safety, but you're also thinking, I've got a casualty who's maybe two thousand feet up, I need to get to them. If it's been an hour since the call came in, they're going to be hypothermic soon."
A good callout, if there is such a thing, involves knowing where the hiker is, finding them and getting them down to safety. Bad callouts can last for days and don't always end with a cold-but-relieved hiker coming home.
This year alone, Arrochar Mountain Rescue Team has experienced 16 callouts and 15 incidents, including a challenging two-day non-stop search and rescue to assist a mental health call. These types of callout can involve lengthy searching in remote areas for subjects that don't want to be found, and it takes its toll.
And mountain rescue, after all, is made up of human beings.
For MacIntyre, however, the rewards of being involved with mountain rescue are worth it.
"Every single callout I've been on has shaped who I am. It just teaches you an awful lot of skills that I never thought I would have."
"I thought men don't get mental health issues"
Mental health, it turns out, is a crucial component of mountain rescue training, for the crew as well as the people they're helping. From day one, MacIntyre says they're trained not only to administer first aid, but to know what to do if they feel their own mental health taking a dip – something he openly admits to experiencing more than once in the course of his service.
"I'll be really honest, At first I thought men don't get mental health issues. We're big and strong and independent, just don't worry about it. But now? Men get sad too," says McIntyre, who has since learned the importance of seeking professional help and strongly recommends doing a mental health first aid course no matter what your profession is.
"The hardest bit is asking for help but at mountain rescue we are so tight and knitted together, we can sense when other people are off."
Each team member is equipped with team leaders, team doctors, helplines they can call and even police mental health resources if they're really struggling.
"There's a mindset to mountain rescue. We're all mountaineers who absolutely love the outdoors and know that on any day, when we're out hillwalking ourselves we could potentially have to phone mountain rescue because we could get into a sticky spot. Knowing that I'm in a team with 29 others who will drop what they're doing at a moment's notice to go out searching is reassuring."
"I know my kit will keep me safe"
Another resource he points to that he says increases his peace of mind during and after a callout is the protection his kit provides, all of which is emblazoned with the telling "HH" logo of Helly Hansen. Over the past two years, the brand has been working closely with the AMRT to highlight the work they perform to keep us safe in the mountains.
As the official kit partner, Helly Hansen provides a bespoke Responder Kit for mountain rescuers, and MacIntyre says it's not just a stylish perk – the initiative truly helps him focus on saving lives.
"I know it's kit designed for professionals by professionals. I know it's going to keep me warm and dry every single time I put it on, so that's one worry out of my head."
"No matter what day it is, we will always respond"
For your part, you can also help mountain rescue by going out into the backcountry well-prepared. That of course means following MacIntyre's lead and dressing appropriately, for example wearing or carrying a waterproof jacket and rain pants that will help keep you warm and dry.
It also means knowing how to choose a hiking trail and plan a hike that's suitable to the ability of everyone on the trip.
"If you're going out into the mountains, make sure you're not taking on something that's outside of your comfort zone. You need to be doing something that's equal to your skill set."
And though cyberspace might be awash with hiking and navigation apps where you can follow a red dot up a mountain, MacIntyre recommends you rely instead on something that doesn't have a battery and isn't going to die.
"Knowing how to read a map is crucial. If you read a map at the beginning of the day and keep following that map for the entire day, you'll be able to get yourself safely back home at the end of the day."
Finally, if you do take a misstep and need help to get off the mountain, know who to call.
"If you've fallen and broken an ankle, there's no point in phoning an ambulance, because the ambulance isn't going to get to the top of a mountain."
If you need help on a hill, dial emergency services (911 in the US and 999 in the UK) and ask for mountain rescue. Once you've done that, MacIntyre says, you've done your part and it's time to let the team do theirs.
"No matter what day it is, no matter what the weather is, no matter what time it is, we will always respond."
All the latest inspiration, tips and guides to help you plan your next Advnture!
Julia Clarke is a staff writer for Advnture.com and the author of the book Restorative Yoga for Beginners. She loves to explore mountains on foot, bike, skis and belay and then recover on the the yoga mat. Julia graduated with a degree in journalism in 2004 and spent eight years working as a radio presenter in Kansas City, Vermont, Boston and New York City before discovering the joys of the Rocky Mountains. She then detoured west to Colorado and enjoyed 11 years teaching yoga in Vail before returning to her hometown of Glasgow, Scotland in 2020 to focus on family and writing.