What is snow blindness – and how can you prevent it in the mountains?
How to spot snow blindness symptoms, what to do if your eyes have been affected and how to prevent it when you're recreating in snowy and ice conditions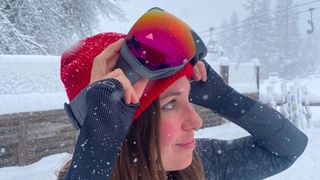 (Image credit: Sian Lewis)
With snow on the way, it's time to think about all the fun parts of winter – making sure your ski pants still fit and checking your ice axe for rust – as well as some of the more important safety aspects, like getting avalanche safety training and knowing how to use your avalanche beacon. There are other risks of winter sports, including high altitude hiking, that make the headlines less frequently than avalanches but that you'll want to be equally aware of, and one such threat is snow blindness.
A 2018 literature review on snow blindness describes the condition as a major health problem affecting travelers, and it's a frequent issue for high altitude adventurers like mountaineers, ice climbers and even those who seek out the ski slopes come winter. In this article, we explain how to spot snow blindness symptoms, what to do if your eyes have been affected and how to prevent it when you're recreating in snowy and ice conditions.
What is snow blindness?
Snow blindness is medically considered to be a type of Photokeratitis, which the American Academy of Ophthalmology (AAO) explains is essentially sunburn of the eye. This painful eye condition occurs when your eye is exposed to UV rays. The condition affects your cornea – the clear outer layer at the front of your eye – and conjunctiva, which is the clear tissue covering the whites (sclera) of your eye.
You can suffer from Photokeratitis as the result of watching a solar eclipse or recreating outdoors without proper eye protection, or even from using a tanning bed. Snow blindness, however, is a specific type of Photokeratitis that occurs when your eye is burned as a result of UV rays reflecting off snow and ice. Snow blindness may also refer to freezing and drying of the cornea's surface, due to extremely cold and dry air. Consequently, activities like ice climbing, skiing and mountaineering are activities commonly associated with snow blindness.
What are the symptoms of snow blindness?
A bit like when you come home after an afternoon hike in the summer only to realize your arms and chest are a suspicious shade of pink, snow blindness can sneak up on you without you realizing it. According to the University of Utah Health, symptoms to look out for include:
Eye pain
Burning or gritty sensation in the eye
Sensitivity to light,
Blurry vision
Seeing halos around light sources
Swelling of the eyes
Headache
These symptoms may not develop until several hours after exposure, and the longer the exposure, the worse your symptoms are likely to be.
How to treat snow blindness
If you've come back from a long day in the snow and you start experiencing some of the above symptoms, according to the AAO, snow blindness usually goes away on its own, and treatment is focused on reducing the uncomfortable symptoms as your eyes heal. If you suspect snow blindness, you should consult a medical provider, and they will most likely recommend some of the following procedures:
Remove contact lenses
Stay out of the sun and in a dark environment
Place a cold washcloth over your eyes
Use lubricating eye drops
Avoid rubbing your eyes
A medical provider may also recommend pain relievers or antibiotics for your eyes.
How to avoid snow blindness
It's pretty obvious that you want to avoid getting sunburn on your eyes, and as you might expect, the best treatment for snow blindness is to prevent it in the first place. This doesn't mean you can't head out for those snowy adventures on bluebird days by any means, but you should never head out without proper eye protection.
For wintery exploits, make sure you always wear polarized sunglasses like the Oakley Cliffdens which have a chemical coating that helps protect your eyes against glare by blocking out horizontal rays of light while letting vertical rays in. You can improve the protection by choosing wraparound styles like the SunGod Velans and wearing a peaked hat or helmet.
If you're going to be moving fast downhill on skis or your snowboard, you're definitely going to need to wear ski goggles, and not sunglasses, which completely seal out the cold wind as well as blocking UV rays and further reduce your risk.
Finally, remember that sunburn of any part of your body can occur even when it's cloudy, and is more likely to occur at high altitude where there's less UV-blocking atmosphere for those rays to burn through, so don't be fooled into leaving the shades in your backpack. For low light or variable conditions, make sure you have a lighter lens you can use – a decent pair of ski goggles will allow you to switch out your lenses to suit the conditions.
All the latest inspiration, tips and guides to help you plan your next Advnture!
Julia Clarke is a staff writer for Advnture.com and the author of the book Restorative Yoga for Beginners. She loves to explore mountains on foot, bike, skis and belay and then recover on the the yoga mat. Julia graduated with a degree in journalism in 2004 and spent eight years working as a radio presenter in Kansas City, Vermont, Boston and New York City before discovering the joys of the Rocky Mountains. She then detoured west to Colorado and enjoyed 11 years teaching yoga in Vail before returning to her hometown of Glasgow, Scotland in 2020 to focus on family and writing.