What is ultra bikepacking, and how do you get into it?
Our guide – with expert tips – for riders who want to become ultra-distance bikepackers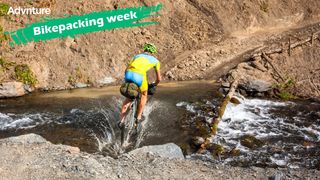 (Image credit: Getty)
With any activity, there are always people who want to go further or faster. Like ultra running, where people run further than a marathon distance, so ultra bikepacking is the endurance challenge of riding further than most people would even dream of, with only the gear they can carry on their bike.
Ultra bikepacking is also known as ultra-distance bikepacking or ultra-endurance bikepacking, and while there doesn't appear to be a set minimum distance, it's usually assumed you'll be bikepacking non-stop for days or even weeks.
The definition usually calls for bikepackers to be self-sufficient or self-supported, so there'll be no getting a friend to meet you with a change of clothes.
In the beginning, there were bikepacking races
While bikepacking can be a casual way to explore and enjoy a vacation at your own pace, there are also bikepacking races that give it a competitive edge.
In a modern bikepacking race, riders are self-supported and no drafting is allowed. The clock doesn't stop between the start and when the finish line is reached. Bikepackers need to carry all their own gear, and no outside help is allowed. However, it's within the rules of many races that riders can use commercial services along the way, such as cafes, shops, hotels and bike shops.
Ultra bikepacking: bikepacking, only longer
An ultra bikepacking race follows the same format as any bikepacking event, only the distances are longer. Sometimes much, much longer. The ultimate ultra bikepacking challenge would be to ride around the world, as with Jenny Graham's world record.
Defining an ultra distance event isn't easy. RideFar, a website that offers advice and ideas about ultra distance bikepacking, suggests that a race needs to be more than 1,000km. The website lists 2023 ultra distance bikepacking races that meet the criteria.
However, Markus Stitz, founder of Bikepacking Scotland and author of the new Bikepacking Scotland book, suggests that shorter races can also be classed as ultras. He points to the 600km Dales Divide as one example. "Riding 600km at race speed is an ultra in my eyes," he says.
His website has a list of races that offer a real challenge without necessarily exceeding 1,000km, as do Apidura and bikepacking.net.
A pick of six ultra bikepacking races
There are hundreds of bikepacking races worldwide – and many ultra distacne bikepacking events. Here are six we've picked:
Is ultra bikepacking the same as audax?
Audax as a concept came first – and it is easy to see how audax – and randonneuring – has inspired many elements of modern ultra races, including ultra bikepacking. Audax events have existed since the late 1800s and they are still fairly popular today.
The most famous audax ride is Paris-Brest-Paris, which stopped being a professional race after 1951 and became simply an audax ride.
Audax events are overseen by official organizations. The main one is the Audax Club Parisien (ACP) and there are individual bodies in different countries, such as Audax UK.
There's also a Super Randonneur series that provides a structured route to cycling long distances over multiple days. The series comprises a 200km ride, followed by 300km, 400km and finally 600km.
In comparison, the history of bikepacking races is much shorter. Some of the first races were off-road events in America in the early 2000s, such as the IditaBike race on the Alaskan snow and the Great Divide Race across the Rocky Mountains.
Road-based bikepacking races are claimed to have started with the World Cycle Race in 2012. The came the first Transcontinental Race in Europe in 2013.
In recent years, the bikepacking scene has been fast growing and where there is a sport, there will always be races. Bikepacking events and challenges have been on the increase and, over time, some of these races and events have become longer and more challenging.
Markus Stitz explains the difference between audax and bikepacking.
"There are certain aspects of audax rides that can be found in long- distance bikepacking races," he says. "For example, riders are expected to be self-sufficient in both sports. In bikepacking races, you're more likely to hear the term self-supported, which is the same as self-sufficiency.
"Riding with others is normally allowed, in bikepacking events, but drafting isn't. Using local services available to every rider is also acceptable in most bikepacking races.
"There is only one exception I can think of and that is the GBDURO, which went one step further this year and requested that people must not use any form of serviced accommodation, so camping and bivying along the way between checkpoints was the only option.
"Often bikepacking races also don't allow booking accommodation in advance and any private lodging is out of bounds.
"In my eyes, an audax is ridden in one go, whereas bikepacking races can be much longer and require riders to sleep at some stage. We have seen extremes in races with people cycling for more than 48 hrs without sleep, but this isn't the norm.
"Both audax and bikepacking races have in common that the clock never stops ticking. While audaxes often require a minimum and maximum speed, I haven't seen any of such restrictions in bikepacking races.
"The other big differentiator is that an audax is not a race and individual riders' times are not published. If you finish within the time limit, you've succeeded.
"Bikepacking races often have a limit within which riders need to be finished, but they are races, so individual times are published and it's fair to say that most bikepacking events are now highly competitive."
Markus, who has only taken part in bikepacking races, such as like the Highland Trail 550 and the Silk Road Mountain Race, has long felt there needed to be a middle gourd between audax and ultra bikepacking races.
Recently, long with friend Charlie Hobbs, he has launched a new UK-baed series, the Dirt Dashes. They are one or two days long and self-sufficient events.
"In the Dort Dashes, no average speed, and no minimum or maximum speed, is required," Markus adds. "Times don't matter at all."
Different types of ultra bikepackers
Ultra bikepackers - much like ultra runners – can be defined as different types. First, there are the racers who are focused on the fastest time and with little or no sleep. They carry as little kit as they can – although with safety still in mind – and will likely be dressed in Lycra and use clip-in pedals. The goal for this type of ultra bikepacker is to try to win an ultra race.
Then there are what's known as 'speed tourers'. These ultra bikepackers will have a few more luxuries on board. They might have a change of Lycra shorts, a warmer sleeping bag, and a lightweight tent rather than a bivy sack. While they will still be keen to complete a route in the fastest time they will also make sure they get some sleep each night.
The third type is more laid back. Their goal is to finish the route but they want to enjoy themselves and so they will carry extra kit, take their time with the cycling so they enjoy the views and experience. These ultra bikepackers will definitely be setting up camp each night and fully immersing themselves in the expertise of self-supported bikepacking rather than being in an event to win it.
As one race organiser, Matteo Minelli, of the GranGuanche Audax Trail , writes on his website: "It's not a race, it's a collective adventure and a challenge to finish the route."
What kit do I need for ultra bikepacking?
Read our general guide to bikepacking and then think about whether you might want different sized bags or more or less kit. It's difficult to dictate all the kit because it depends on where you are doing the race, what time of year and the distance.
It's the same when choosing a bike. The bike will need to be suitable for the majority of the terrain, other you go for a mountain bike or a gravel bike.
You will need to carry some safety and emergency items, for example: Maps, first aid kit for bumps and scrapes, bike repair, spares and maintenance items, headlamp, insect repellent, phone, and emergency blanket or shelter.
Bikepacking races require you to be self-sufficient so you'll need camping kit such as a bivvy bag, tent or camping tarp, sleeping bag, sleeping pad, camping stove, and a basic bowl/cup/spork
Other items to include are food, snacks and water; a GPS watch or bike computer; multitool; bike lights; power bank or solar charger; and clothes for bikepacking including padded shorts and waterproof jacket and rain pants.
How to train for ultra bikepacking
The aim of your training will be to build up to being able to comfortably ride, with all your bikepacking kit, for long days and through the nights. As well as spending time on your bike, you should include some strength and flexibility sessions.
Navigation is often key to bikepacking events and races so you should practice map reading while out on training rides.
This article is part of Advnture's Bikepacking Week 2023 (running from Monday 22 to Sunday 28 May), our ultimate guide to adventuring on two wheels including essential advice, gear, and features to help you plan the perfect expedition.
All the latest inspiration, tips and guides to help you plan your next Advnture!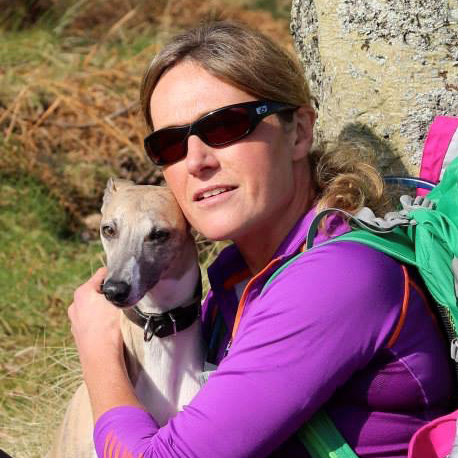 Fiona Russell is a widely published adventure journalist and blogger, better known as Fiona Outdoors. She is based in Scotland and is an all-round outdoors enthusiast with favorite activities including trail running, mountain walking, mountain biking, road cycling, triathlon and skiing (both downhill and backcountry). Aside from her own adventures, Fiona's biggest aim is to inspire others to enjoy getting outside and exploring, especially through her writing. She is also rarely seen without a running skort! Find out more at Fiona Outdoors.