How to keep your phone charged on a hike: 8 tips to boost battery life
Phones have an annoying propensity to die when you need them the most - here's how to avoid turning yours into the world's most expensive rectangle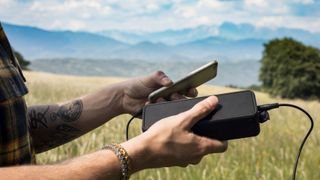 (Image credit: kmatija)
We all go out in our hiking boots to unplug and get away from modern technology, but let's be honest, you're not likely to go hiking without your phone these days. Whether having your phone makes you feel safer on a solo hike or you want to make a fun hiking reel for Instagram, you probably bring your phone on every hike these days and there's nothing worse than the sinking feeling of seeing your battery start to run low when you're on the trail.
It might not be a replacement for satellite communicator, like the Garmin InReach, which relies on GPS rather than cell service and may not need to be charged more than once a month, but carrying a phone on a hike or trail run probably is a good idea for safety. After all, one badly injured hiker was recently saved by a phone call from his irate boss. That said, the most annoying thing about phones is their propensity to die when you need them the most, turning them into the world's most expensive rectangle.
There's not much point in carrying a dead phone on your next hike, and with these tips for keeping your phone charged on a hike, now you don't have to.
1. Charge it fully
The worst thing you can do is set off with your phone battery at 50 percent. You take a few photos, get lost and check your navigation app more than you thought you'd need to and before you know it you're at three percent with two hours to go on your hike. Fully charge your phone before you leave the house – or charge it in the car on your way to the trailhead – and start your journey at 100 percent.
2. Put it on flight mode
Lots of people recommend that you close out your apps, dim your screen or even turn on low power mode, but the best mode of all for saving battery is flight mode. No, you won't get any texts, but you can still take photos and use GPS-dependent map services, while airplane mode shuts down all radio signals and saves the most battery. If you end up needing to make a call or send a text, it's easy to toggle it off. Plus, you'll enjoy your hike more if your phone isn't buzzing away in your backpack the whole time.
3. Carry a charger
If you're carrying your phone at all and especially if you're planning to use it as your best defense in emergencies, it really doesn't make a whole lot of sense not to have a way to charge it, especially if you're going further afield. Portable chargers have gotten a lot lighter and more streamlined in the last couple of years (I use this one from Belkin when I travel and hike) and really don't add much weight to your load, but certainly add value when your hike ends up taking two hours longer than you planned.
For longer backpacking trips, consider a solar charger which you can keep refueling with the sun for more charges, and don't forget your charging cable.
4. Turn it off
Yes, I know I said that flight mode was the best energy-saving mode of all, but really, if you don't need your phone on to take photos, you can just turn it off altogether. This will save the most battery and you can turn it on if and when you need it to find it still fully charged.
5. Download maps
A really valid reason for having your phone out on a hike is when you're using a navigation app like Komoot to stay on route, but this is another use that can drain your battery life. Download maps before you even leave the house – that way you can use them offline in flight mode, which uses less battery, and you also know for sure you have what you need before you set off.
5. Avoid exposing your phone to temperature extremes
As the weather turns colder, your phone will be more likely to die quicker if you don't take precautions to keep it warm. Don't carry it in your hand or an outer pocket. In cold weather, wrap your phone up in insulated material like a spare wool hiking sock or a piece of an old emergency blanket, then carry it close to your body, using the inner pocket of your fleece jacket, for example. Learn more in our article on how to keep your phone warm in cold weather.
Another source of battery drain is an overheating phone, which is obviously more likely to occur when you're hiking in hot weather. If you stop for a break, don't leave your phone out on a rock in the direct sunlight. Keep it in your backpack on hot days.
7. Wear a watch
You may very well tell yourself that you're just bringing your phone along in case you sprain your ankle or get chased by a bear and have to hide in a tree while you call for help, but on the trail, you might pull it out of your pocket a lot, just to check the time or see what that last ping was all about.
Every time you look at your phone, you increase the likelihood of some wayward scrolling that uses up the battery, so consider wearing a watch so you can keep an eye on the time. If you want to keep an eye on notifications, get a GPS watch (I get previews on my Coros Pace 3 as long as it's on bluetooth is on) to cut down on your phone usage even more.
8. Carry a headlamp
You should always carry a headlamp on a hike in case you run out of daylight but if you've always thought, 'well, I've got a flashlight on my phone' know that the last thing you want to do is use up all of your remaining battery on that.
If you get lost and are out on the trail after dark, you definitely don't want your phone to die so keep your hands free and use a headlamp for a light source and your phone to call mountain rescue.
All the latest inspiration, tips and guides to help you plan your next Advnture!
Julia Clarke is a staff writer for Advnture.com and the author of the book Restorative Yoga for Beginners. She loves to explore mountains on foot, bike, skis and belay and then recover on the the yoga mat. Julia graduated with a degree in journalism in 2004 and spent eight years working as a radio presenter in Kansas City, Vermont, Boston and New York City before discovering the joys of the Rocky Mountains. She then detoured west to Colorado and enjoyed 11 years teaching yoga in Vail before returning to her hometown of Glasgow, Scotland in 2020 to focus on family and writing.