The Suunto Vertical is easily one of the best GPS watches around for multi-day hiking, trail running, and cycling adventures. Not only does it have superb battery life (particularly if you opt for the solar titanium version), it has excellent downloadable maps so you can navigate offline, a superb route plotter in the Suunto mobile app, and a huge screen to display it all.
Pros
+

Excellent offline maps

+

Great in-app route planner

+

Super long battery life

+

Extra large display
Cons
-

Some lag between menu screens

-

Stainless steel version lacks solar charging
Suunto Vertical: first impressions
The Suunto Vertical is a big, rugged GPS watch that's just begging to be taken on adventures. It's clearly designed as a rival to the Garmin Enduro 2 and Apple Watch Ultra – and if you're a keen hiker or trail runner, it's highly recommended.
The Vertical is available in stainless steel and titanium versions. I tested the grade five titanium model in the canyon colorway, which is very similar to international orange. If you'd prefer something more subtle, you can also opt for black, sand, or forest. The stainless steel version comes in black, sand, lime, and ruby.
The titanium model has solar charging to extend its battery life, but the stainless steel version does not.
Specifications
• List price: $629 / £545 (stainless steel), $839 / £725 (titanium)
• Case size: 49mm x 13.6mm
• Weight: 86g (stainless steel) / 74g (titanium)
• Display type: Memory-in-pixel
• Water rating: 10m
• Best use: Road running, trail running, hiking, climbing
At $629 / £545 for the stainless steel version or $839 / £725 for the titanium, the Vertical is roughly the same price as the Apple Watch Ultra, and a little less than the Garmin Enduro 2.
Whichever variant you choose, the case is 49mm in diameter and 13.6mm thick. That's a shade smaller than the Enduro 2, but much bigger than a typical sports watch. It might take some getting used to if you're moving up from a more petite device, but a larger case means a larger screen, and when you're using maps for exploring outdoors, you need all the real estate you can get.
The Vertical is Suunto's first watch with maps pre-installed, and you can download extra ones through the mobile app to use offline (more on that shortly). The extra-large display means you can easily see the next turning well in advance, and there's plenty of space to pan and zoom using the buttons or touchscreen. It's a system that works well, and I appreciated the option to pick which controls worked best for me.
Sometimes I noticed a slight lag when using the touchscreen to swipe between menus, but it wasn't anything major and could be fixed in a future firmware update.
There are three physical buttons on the right-hand edge of the case, two of which have resin bumpers to protect them from accidental knocks and presses.
The display is a color memory-in-pixel (MiP) panel with a bright backlight. It's less striking than the OLED display of the Apple Watch Ultra or Garmin Epix, but it's easily readable even in bright sunlight, and opting for a less striking screen really pays off in terms of battery life. More on that later.
It's supplied with a magnetic charger that attaches easily to the back. Sadly there's no Qi wireless charging, but you honestly won't be charging it all that often.
The Vertical comes with a silicone rubber wristband, which is secured using a metal buckle (to match the case material) and a small peg rather than a traditional strap keeper. This keeps the end of the band neatly out of the way and prevents it catching on cuffs or rocks.
The Suunto Vertical is water resistant to depths of 10m, making it suitable for swimming and snorkelling, but not diving.
Suunto Vertical: in the field
The Suunto Vertical is a joy to use on the roads, but it really comes into its own when you're heading off the beaten path. Maps and navigation are fantastic, with the watch and mobile app working beautifully together to guide you in the right direction.
To get started, place your watch on its charger, tap the watch icon in the Suunto app, and grab the relevant map for the area you want to explore. They are divided up into county/city sized chunks, and the app will automatically find the one for your current location, which is a fantastic time-saver.
It can take a little while for the map to begin downloading, and Suunto warns that large ones can take several hours depending on your connection. In my tests, downloading one for the UK county of Somerset took about 20 minutes, which was a little longer than I might have expected, but perfectly reasonable.
You can let the map download while you're lacing up your trail running shoes and preparing your hydration pack. Once it's synced, head outside to get a GPS connection, and the map should be ready to use.
Sports watch companion apps often come with a steep learning curve – Garmin Connect being a prime example. The more features are added, the trickier it becomes to figure out where all the settings and stats are hidden. To get around that problem Suunto has redesigned its app, and everything is now arranged into just four main pages: home, calendar, training zone, and map.
The first three allow you to scroll through past activities, check your training schedule and delve into your health stats (such as sleep and heart rate tracking). but the last page is where the magic happens.
The standout feature is the ability to create your own maps by tapping on waypoints. The resulting GPX files are then synced with your watch automatically, so they're ready for you to use next time you head out.
It's incredibly simple, and far superior to the route-plotting tool in the Garmin Connect app. Garmin's plotter only allows you to state a distance and bearing, then calculates a route that might take you along narrow side-streets and through junkyards rather than well-used roads and trails.
In fact, if you want to be sure you're planning a sensible course, the Suunto app includes a heatmap that highlights popular routes for running, hiking, and cycling – both on and off-road. It can also highlight different surfaces for you, so you're not directed down a muddy bank in your best road running shoes.
I found tapping a route on my phone screen quite easy, but you can also use the Suunto app on a tablet or macOS desktop if you'd like more room to plan, which is another feature that's unique to Suunto.
All of this puts the Suunto Vertical ahead of the Apple Watch Ultra for hikes, trail runs, and mountain biking. Apple's wearable might be the more attractive, but you'll have to install a third-party app like AllTrails and pay a subscription fee to enjoy what Suunto gives you for free.
When I took the Suunto Vertical out on my pre-measured 5km route, the recorded distance came out a few meters longer than expected, but well within what I consider an acceptable margin of error. Zooming in on the resulting map, I can clearly see that the watch has picked up small details like when I ran out and back along different sides of a road, and crossed at different points.
Another feature I particularly like is the ability to export a previous run, ride, or hike as a GPX file so you can follow the same route again later. It's also possible to set a past workout as a 'ghost target' to help with pacing.
If you're particularly proud of your workout, the Suunto app can even turn it into a neat video that you can share with your running club on your social media platform of choice.
Then there's the matter of battery life. It's no surprise that the Vertical far outperforms the Apple Watch Ultra, but it also gives the more expensive Garmin Enduro a real run for its money.
Like any solar GPS watch, you can't rely on sunlight to charge the Vertical from flat, but regular exposure can dramatically extend its life between charges. The Suunto Vertical Titanium can last up to 85 hours in full GPS mode with solar charging, while the Garmin Enduro keeps going for 81 hours.
During a week of camping, the Vertical kept running when my Garmin Fenix 7 sputtered and failed, happily tracking five days of hiking without issue.
When connected to its charger, the watch juices up extremely quickly, and in my tests it was fully charged from 3% in less than an hour.
Sleep tracking is disabled by default to conserve battery life, but I was impressed by its accuracy. During my camping trip I wore the Vertical on one wrist and my Garmin Fenix 7 on the other, and only the Vertical correctly recorded when I was woken by the dawn chorus.
Delve into the training zone section of the app, and you'll find details of your recent training load, intensity (divided into heart rate zones), recovery, and fitness change. You can browse through the stats in detail, or get top-level feedback from Suunto Coach – a tool currently in beta that gives you personalized guidance on your training, recovery, and progress. It's a nice feature that gives you general suggestions and gentle advice, and I'll be interested to see where it goes in future.
Overall, the Suunto Vertical is a very impressive GPS watch, and one I'd definitely recommend to anyone heading out on multi-day adventures. I've yet to test it on a spin bike, and will be interested to see how its heart rate data compares during some intense interval sessions, but if you're an avid hiker than the Vertical is close to perfect. Offline maps are a game-changer, and paired with excellent GPS and great battery life, they make this watch a winner in the great outdoors.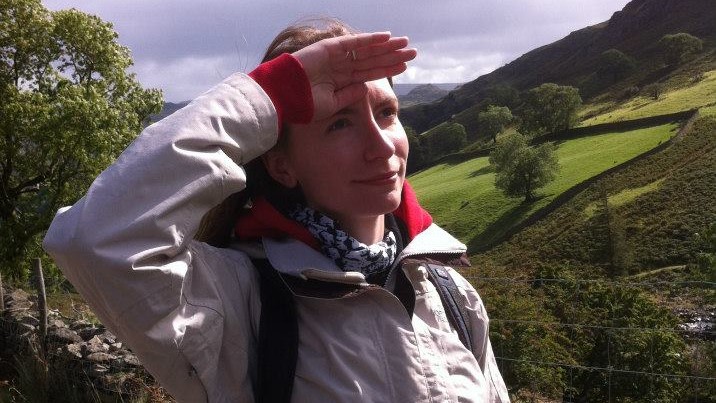 Cat is the editor of Advnture, She's been a journalist for 15 years, and was fitness and wellbeing editor on TechRadar before joining the Advnture team in 2022. She's a UK Athletics qualified run leader, and in her spare time enjoys nothing more than lacing up her shoes and hitting the roads and trails (the muddier, the better), usually wearing at least two sports watches.