Is Connecticut really the best state in the US for hiking?
Connecticut was just named the best state in the US for hiking – we explore how this conclusion was reached, and explain what's so great about hiking in Connecticut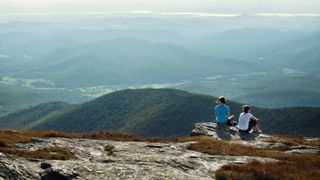 (Image credit: Cavan Images)
Geographically speaking, North America is the most diverse continent on the planet, and that makes it a hiker's paradise. A hiking trip to the US could thrill you with the jagged high alpine peaks of the North Cascades, the unearthly hoodoos of Utah or spouting geysers in Yellowstone National Park. So many of us who live for getting outdoors in our hiking boots were a little surprised recently to see Connecticut top out the list of the best states for hiking in the US.
Connecticut? Of all the New England states, it's probably heralded the least for its captivating beauty and natural features. Positioned as it is so close to New York, it's viewed by many as simply an extension of the city, its southern cities like Stamford mere suburbs from where busy city dwellers begin and end their harassing train commute. In fact, I spent a month living just there doing exactly that years ago, when I was moving from Boston to New York. Even its nickname –The Constitution State – speaks of orderliness and rules, not wildness and freedom.
So is Connecticut really the best state in the US for hiking? Well, as we've explained, what makes a great hike relies on a number of factors, many of which are rather subjective. Often, you know you've had a great hike, but beyond stunning views, you might not always be able to agree on exactly what made it so great. Perhaps you enjoyed it because it was challenging or maybe you liked it because it was easy. It's possible that you loved that it was a rugged hike and just as likely that you were pleased by how well-maintained and signposted the trail was. Some factors that we agree contribute to a great hike are natural features like waterfalls, peace and quiet, decent trail maintenance and different options for different abilities, but suffice to say, it's a hard thing to measure objectively. In 2023, however, a travel guide set out to do just that.
Which is the best US state for hiking?
If we all went off feeling alone, we'd probably say the best state for hiking is some place like Colorado, California, Washington or Hawaii. After all, they've all got mountains and lots of people flock there to go hiking. But to pinpoint which is objectively best, you need quantifiable criteria and for that reason, the travel experts at Why This Place came up with a formula using five factors to discover the 10 best US states for hiking:
Number of hiking trails per 1,000 square miles
Number of waterfalls per 1,000 square miles
Average yearly temperature
Average yearly rainfall
Percentage of each state covered by state and National Parks
After examining this data for each state, it was determined that Connecticut, with a total score of 73.98 out of a possible 100, is the best state in the US for hiking. Connecticut came in ahead of Massachusetts, Hawaii, California and New Jersey, which rounded out the top five. Read on to find out exactly what propelled Connecticut to the finish line, and find out what's so great about hiking in Connecticut.
What makes Connecticut so great for hiking?
1. It has a lot of trails
For great hiking, the majority of us agree that trails are a good start. They make it easier to walk and navigate. Connecticut might be the third smallest state in the union at not much more than five thousand square miles, but it boasts an impressive 1,455 hiking trails per 1,000 square miles.
Anthony Anthony, the Chief Marketing Officer for the Connecticut Department of Economic and Community Development, tells us that this makes Connecticut extremely accessible.
"The state's compact size and well-connected trail system make hiking easy to access from many locations. It's a small but significant part of one of the most celebrated long-distance trails in the world. Additionally, Connecticut accommodates hikers of all skill levels, offering trails that range from an easy stroll to more challenging treks."
Its notable hiking real estate includes a 50-mile stretch of the world-famous Appalachian Trail and roughly half of the very pretty 215-mile New England Trail, both National Scenic Trails, while Anthony points to the diversity of scenery on display in the state.
"We're blessed with stunning natural landscapes, the waterfalls, lakes, rivers, and wildlife habitats provide a rich backdrop for hiking."
"Connecticut also features historical and cultural landmarks along its trails. Hikers may come across historic sites, old farmsteads, quaint New England towns, or remnants of the state's colonial past which really adds an enriching dimension to the hiking experience."
2. And heaps of waterfalls
Many of the most popular hikes in the country take you to roaring cascades and with a whopping 30 waterfalls per 1,000 square miles, Connecticut is sure to please any hiker. If you're hoping to enjoy the calming sound of tumbling water with a picnic, head to gorgeous Kent Falls and if you want to stand in the cool spray coming off a cascade, try Roaring Brook falls after a downpour.
3. The weather is fine
Speaking of weather, Connecticut isn't really known for any particular type of extreme weather and that's because it's a pretty typical moderate northeast climate. Southern Connecticut is far south enough that it tends to avoid major snowfall in the winter and enjoy long, hot and humid summers. The average annual temperature therefore is an agreeable 49.9F, which is surprisingly similar to hiking-friendly states like Colorado and Washington.
"The seasons offer its own beauty and charm, with vibrant foliage in the fall, snow-covered trails in the winter, the blossoming vegetation in spring, and lush greenery in summer," says Anthony.
However, it must be noted that with 49 inches of rain per year, Connecticut gets more precipitation than either of those states and you'll need a good waterproof jacket and rain pants for hiking here.

4. It's home to lots of National Park sites
Obviously, an abundance of National Parks usually makes for great hiking, and you might be aware that California has the most National Parks of any state, while Connecticut has precisely zero – so what gives? For this assessment, the more common measurement of National Park sites was used, which includes National Monuments, preserves, recreation areas, rivers and those Scenic Trails we mentioned earlier that are all managed by the NPS.
"We are home to an impressive collection of 142 state parks and forests, each with a variety of hiking adventures and an opportunity to experience the exquisite scenic beauty sprawled across the state," clarifies Anthony.
By this measure, National Park sites account for 8.9 percent of Connecticut's total land mass, which is more than California but less than Hawaii. The state's parks that range in scenery from the beaches at Hammonasset to the tumbling falls of Devil's Hopyard, you won't run out of pretty places to hike and even pick up the pace in your best trail running shoes.
5. The fall foliage is splendid
Finally, though this wasn't a qualifying criteria, we thought we'd mention that Connecticut does have some of the best leaf peeping opportunities in the country, even if it's not quite as highly praised as Vermont and New Hampshire. Obviously, this doesn't apply for most of the year, but if you're looking for a great place to hike come October, you could do far worse than Connecticut, and you might even experience a little less congestion than the more northern New England states.
Does Connecticut have mountains?
Now, we hear you cry, what about mountains? If the presence of mountains was a qualifying factor in the best states for hiking, Colorado would come out the clear winner while Connecticut isn't exactly known for its peaks.
We agree that they're an important part of a lot of world-class walking, but mountains aren't technically required for great hiking. Don't believe us? Plenty of the world's most fabulous hiking takes place in forests (Redwood National Park), along coastline (the Jurassic Coast) and in the desert (Moab).
Anyway, back to the issue at hand. Connecticut might not be renowned for its high altitude terrain, but you may be surprised to learn that it does indeed house some mountains, namely the Taconic Range. The Taconics are a 480 million-year-old subrange of the Appalachians that stretch for 200 miles. Here is where you'll find the state's peaks, including Bear Mountain, which stands the tallest at 3,304ft as well as Mount Frissell (2,454ft) and Round Mountain (1,247ft).
Will hiking here be akin to scrambling in the jagged Tetons? Perhaps not, and yes, your views are often obscured by the dense trees, but if you climb onto the rock at the summit of Bear Mountain on a clear day you can see all the way to New York. Is Connecticut really the best state in the US for hiking? It all depends on how you measure it, but if you find yourself there, don't forget to bring your boots and backpack – you might be surprised at what adventures you can have here.
All the latest inspiration, tips and guides to help you plan your next Advnture!
Julia Clarke is a staff writer for Advnture.com and the author of the book Restorative Yoga for Beginners. She loves to explore mountains on foot, bike, skis and belay and then recover on the the yoga mat. Julia graduated with a degree in journalism in 2004 and spent eight years working as a radio presenter in Kansas City, Vermont, Boston and New York City before discovering the joys of the Rocky Mountains. She then detoured west to Colorado and enjoyed 11 years teaching yoga in Vail before returning to her hometown of Glasgow, Scotland in 2020 to focus on family and writing.