What makes a good hiking trail?
All hiking is worth doing in our opinion, but some trails are extra special – here's how to find the best ones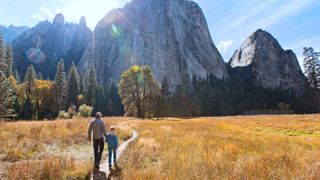 (Image credit: noblige)
With loads of helpful navigation and route finding apps such as Komoot out there, it's becoming increasingly easy to find new hiking trails online, but beyond a red squiggly line, someone's iPhone photos from four years ago and a few starred reviews, how do you really know what you're getting yourself into?
I've certainly hiked on trails that other users reported were stunning only to find them a little ho-hum, and I've laughed out loud at people's scathing reviews of some of the most beautiful spots on the planet (like the hiker who found Arches National Park underwhelming!). But hey, we're all different, right? So what makes a good hiking trail?
In truth, this is a very subjective topic, but as an avid hiker I think there are some objective characteristics that can make the difference between a so-so trail and a great one. Read on for 11 traits of a good hiking trail so you can lace your hiking boots up with confidence and excitement.
1. Views
Let's start with the obvious one – a great hiking trail delivers great scenery, and ideally not just at the top but all the way along. There's nothing better than a trail that offers periodic outlooks and vistas of the surrounding mountains or glimpses of the ocean before arriving at a breathtaking 360 degree view.
2. Beauty spots
It sounds obvious that a hiking trail must deliver some natural features, but you get woodland walks where mostly what you see is trees. Trees can be lovely, but then you get hiking trails that deliver cascading waterfalls, babbling brooks, rugged rock formations, jagged coastline or secluded beaches, and the more of those a trail provides, the better it is.
3. Peace and quiet
One problem with really gorgeous trails, like The Mist Trail in Yosemite National Park, is that everyone wants to see them, so your experience might be slightly colored by stopping every ten seconds to let another hiker pass or standing in a slow-moving queue at the narrow sections. A beautiful trail that's not popular, either because no one knows about it or it's too out of the way, delivers a truly memorable experience. Watch out for trails that are really accessible and have loads of parking, as they're likely to be jammed on the weekends.
4. Water
We're not just talking about the calming sounds of a rushing river or an idyllic wild swimming spot, although those things are terrific. We mean actual water that you can drink. If you're setting off on a long hike, it's always helpful to know that you'll be able to fill your water bottle along the way. Check a topographical map of the area to ensure there's a spring, river or lake before you set off. Oh and bring a means to purify water in the wild, too.
5. Switchbacks
hey might add distance to your hike, but switchbacks make steep climbs easier, so when you're examining your route and you see lots of zig zags, be thankful. Straight lining right up a steep stretch can be unnecessarily tiring and not very fun.
6. A little challenge
What makes for a challenging hike and how much challenge is ideal really varies from person to person, but here at Advnture we're all in agreement that we like to put in a little bit of effort on a hike, whether that means some fun scrambling, a steep stretch to the summit or a longer distance.
7. Varied difficulty
In addition to those steep sections, a great hiking trail also has flat sections and descents where you can put the trekking poles away, catch your breath and stride out at a good pace while you just enjoy the views.
8. Maintenance
On a practical note, there's a lot to be said for a well-maintained trail that isn't overgrown, blocked by fallen trees or difficult to navigate, and that's one reason why we love hiking in US National Parks so much. Though you should always bring a map and compass when you're heading into the backcountry, and a little navigation can be fun, it's also great to relax a little and just enjoy the walk.
9. Options
Some trails are a straightforward saunter to a viewpoint or beauty spot, while others have options. One trail might hook up with another or give you the option of an out-and-back hike as well as a longer loop, for example. This can mean you can hike the same trail multiple times and never get bored or tailor your hike to suit how much time you have and how you're feeling. It also means if you're hiking with a buddy, you can compromise and find a good option that meets both your abilities.
10. Wildlife
Wildlife viewing can be one of the most exciting parts of hiking, whether that means enjoying the birds through your binoculars or looking out for bighorn sheep, mountain goats or even bears (from a safe distance). Make sure you read up on wildlife safety before heading into areas where you might encounter such animals.
11. Camping opportunities
Though this isn't required for a great hiking trail, it's definitely nice if camping is allowed and there are relatively flat clearings where you can pitch a tent if you want to go backpacking and spend the night on your favorite trail.
All the latest inspiration, tips and guides to help you plan your next Advnture!
Julia Clarke is a staff writer for Advnture.com and the author of the book Restorative Yoga for Beginners. She loves to explore mountains on foot, bike, skis and belay and then recover on the the yoga mat. Julia graduated with a degree in journalism in 2004 and spent eight years working as a radio presenter in Kansas City, Vermont, Boston and New York City before discovering the joys of the Rocky Mountains. She then detoured west to Colorado and enjoyed 11 years teaching yoga in Vail before returning to her hometown of Glasgow, Scotland in 2020 to focus on family and writing.