I'm a wellness practitioner and these are my 8 favorite daily habits to boost energy
These practice daily habits can improve your energy levels, at no extra cost to you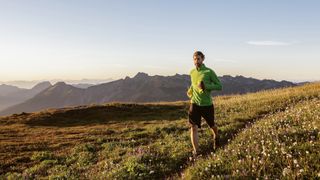 (Image credit: Getty Images)
Energy. All of us need it, and none of us seem to have it. Between work, family, money matters and daily stress, it can be easy to feel fatigued a lot of the time, and no amount of coffee or running gels seems to help. Low energy levels can be frustrating for anyone, and perhaps especially those of us who love to get outdoors in our hiking boots and running shoes.
In addition to being an outdoors journalist, I'm also an Ayurvedic wellness practitioner, working with clients using an ancient, holistic approach to healthcare. A bit like Chinese medicine, Ayurveda uses the knowledge of the five elements to help people maintain health and prevent disease, and it's full of really practical daily habits that can help with your overall health and wellbeing.
Naturally, if you're concerned about your energy levels, it's important to consult your doctor, but for a simple lifestyle approach, these are my eight favorite daily habits that can help you boost your energy, at no extra cost to you.
1. Set the alarm earlier
If you're feeling low energy, you might be tempted to sleep later, but that's not always the answer. It's true that some of us are natural early birds and experience better energy first thing, while night owls might take a few hours to get going, but according to the Sleep Foundation, waking earlier does correlate to better energy for everyone, so long as it's accompanied by an earlier bedtime. Ayurvedic science recommends walking up about 45 minutes to 1 hour before sunrise to promote physical and mental health, so try setting that alarm a little earlier tomorrow.
2. Watch the sun rise
Once you're awake, one of the best things you can do is get yourself outdoors when the sun is rising. As I explain in my article on the benefits of morning sunlight, this not only inhibits the production of melatonin and helps you to wake up and regulate your internal clock, the longer red waves you experience at dawn are able to penetrate your cells and potentially boost cellular energy. Even if you don't have time to go out on a long run, I still recommend clients pull on a fleece jacket, pour their coffee into a travel mug and head outside for a short walk around the block at sunrise.
3. Practice yoga and meditation
Ayurveda, yoga and meditation go hand in hand and luckily, there's been widespread research into the benefits of meditation in recent years. A 2017 study by researchers at the University of Waterloo cited brief sessions of meditation and yoga in significant improvements in brain function and energy levels.
Yoga and meditation can seem daunting at first, never mind the fact you might feel like there's no way that you can squeeze any more into your day, but even just using a short sequence like this yoga for runners sequence when you get home from a run can take the palace of your regular stretching routine and have a lot of benefits.
As for meditation, I recommend clients sit for 10 minutes of meditation either as soon as they wake up, or before they go to sleep, rather than trying to squeeze it in during the middle of the day. Check out my meditation for runners article for some tips to get started.
4. Get moving
When your energy is low, skipping your run or hike can seem like the obvious answer, and if it so happens that you are getting sick or have been overtraining, that's the right call. Otherwise, however, lacing up those trail running shoes can actually help boost your energy levels.
An article in Harvard Health explains that cellular-level changes occur inside your body when you exercise, spurring your body to produce more mitochondria inside your muscle cells. Mitochondria create fuel out of glucose from the food you eat and oxygen from the air you breathe. Having more of them increases your body's energy supply.
Ayurvedic science recommends daily exercise for all healthy individuals with the following conditions:
Exercise until you are breathing hard and have started to sweat.
Don't exercise to the point of depletion.
Exercise more in the winter and spring and back off during the warmer months.
I also recommend people exercise outdoors in the morning when possible, since this allows you to stack this particular habit with the sunrise, and morning exercise can be better for weight loss, which also boosts energy.
If your mornings are already packed full, consider whether you can do an active commute by running or biking to work. I work from home but sometimes run home after the morning school drop off to capitalize on my limited time.
5. Eat fresh
Ayurveda stresses the importance of eating freshly cooked meals prepared using whole foods and avoiding or reducing your consumption of ultra processed foods and leftovers, which can have a dulling effect on your mind.
It's no secret that we get energy from our food, and choosing food that's packed full of nutrients like vitamins and minerals is going to pay more dividends than processed snacks and heavy, fried foods which take extra energy to digest. If options are limited at your workplace, you can always use this Thermos meal recipe to bring a freshly cooked meal to the office in a hiking flask.
If you're great about eating healthy at home but tend to rely on processed snacks when you go hiking or running, check out our article on making your own protein bars, trail mix and jerky.
6. Make lunch your biggest meal
Eating healthily for better energy might not sound like news to you, but how much you're eating and at what time might also be impacting your energy throughout the day. Something I commonly see is people loading up on a sugary breakfast which gives them an early kick, then having a light lunch on the go which is usually followed by an afternoon slump – because they haven't eaten enough to get them through.
According to Ayurvedic science, your digestive system is likely to be a bit sluggish after you wake up, is strongest in the middle of the day, and starts to slow down again later in the evening. For that reason, it might be helpful to ease in with some digestible oatmeal and fruit for breakfast, then make lunch your main meal of the day to avoid the afternoon energy crash which probably has you reaching for more caffeine or sugar snacks.
7. Eat according to hunger
One of the best pieces of Ayurvedic wisdom I know is to eat according to your hunger levels, and stop eating when you feel satiated, but not stuffed. If you're very active, or you tend to eat on autopilot, you might be overeating (this can also be the result of frequent snacking) and this can make you feel really sluggish. Try to pay attention to your hunger levels before each meal, eat with awareness on your food and don't eat so quickly that you don't realize when you're getting full.
8. Get to bed early
Now if you were paying attention at the beginning of this article, you'll recall that research shows early starts are best for everyone, regardless of preference, but not if you don't also move your bedtime earlier. If you start rising earlier but are still getting to bed after midnight, you'll end up with a sleep deficit which isn't going to help your energy levels or your health.
Try to get to bed by 10:30 p.m. for more of that restorative deep sleep and consider using your GPS watch to make sure you're getting the required 4 - 6 cycles of deep sleep, totalling 1.5 - 2 hours per night.
All the latest inspiration, tips and guides to help you plan your next Advnture!
Julia Clarke is a staff writer for Advnture.com and the author of the book Restorative Yoga for Beginners. She loves to explore mountains on foot, bike, skis and belay and then recover on the the yoga mat. Julia graduated with a degree in journalism in 2004 and spent eight years working as a radio presenter in Kansas City, Vermont, Boston and New York City before discovering the joys of the Rocky Mountains. She then detoured west to Colorado and enjoyed 11 years teaching yoga in Vail before returning to her hometown of Glasgow, Scotland in 2020 to focus on family and writing.