Don't let rising gas prices ruin your summer camping plans
Our 10 tips help you keep your fuel costs down and keep enjoying the great outdoors on your camping trips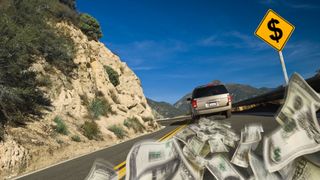 (Image credit: Tony Garcia)
It used to be just RV campers that had to worry about gas prices, but nowadays even car camping can incur a hefty bill if you're not careful, and you might be second guessing your camping plans with prices per gallon rising to record levels this summer. Between long distance driving to get off the beaten path and hauling heavy camping gear like family tents and camping grills, filling up your tank might be cause for a little anxiety, but there are small actions you can take that will help you enjoy the outdoors and keep your fuel costs in check. Our 10 tips for keeping your fuel costs down while camping this summer cover everything from packing right to finding new spots to pitch your tent.
1. Car maintenance
Before we even get into camping logistics, if you are using your car to go camping, regular maintenance is key to economical driving. Make sure you're getting your car serviced and your oil changed regularly, and check your tire pressure weekly. Underinflated tires increase your fuel usage.
2. Plan your route
Taking the scenic route AKA getting lost or driving around looking for gas stations and supermarkets will use more fuel, so plan ahead and use these tips to cut down on driving time:
Find the most direct route and make sure you have the directions at hand.
Avoid driving through cities, which means more gas-guzzling stopping and starting.
Research supermarkets and gas stations on the way so you know exactly where you're stopping, or shop first and fill up your tank before you leave.
3. Lighten your load
One of the beautiful things about car camping is just chucking everything in the trunk when you finish work and heading for the hills, but the heavier a vehicle is, the more energy (and fuel) it needs to get rolling. Do you really need everything in your car? Here are a few suggestions to lighten your load:
Take out everything that you normally stash in your car that's not for camping before you pack up.
Consider developed and frontcountry campsites that provide amenities that are heavy to haul, such as firewood, potable water, barbecue grills and picnic tables.
Invest in some ultralight camping gear, such as sleeping pads instead of camping cots and a smaller tent if you can get away with it.
Plan your meals so that you only bring what you need and aren't carrying a half full cooler home with you at the end of your trip.
With less gear in your car, you might even have space to carpool with a friend and halve your fuel costs too.
4. Ditch the roof rack
Streamlined, more aerodynamic cars use less fuel, so if you don't need them for your travels, take the roof rack and bike rack off and get better at using camping bins to pack your gear inside your car.
5. Use Apps to check gas prices
If fuel is really expensive where you live, check on gas prices between your home and your campsite and see if you can find a better deal for filling up. In the US, use GasBuddy and in the UK, try PetrolPrices to find the current best rates. Just make sure you have enough gas to get you there in the first place!
6. Adjust your driving
Of course, it's not just where you go but how you drive that affects how much fuel you burn through, so here are some tips to help you drive more economically:
Don't be a leadfoot Linda: the harder you press down on the accelerator, the more fuel you'll use, so drive with a lighter touch and use a higher gear.
Slow down: leave early so you're not in a rush, stay in the driving lane and go a little slower than the speed limit on highways and enjoy the views.
Don't idle: if you are sitting in standstill traffic or at a red light, turn your engine off rather than idling.
Windows up on the highway, down in town: if it's hot, roll your windows down when you're driving through urban areas rather than blasting your AC, but when you're on the highway, keep your windows rolled up to reduce drag.
7. Invest in solar chargers
If you love having your phone, coffee maker and bluetooth speaker at camp, you might like charging them in your car while it's running so that they don't drain your battery. Smart, if you're charging them while you're driving, but you don't ever want to leave your car running at camp just to charge your phone, no matter what price gas is. Charge your devices at home or while you're driving and invest in solar chargers to use while camping, especially if it's a longer trip.
8. Set up a base camp
Rather than drive around visiting multiple destinations, set up a main base camp and then head out from there on foot. This can be a good argument for camping in a National Park which might have a shuttle bus and be keen to discourage too much traffic as it is. This might feel like you get to cover less ground in one trip, but think of how good it will feel to not have to drive for a few days
9. Switch transportation modes
Obviously, the best way to cut down on fuel costs without ruining your summer camping plans is to switch to two wheels or even two feet. If you're a biker, consider bikepacking for a unique summer adventure, or of course you can pull on your best hiking boots and try backpacking instead. Most of the beautiful spots in nature can't be reached by car anyway.
Public transportation might not be the best thing about America, but there are National Parks that you can reach from some areas by bus, such as Yosemite and by Amtrak, including Grand Canyon, Glacier, Everglades, Crater Lake and Cuyahoga. Do your research and see if the bus ticket or train ticket works out less than filling your tank.
10. Camp closer to home
Lots of your bucket list places like Yellowstone and Redwood National Park might involve a fair drive from just about anywhere, but don't discount camping closer to home. Nearby State Parks and National Forests have a lot to offer, can provide fantastic camping and require less time in the car, too.
All the latest inspiration, tips and guides to help you plan your next Advnture!
Julia Clarke is a staff writer for Advnture.com and the author of the book Restorative Yoga for Beginners. She loves to explore mountains on foot, bike, skis and belay and then recover on the the yoga mat. Julia graduated with a degree in journalism in 2004 and spent eight years working as a radio presenter in Kansas City, Vermont, Boston and New York City before discovering the joys of the Rocky Mountains. She then detoured west to Colorado and enjoyed 11 years teaching yoga in Vail before returning to her hometown of Glasgow, Scotland in 2020 to focus on family and writing.