Why you need a fanny pack for hiking
Once the faux pas of the high street, fanny packs now dominate the hiking trails – here's what's so great about them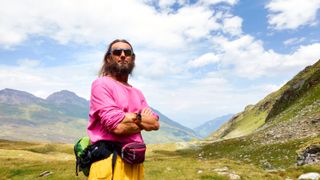 (Image credit: IGphotography)
Like most people born in the 1980s, I have maintained a love/hate relationship with fanny packs over the decades. First, they were cool and looked great with my neon striped biker shorts and crop top. Then, they were the height of uncool and I was mortified when my mum continued to embrace the trend through my adolescence. Finally, they started to come back around but were largely embraced by California yoga teacher types.
I personally didn't think of embracing the fanny pack again until I went traveling around southeast Asia and wanted to keep my passport and credit card secured to my body at all times. After a couple of weeks in Thailand, my travel partner locked eyes across a crowded Chiang Mai street market where we were shopping and agreed: fanny packs are awesome. And not just for travel either; over the last few years, mine has become a vital part of my hiking kit, too.
Fanny packs, or waist belts if you prefer (or even bum bags if you're from the UK) come in all shapes and sizes these days. There are the roomy 1980s throwbacks that aren't highly technical but have great flair. You've got the streamlined version that marathon runners have started using to carry their water bottle, running gels and first aid kit (which they prefer to call "hydration belts," but let's not split hairs). And then you've got some pretty technical hiking fanny packs like the Osprey Tempest 6 Lumbar Hiking Pack, which are designed to stay put when you're scrambling or crossing boulder fields in your best hiking boots and can haul a surprising amount of gear.
Now you might be thinking, why would I need a fanny pack for a hike when I've got a great hiking backpack? I'm aware that more and more hiking backpacks like my Sierra Designs Flex Capacitor come with waist belts that are designed to mimic a fanny pack, with large, zipped pockets, but I've come to the conclusion that there is room on my body and on the hiking trail for a fanny pack, as well as a backpack. Here's why:
1. It secures your valuables
Much like when you're traveling in a foreign country and want to keep your vital documents out of the hands of pickpockets, a fanny pack can keep valuables like your wallet, phone, keys and camera secure. But there aren't any pickpockets on the trail! I hear you protest.
True, but particularly when you're on a backpacking trip or thru-hike, isn't it nice to take that heavy pack off when you're hitching a ride, grabbing a cold drink in town or upon reaching your campsite for the night? In those places, it probably feels like no big deal to leave your dirty, sweaty pack full of dirty, smelly clothes lying around. For one thing, it's too heavy for someone to run off with. But in those moments, someone easily could have a quick rifle through it, and of course when you have your valuables in the top pocket, there's always a chance that they could spill out when you stop for a break and don't zip up properly.
Keep your valuables in on your waist and they'll be both safe from sticky fingers and less likely to end up lying on the trail.
2. You can keep your essentials within easy reach
Though you might be like me and carry very few valuables on the hiking trail, there are definitely some items that you will want within easy reach. I'm talking about your water bottle, snacks, sunglasses, hiking gloves, insect repellent, map and compass, that sort of thing. If, every time you want to access one of these essentials you have to take off your backpack or awkwardly reach back to one of the mesh side pockets, the chances are that you have to stop or at least slow down and take your eye off the trail. That isn't the end of the world, of course, but if you're a frequent rummager it can definitely detract from the joy of walking in nature.
Well with a fanny pack you can forget about all of that. Without breaking stride, you can take your gloves off and put them back on as many times as you like if you can't decide if you're warm or cold, or grab a handful of trail mix and you'll never push your sunglasses up on your sweaty head, leaving them all smeared. Many hiking fanny packs come with pockets specifically designed to hold your water bottle, so you can stay well hydrated on a hike, too.
If you're a smart packer, this method keeps all of those smaller, hard-to-find items together in one easy-to-search space and larger items like your waterproof jacket and lunch that you might only need to access once (or not at all) can stay in your backpack.
3. It can double as your day pack
Finally, if you're not heading off on an epic trek but just taking a short walk in your local hills, you might be able to forgo the daypack altogether with a technical hiking fanny pack, and your shoulders and posture might thank you for this. If you have a lightweight waterproof jacket or are willing to tie it around your waist (I know, another faux pas), you should be able to fit your other essentials into your fanny pack. Though I don't recommend this for longer hikes or hikes in remote areas where you should carry items like an emergency blanket, it can feel really great to walk unencumbered, and it's far less sweaty on a hot day.
Tips for choosing and using a hiking fanny pack
Now I know what you're probably thinking – why can't I just use the pockets in the hip belt of my backpack? Well, you can, but the two aren't really interchangeable. First, a fanny pack is usually quite a bit bigger than the hip belt pockets – in fact, some of my hiking and running backpacks can barely fit my phone. But more importantly, when you use the hip belt pockets for your valuables and essentials, it means that every time your backpack comes off on the bus or the trail, so do your valuables. Sure, you might be good at keeping your pack close to you at all times, but from personal experience, you'll be a lot more relaxed if your pack comes off and you've still got everything you can't live without on your person.
If you're ready to give fanny packs another go, I definitely recommend trying a few on first and not just going for the one that most reminds you of your misspent youth. In addition to good carrying capacity, you'll want to make sure that yours stays in place when you walk, so it's worth walking around in it before you buy.
If you're planning on wearing yours with a hiking backpack, you'll also want to make sure yours works with your hip belt as you will need to continue to use the hip belt to keep the weight of your pack off your shoulders. I wear mine a little lower than my hip belt, and it's best to secure the hip belt first, then deal with your fanny pack.
Once you've chosen the perfect fanny pack, it's time to load it up and hit the trail. Here's what I carry in mine:
Credit card
Keys
Phone
Chapstick
Sunscreen and insect repellent
Sunglasses
Hiking hat and gloves
Lightweight waterproof jacket
Water bottle
Snacks
First aid kit
Map and compass
All the latest inspiration, tips and guides to help you plan your next Advnture!
Julia Clarke is a staff writer for Advnture.com and the author of the book Restorative Yoga for Beginners. She loves to explore mountains on foot, bike, skis and belay and then recover on the the yoga mat. Julia graduated with a degree in journalism in 2004 and spent eight years working as a radio presenter in Kansas City, Vermont, Boston and New York City before discovering the joys of the Rocky Mountains. She then detoured west to Colorado and enjoyed 11 years teaching yoga in Vail before returning to her hometown of Glasgow, Scotland in 2020 to focus on family and writing.