Soft hiking is having a moment – here's how to get started
In a world of daredevil hiking antics, two TikTokers are encouraging hikers to slow down and experience the pure joy of spending time in nature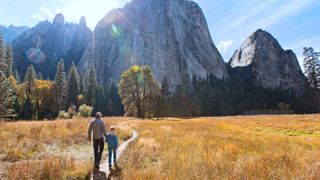 (Image credit: noblige)
It's not unusual for social media influencers to go viral for promoting daredevil antics at high altitude – on any given day my feed is full of young twenty somethings who have just scaled Half Dome in Yosemite, or somehow completed the entire Triple Crown of Hiking during a year out from college. Speaking for myself, major hiking feats are so common these days that I'm honestly getting a bit numb to them. Which might explain why, earlier this spring, when two British TikTokers started extolling the benefits of what they call "soft hiking," everybody sat up and took notice.
In a video posted in April 2023, the two women – Emily Thornton and Lucy Hird from Yorkshire – explain that soft hiking is "exactly what it says on the tin." They describe a common scenario: going out in the hills with seasoned hikers only to feel they weren't able to keep up. So instead of finding a new sport altogether, they decided to hike at a different pace – a slow one – where instead of pushing themselves to the limit or bagging peaks, they focus on what they call the "pure joy of spending time in nature and moving your body." Instead of focusing on FKTs, they encourage taking breaks and taking in your surroundings, and they emphasize nourishing yourself properly to fuel your journey over cramming protein bars or running gels into your mouth so you don't have to break stride.
It sounds pretty great, doesn't it? Whether you've been scared off the hills by speed hikers storming up the trail and leaving you choking on their dust or just found the whole ideal of hiking too intimidating to even try, what with its fancy GPS watches and bushcraft skills, soft hiking could be just what you need to finally get the benefits of spending time on the trails. In fact, if you're a seasoned hiker and actually love the challenge of striding up a peak to its summit in a mind-boggling time, cool, but you could actually use soft hiking for recovery. Kind of like easy runs for our faster-paced friends.
But you also might be wondering if soft hiking has any real benefit. Does ambling along and admiring the views really avail your health and wellbeing all that much? Read on for the merits of soft hiking, and how to give it a go.
What are the benefits of soft hiking?
Since the term soft hiking was, as far as we know, only coined last month, it may not surprise you to learn that there haven't been any studies on soft hiking, but no matter. All hiking is walking, and while clambering up seriously steep slopes might earn you extra points for cardiovascular conditioning and leg strength (and perhaps a little sharpening of your thinking skills too), walking on its own has been proven to deliver some incredible perks for your health. Harvard Health indicates walking for managing your weight, improving immune function and easing joint pain, while researchers at the University of Cambridge found that just 11 minutes of walking a day could be enough to help you reduce your risk of heart disease, stroke and many forms of cancer. And that's just regular walking, not hiking.
Combine that with the healing effects of spending time in nature, known as green exercise, and you may have found yourself an absolute elixir of health in soft hiking.
Could soft hiking be even better than moderate or vigorous hiking? Well for a lot of people, yes, probably. If it's the only kind of hiking you're likely to do, then it's the only way to get any benefit from hiking at all, while people dealing with injuries or who have issues with balance could get hurt trying to go scrambling while wearing a heavy hiking backpack. Further, though this isn't scientifically proven, it's definitely possible that if you focus more on the beauty of your natural surroundings and less on getting to the summit, you'll increase the mental health benefits.
How to go soft hiking
Even though soft hiking is gentler on your body and mind, it's still important to observe basic hiking safety practices like telling someone where you're going and bringing a map and a waterproof jacket any time you're going into nature. Beyond that, however, just follow these tips to starting experience the pure joy of spending time in nature, without all the pressure:
Pick a trail that's close to home and doesn't feature too much elevation gain or technical terrain.
Lace up some walking shoes with good grip – these can be sturdy hiking boots or simple trail running shoes that don't require much breaking in.
Start sauntering along the trail, making sure you can breathe.
Forget all about pace, mileage or your heart rate.
Enjoy the views.
When you fancy a break for a bite to eat, a seat or some intensive view-gazing, take one!
Make sure you leave lots of time to get back to the trailhead before dark, so your soft hike doesn't turn into a stressful scurry.
All the latest inspiration, tips and guides to help you plan your next Advnture!
Julia Clarke is a staff writer for Advnture.com and the author of the book Restorative Yoga for Beginners. She loves to explore mountains on foot, bike, skis and belay and then recover on the the yoga mat. Julia graduated with a degree in journalism in 2004 and spent eight years working as a radio presenter in Kansas City, Vermont, Boston and New York City before discovering the joys of the Rocky Mountains. She then detoured west to Colorado and enjoyed 11 years teaching yoga in Vail before returning to her hometown of Glasgow, Scotland in 2020 to focus on family and writing.