Ticks are bad this year – so I'm only wearing these hiking pants on the trail
Warmer weather means more ticks and more tick-borne diseases – here's how we're dressing to stay safe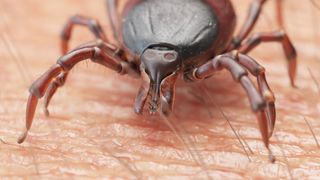 (Image credit: SCIEPRO/SCIENCE PHOTO LIBRARY)
Ticks are bad this year and that means those of us who love hiking and camping need to take extra care. In parts of the US that saw a warm winter like the northeast (sorry skiers), ticks spent less time dormant and that gave them more time to reproduce, meanwhile their hosts like deer remained more active too, so they got more winter traveling in. And if you're wondering, yes, global warming will also mean an uptick in ticks. All of that's a concern since ticks can be carriers of Lyme disease, while here in the UK, 2023 has seen the arrival of tick-borne encephalitis virus, a potentially deadly disease that's long been common in Europe.
The best defense against ticks is to avoid them in the first place, though that's easier said than done when you love nothing more than trekking across country, pitching your one-person tent under the stars or stripping off in the long grass to take a refreshing wild swim in an icy lake. I, for one, have no intention of quitting the outdoors this season, but I am extra aware of ticks – we've already had to remove one from our 14-year-old and I'm not keen to repeat that experience if I can avoid it.
Avoiding it, though, is easier said than done. Even if you stick to the trails and don't go bushwhacking or lie down in the grass, these menacing little arachnids are masters at hopping from the grass onto your hiking boots as you walk, from where they'll clamber up your hiking socks and keep climbing until they find a nice piece of flesh into which they'll burrow and tap into your blood supply. Yummy.
Dousing yourself in insect repellent with DEET is a good start, but one other change I'm making this year even though the warmer weather is here is to ditch the hiking shorts and be really scrupulous about which hiking pants I wear. While I love coolness of shorts and the comfort of a straight-legged pair of trousers, I'm still worried about bloodthirsty critters crawling up my legs. Tucking my pant legs into my socks, while effective, isn't my favorite look and they always come undone when I sit down.
Fortunately, I already own two pairs of hiking pants that are built to arm me against ticks with tapered ankles. With these pants on and my base layer tucked in, even the most motivated tick has a long way to go before it finds any tasty flesh. These are the only two pairs of hiking pants I'm wearing this summer:
I've actually been hiking in these pants for just over a year and they're still going strong. Built more like a legging but made from abrasion resistant Mala Stretch fabric that provides good wind and water resistance, these are definitely tougher than your average pair of yoga pants while offering loads of freedom of movement whether I'm scrambling or sitting down for lunch. They're flattering, the cuffs fit neatly inside my socks, and have two zipped pockets for stashing small gear.
I've worn these pants in all seasons now and find them perfect for most conditions, plus if I'm meeting a friend in town after a hike, I look a little less like I just came out of the Bush. Obviously, if you don't like the legging look or are hiking in really hot conditions, you may be looking for something a little more relaxed and breathable, but that's alright – just keep reading.
These hiking pants are new to my wardrobe but they've barely come off since they arrived. The lightweight jogger style is super breathable for hot weather, but the wide elasticated cuffs are impenetrable to arachnids.
These pants don't have leg vents, but with such light, breathable material, you won't need them. You can work up a sweat wearing these and still stay cool, meanwhile they offer a surprising degree of wind protection if the weather takes a turn. Three zipped pockets are best saved for small items of gear and with both of these pairs of hiking pants, I recommend using the pockets in your fanny pack, jacket or backpack. Best of all, these pants are perfect for yoga, travel, or just wafting around town looking like you own the place, so they're super versatile and the best pick for warm weather.
All the latest inspiration, tips and guides to help you plan your next Advnture!
Julia Clarke is a staff writer for Advnture.com and the author of the book Restorative Yoga for Beginners. She loves to explore mountains on foot, bike, skis and belay and then recover on the the yoga mat. Julia graduated with a degree in journalism in 2004 and spent eight years working as a radio presenter in Kansas City, Vermont, Boston and New York City before discovering the joys of the Rocky Mountains. She then detoured west to Colorado and enjoyed 11 years teaching yoga in Vail before returning to her hometown of Glasgow, Scotland in 2020 to focus on family and writing.