Is working out with your partner a good idea?
Working out with another person is a great motivation tool, but what if that someone else is your romantic partner?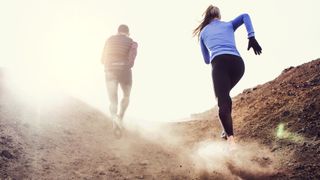 (Image credit: Getty)
We've already written about lots of great benefits of exercising with other people as opposed to solo, from hiking with friends to finding the perfect running partner. But what about working out with your actual partner? As in, the one that you share a bed with? It's not uncommon for romantic partners to hit the trail in coordinating hiking boots, match each others' pace on long runs or belay each other at the crag – but is it a good idea, or a recipe for tearful breakup before you even get back to the trailhead?
As an outdoorsy person, it's difficult for me to imagine not working out with my other half, and being physically active and interested in nature is something I look for in a partner. Over the years, some of my best ski days, hikes, wild swims and bike rides have been with someone I was dating, but there are have been a few fails too – getting lost on a backpacking trip, bushwhacking for miles, falling over, getting a sharp stick in my eye and then narrowly missing crossing paths with a bear because my vision was blurry (I'll be honest, that's still one of my favorite adventures but it was a test to our relationship at the time).
Obviously lots of couples make it work, but there does seem to be a lot of opportunity for tandem workouts to heighten tensions, increase stress and end in tears. So is working out with your partner a good idea? Here we discuss some of the scientifically-proven benefits of tag-teaming your workouts, share a few disaster stories, and offer some tips for doing it without tanking your home life.
Benefits of working out with your partner
Of course, exercising regularly keeps both parties healthier, and that contributes to a longer and happier life, which we can't help but think will improve any relationship. It turns out that there is some scientific research suggesting that there's real benefit to hitting the trails or the gym together, and it's not just physical.
1. It improves your mood
A 2021 study published in the Journal of Social and Personal Relationships found that couples who exercise with a romantic partner experienced improved mood both during exercise, and during the day, compared to days when they exercised alone or without their partner. Being in a better mood means you're less likely to pick at each other over who left that dirty mug in the sink instead of loading the dishwasher and more able to see the positive in each other, even at your worst.
2. Increases relationship satisfaction
It doesn't seem that surprising that enjoying a successful hike, run or weights session together could help make you feel all glowy about the relationship itself, as well as the workout. Maybe it's the dopamine or the endorphins, but whatever it is, the same 2021 study found that couples who workout together report better relationship satisfaction. If you're happier with the relationship, you're more likely to tend to it and want to invest in it. Further, as we discussed in our article on how hiking improves your relationships, exercising outdoors in a natural setting is shown to further improve your bond, increasing empathy, trust and mutual support, so there's a good argument for taking your workout out into the hills.
3. It motivates you
A 2015 study concluded that when one partner integrates healthier behaviors, the other is more likely to follow, while in 2016, researchers at the University of Aberdeen concluded that having an exercise companion increases the amount of exercise you're likely to do, and that motivation was further increased when the partner was emotionally supportive.
Maybe it's just because working out together forces you to schedule your sessions in advance, or because there's always someone to answer to if you don't want to go on that run – it could even be a subconsciousness competitiveness that's awakened in you – but whatever it is, if you do it together, you're more likely to get more exercise. That in turn increases the benefits such as cardiovascular conditioning and improved self-esteem. Win.
Downsides to working out with your partner
Look, I won't lie, there's definitely room for error here. I had one super fit boyfriend who would always leave me in the dust on steep climbs on the bike, which got a little discouraging, but the next guy I dated would always lag behind on hikes and complain constantly, which got tedious. My sister-in-law feels frustrated because her climbing workouts with my brother never seem to yield the weight loss she wants, while he seems to get svelter with every send. My friend Robbie feels a bit inferior because his wife is a far better runner than he is. An old colleague Gareth can't do yoga with his wife because he wants to paw at her the entire time, so she locks him out of the room. Then there's my old colleague buddy Dustin whose wife left him for someone else at the CrossFit gym. Ouch. So, yeah, things can go wrong with this plan.
How well it all goes depends on a lot of factors, from the health of your relationship to begin with to differing goals and fitness levels. If one of you is more committed than the other, the less committed one might prove a distraction for the other. Or if you really value the alone time that you get from solo workouts, inviting your partner along might actually increase your own stress levels and result in your feeling a bit resentful, which basically defeats the entire purpose. You might end up criticizing each other, or one of you could feel left behind if the other just so happens to be a natural at your chosen sport.
Then you've got the fact that, when you're taking your workouts outside, there's a greater potential for things to go wrong – getting lost, spraining your ankle and even forgetting the sandwiches can all place undue strain on your relationship (or strengthen your capacity to work together).
Tips for working out with your partner
If you still want to give working out with your partner a go, here are some tips to help you approach your adventures in a way that fosters mutual respect and appreciation, rather than tearing you apart.
1. Don't overdo it
Some couples really do seem able to workout together all the time, and though I can't say I fully understand that, I've noticed that it's often couples who are pretty competitive, and have similar fitness levels and goals. If you don't share those qualities, perhaps it's a good idea not to try to make every bike ride a tandem one. Once a week might be just what the doctor ordered to help keep the spark alive, then enjoy your other workouts solo.
2. Be supportive
Remember that the benefits are greater when your partner is emotionally supportive, so try not to be critical of each other's performance. Look for small wins and complement each other on shaving a few seconds off your pace, taking fewer rest breaks or sending that dyno move. If your partner gets better than you at your chosen activity, be happy for their success and use them as an inspiration.
3. Try new things
If you and your partner really aren't athletically compatible, i.e. you're a runner and he's a weightlifter, all is not lost. Look for something you can do together that neither of you has ever done before, like yoga, rock climbing or cross country skiing.
4. Consider team sports
When you're running a 10k together, it can be hard not to turn it into a race, so if you're finding that one or both of you is too competitive, you may be able to take the pressure off by signing up for a team sport instead, like softball, ultimate frisbee or five-a-side football. These activities are super social and might be a good way to meet other like minded couples too.
5. Make it a date
Some things in a relationship, like cleaning the toilet and folding laundry, are just chores. A workout can certainly feel like a chore, but it can also make a really lovely date. Aim to finish your run at your favorite local brunch spot, bring a picnic on your day hike or even bring the two-person tent and make an overnight of it. Exercise, especially in nature, can really make for some excellent quality time.
All the latest inspiration, tips and guides to help you plan your next Advnture!
Julia Clarke is a staff writer for Advnture.com and the author of the book Restorative Yoga for Beginners. She loves to explore mountains on foot, bike, skis and belay and then recover on the the yoga mat. Julia graduated with a degree in journalism in 2004 and spent eight years working as a radio presenter in Kansas City, Vermont, Boston and New York City before discovering the joys of the Rocky Mountains. She then detoured west to Colorado and enjoyed 11 years teaching yoga in Vail before returning to her hometown of Glasgow, Scotland in 2020 to focus on family and writing.