12 camping mistakes and how to avoid them
A little bit of planning to avoid camping mistakes can guarantee fun, safety and comfort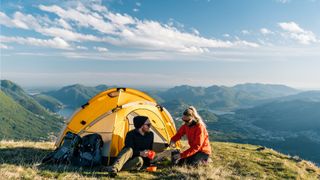 (Image credit: Milo Zanecchia/ Ascent Xmedia)
Whether you're enchanted by the idea of pitching a tent and braving the elements, or daunted by the thought of sleeping in the great outdoors, you'll want to check out our list of common camping mistakes and how to avoid them.
There are lots of factors to consider when it comes to camping, from what type of gear you need to the weather forecast, but a little bit of planning can go a long way when it comes to guaranteeing fun, safety and comfort at camp.
Here we've put our camping experience to good use and created this list of 12 common camping mistakes and how to avoid them to make sure you have a successful camping trip wherever you go.
1. Choosing the wrong tent
First things first, you want to make sure you've chosen the best tent for your purposes. Nothing can change the quality of your camping experience quicker and more completely than bringing a tent that is too heavy, too small, or doesn't provide enough protection from the elements. Ideally, you don't want to spend much time in your tent when you're not sleeping, but if the conditions are less than ideal, you want to be as comfortable as possible.
With so many advances in technology over the last few years, it's easy to get overwhelmed by the seemingly endless possibilities, and as a more expensive investment, you want to make the right choice – check out our guide to choosing the right tent for you.
Should you be thinking about size, shape or weight? Do you need a vestibule? The truth is that the answer lies in where you're going and how you're getting there. If you're carrying your tent on your back, you'll want to find one that is low weight and has a small pack size, but if you're driving in for some car camping you can afford the extra pounds for a little more luxury. As a good rule of thumb, start with how many people you need the tent to sleep, then work from there to consider factors like how you're getting in and what the climate is like.
2. Choosing the wrong sleeping bag
Another factor that will greatly impact your comfort level is your best sleeping bag. The last thing you want is to crawl into your sleeping bag after a long day adventuring only to wake up shivering an hour later. With options ranging from down or synthetic fill, mummy or rectangular shape, plus one-, two- or three-season bags, it can be difficult to know where to begin.
The key to choosing the right sleeping bag is considering warmth over anything else. Warmth is largely determined by the kind of fill, which will either be natural down or synthetic. In short, down fill is warmer and lighter but it doesn't withstand moisture, whereas synthetic fill doesn't compress as well as down, making it bulkier in your pack, and isn't as warm, but it does hold up when wet.
Generally speaking, it's better to have a bag that's a little too warm than not warm enough, because you can always unzip your bag to cool off, but you can't make it any warmer. The warmer the bag, often the larger and heavier it is though so once again you'll want to consider your own needs and whether you're backpacking or camping, the climate and the seasons you're likely to be using it. Retailers will give you the entire temperature range a sleeping bag can safeguard you against, so be sure to check its lowest and highest range against the common temps where you plan to camp.
3. Not testing out your gear before you leave
Showing up at camp with a car full of brand new fancy gadgetry and no idea how to use any of it is a classic camping mistake. Though in general, camping equipment today is much more user friendly than that of thirty years ago, you still don't want to spend hours in an embittered battle with your tent poles when you could be having fun around the campfire.
It may sound silly, but about a week before your camping trip, you'll want to set up all your gear in your living room and make sure it all works, and that you know how to use it. Practice setting up your tent, make sure your sleeping pad doesn't leak air and ensure your headlamp doesn't need new batteries. Check your camping stove works and has enough fuel, make sure your lighters still work and your first aid kit is properly stocked. It might seem like a drag, but what may take an hour or two could save you plenty in time and frustration when you get to your campsite – and this way you'll have plenty of time to replace any faulty equipment.
4. Arriving at your campsite after dark
Weekend warriors don't always have the option to leave work early on a Friday and it's common to roll into your campsite well after sundown resulting in hours spent getting lost then fumbling around in the dark trying to set up your tent and find your sleeping bag. Plus, you'll likely end up with the least desirable spot (think: next to the toilets), while late noisy arrivals disturb other campers if they're sleeping, which is poor camping etiquette.
Plan ahead and aim to get to the campsite a couple of hours before sunset if you can. This will leave you time to get lost on the way, find your way again, have your pick of the best campsites and settle in stress-free. Plus, you'll make friends with your neighbors which makes for a more enjoyable evening round the campfire.
5. Choosing the wrong campsite
Beware: not all campsites are created equally. Naturally you'll be drawn to a quiet spot with a nice view, and maybe a couple of trees good for slinging your best hammock on, but you don't want to discover that you accidentally set up on a steep incline once you lie down to sleep. There are several aspects to consider that can affect your enjoyment level from unwanted smells and sounds to safety.
First, try to get as level ground in your campsite as possible. If you have no choice but to set up on an incline, make sure it's gentle and sleep with your head higher than your feet so you don't wake up with all your blood in your head or your tentmate rolling into you all night. Obviously, you'll want to avoid being near the toilets if you can. Not only can these provide an undesirable odor if you're downwind from them but there's likely to be lots of foot traffic through your site from other campers.
Speaking of traffic, you'll also want to find a site that's set back a little off the road if possible. Though cars moving through a campground will be going slowly, they're noisy and if you're camping with dogs or children, you'll want to give them a wide berth. And finally, make sure you're not too close to any major bodies of water. Try to pitch your tent at least 200 feet away from any lakes or rivers so that you're safe when moving around in the dark.
6. Forgetting your headlamp
You've made it camp! Now, having a proper, hands-free light source that isn't the light on your iPhone is essential for camping. There's nothing like trying to pack up your food in pitch darkness or struggling with your sleeping pad while holding a flashlight between your teeth.
Make sure you pack your best headlamp and extra batteries so you can cook, sort your gear and safely find the toilets with both hands free. If you're car camping, you might also bring camping lamps to keep your campsite well-lit, but these are not a great substitute when making your way through the woods at night.
7. Not bringing waterproof layers
You can't control the weather, but when it comes to waterproofing, an ounce of prevention is worth a pound of cure. The thing about getting drenched while camping is there's no real way to dry off again. Wet clothes inside your tent mean damp, uncomfortable conditions and if you're using a down sleeping bag, you could be in for a cold night.
The most important thing to pack is a waterproof jacket, regardless of the forecast. These are lightweight and pack down small and will keep your clothes underneath dry and your body warm. If you're expecting to see a lot of precipitation, you'll want to consider waterproof trousers and shoes as well. Check out our guide to the difference between waterproof and water-resistant gear. Your new tent should provide plenty of protection from showers, but if you're using older equipment, the Durable Water Repellent treatment it came with may have worn off. You don't have to buy a whole new kit however – learn how to use a waterproofing spray to increase the lifetime of your gear instead. Getting wet while camping isn't the end of the world, you just don't want to stay wet the entire time.
8. Bringing too many perishable foods
Some of us love to plan gourmet meals for camping trips, and those who can pull it off are usually everyone's favorite camping buddy, but beware of bringing too many perishable foods items. Perishable foods are those such as vegetables, milk and meat that require proper refrigeration. Even with the best camping coolers, once you run out of ice your delicious food will quickly go bad.
For backpacking meals, you'll want to take mostly non-perishable foods that are lighter, like freeze dried meals, boxed mac n cheese and instant noodles, while for car camping it's ok to bring some nice sausages and burgers to cook on the stove–just make sure you use them quickly. For a longer trip, a good rule is to have your steak dinner on the first night and bacon and eggs in the morning, then rely on meals and snacks made from non-perishable items like granola bars and canned baked beans.
9. Planning on cooking all your food over the campfire
There's something quite romantic about the notion of cooking all your meals over the fire, removed from modern technology just like your ancestors did in days gone by, but there are a couple of problems with that approach that can quickly turn your nostalgia into a recipe for disaster.
One is that it's much more difficult to control the temperature of live flames than it is over your stove at home, so you can end up with undercooked, overcooked or unevenly cooked food which can mean it's less-than-delicious or worse, leave you with food poisoning. The other obvious problem with campfire cooking is availability of dry firewood. If it's raining or has been raining, you're not likely to be able to get a fire going, so even if you're dead set on cooking over the fire, make sure you bring a camping stove as a backup. In the worst of conditions, these can be set up on a picnic table under a tarp and you can still enjoy a hot meal on a chilly night.
10. Leaving your food out
After dinner, in the hush of the wilderness, it's easy to feel like you're the only living being for miles, but leave your food out and you won't be for long. Unattended food will draw unwanted critters to your campsite. Depending on where you're camping, those critters could be birds and chipmunks, or racoons and bears, which you certainly don't want roaming around your campsite after dark.
Knowing how to store your food properly is important for the health and safety of campers and local wildlife. Many national parks provide bear lockers for your food and toiletries and require that you use them. If they're not available at your campsite, though the old school method of safeguarding your food was to sling it up a tree in a nylon bag, we recommend using a bear canister to keep your food, and yourself, safe from harm.
11. Forgetting insect repellent
You're probably starting to realize that the running theme here is ensuring comfort when camping, and while bugs like black flies and mosquitos can be a real nuisance that leave you itchy, there's good health reasons for staying free of bug bites too. Bites can become infected, while mosquitoes can carry diseases like malaria, and ticks can infect you with Lyme disease when they latch on.
Bugs are often worse right around sunset and in moist conditions. You can avoid bug bites by covering up, wearing white or light clothing (mosquitoes are attracted to dark colors), burning citronella candles, and keeping the fire going, while your tent should provide good protection, but you'll also want to invest in the best insect repellents for health and comfort.
12. Not extinguishing your campfire
Gathering round the campfire at night is a timeless ritual that is undoubtedly everyone's favorite part of camping, but as people start yawning and heading for their tents, you don't want to leave your campfire burning overnight. It can be tempting to want to keep the warmth, but leaving an unattended campfire is a serious risk to yourself and other campers and could start a wildfire.
Designate someone to be in charge of extinguishing the campfire each night. To properly extinguish a campfire, drown the fire by dousing the flames in water, then give the ashes a good stir with a stick to make sure no embers are still smoldering. Then, pour water on it again. For the full lowdown on campfire safety, including how to build a campfire, check out this guide to campfire safety.
All the latest inspiration, tips and guides to help you plan your next Advnture!
Julia Clarke is a staff writer for Advnture.com and the author of the book Restorative Yoga for Beginners. She loves to explore mountains on foot, bike, skis and belay and then recover on the the yoga mat. Julia graduated with a degree in journalism in 2004 and spent eight years working as a radio presenter in Kansas City, Vermont, Boston and New York City before discovering the joys of the Rocky Mountains. She then detoured west to Colorado and enjoyed 11 years teaching yoga in Vail before returning to her hometown of Glasgow, Scotland in 2020 to focus on family and writing.