How to keep your feet dry while hiking: top tips for avoiding soggy socks
By Jonathan Manning published
Knowing how to keep your feet dry on a hike is crucial to avoid soggy socks. Not only do damp feet feel uncomfortable, they can be dangerous to your health too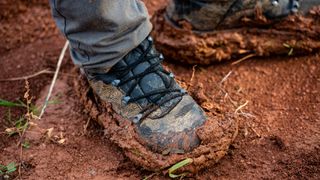 (Image credit: Getty)
Knowing how to keep your feet dry during hiking is more important than you think, as wet feet can be a major health hazard. Remember that during World War I, trench foot was a common problem on the Western Front. The wet, boggy fields of Flanders and the Somme left troops standing in mud and puddles for days on end. This all-pervading dampness created the perfect environment for a fungus to develop on soldiers' bodies. Called trench foot, the fungus had the capacity to destroy feet, with symptoms including numbness, blisters, a burning itchiness and even gangrene.
It's unlikely that any single walk is going to leave anyone's feet in this state, but regular walkers and long-distance backpackers who encounter monsoons and soggy ground can swiftly suffer deteriorating foot health if their boots get wet. Here, then, is Advnture's guide to how to keep your feet dry while hiking.
Wear good socks
Banish cotton socks, which act as sponges, keeping moisture next to your skin. Instead, opt for socks made from merino wool or synthetic fabrics, that will wick moisture away from your feet.
Look after your boots
Clean and re-proof, wax or condition your walking boots to maintain their waterproof protection. Dedicated products, such as Nikwax Fabric and Leather Proof, or Granger's G-Wax and Leather Conditioner will not only extend the life of your boots, but also keep up their waterproof protection.
Dry your boots
In between walks, take out the insole, relax the laces and leave your boots to dry in a well aired room. But don't place boots on a radiator or fire, as this can dry out the leather.
Air your feet
When you stop for lunch or a coffee break, whip off your boots and socks and let the sun and breeze dry your feet and your socks. If there's space in your backpack, carry spare socks and switch them over during the break, putting clean dry socks onto sun-dried feet.
Waterproof socks
If you know you're going to be wading for much of the day or you face a long trudge through wet grass, waterproof socks could be the answer. Waterproof socks by brands like Sealskinz and ArcticDry are very effective and can compensate for boots where the waterproof protection is failing. Just remember to dry them inside out after washing.
Boots and gaiters
When the cushioning around the ankle of shoes and boots becomes wet, moisture can then start to seep into the foot area. The taller the boot, the less likely it is that this ankle collar will leak, making proper walking boots more waterproof than mid-height boots or shoes. In addition, gaiters that protect the boot and calf will help to keep feet dry.
After spending a decade as editor of Country Walking, the UK's biggest-selling walking magazine, Jonathan moved to edit Outdoor Fitness magazine, adding adrenaline to his adventures and expeditions. He has hiked stages or completed all of the UK's national trails, but was once overtaken by three Smurfs, a cross-dressing Little Bo Peep, and a pair of Teletubbies on an ascent of Snowdon. (Turns out they were soldiers on a fundraising mission.)
All the latest inspiration, tips and guides to help you plan your next Advnture!
Thank you for signing up to Advnture. You will receive a verification email shortly.
There was a problem. Please refresh the page and try again.