How to keep your tent clean while camping: a guide on keeping dirt out of your shelter
Read our guide on how to keep your tent clean while camping, so that your backcountry bolthole remains dirt free, tidy and a pleasant space to sleep in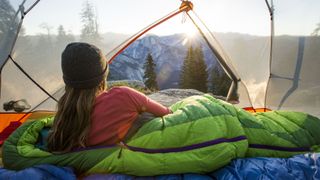 (Image credit: Getty)
If you know how to keep your tent clean while camping, you'll have a far more pleasant time on your campsite trips and wild camping expeditions. Admittedly, it's likely the whole reason you're camping in the first place is to get back to nature a little. Us campers don't mind a bit of dirt here and there and if we remained squeaky clean throughout our adventures, we wouldn't be having fun.
However, it doesn't take much to keep your tent clean. From utilizing dry bag systems to the way you pitch your tent, there are loads of handy systems and little tips that will make keeping on top of this a doddle.
So, in order to keep your best camping tent clean, we've compiled twelve handy tips – an un-dirty dozen, if you will. First though, our guidance on how to keep dirt out of a tent in the first place, particularly if you're wild camping.
NB: If you're bringing the dogs, I'm afraid you're on your own.
How to keep dirt out of a tent
The most obvious way to keep your tent clean while camping is to keep dirt out of it in the first place. This is easier said than done, especially if you're on a backpacking expedition without the amenities of a campsite. After a day spent hiking through rivers, on muddy trails, across windswept summits and getting thoroughly soaked and just a little but cold in the process, it can be tempting to jump into your 2-person tent as soon as it's erected.
Woah there! Slow down. Jumping into a tent in all your soaked, soiled gear will turn what would have been your haven from the brutal elements outside into a dirty, sopping extension of them. The following tips will enable you to retain at least some modicum of elegance within your fabric fortress.
The porch / vestibule is there for a reason
Between the outer entrance and the inner's entrance is the part of a tent called the porch or vestibule. Sheltered by the outer tent's waterproof rain fly, it's the perfect space for storing muddy boots and wet gear. After a day on the trails, remove all your dirty garments before diving into the inner armed with a fresh set of clothes to change into. Basically, you should never welcome your boots or your dirty clothes into the sanctum of your inner tent.
Dry bags are your friends – have a system
This is where dry bags come in. When backpacking, always keep your fresh clothes in a dry bag so that when you whip them out, they're not wet in the slightest and ready to wear immediately. When you arrive sopping wet at your tent's porch, pull the dry bag with your clothes out of your pack and throw it into the inner.
Having a system of dry bags makes things much easier. A small one is ideal for items like your GoPro, power bank and headlamp; a medium-sized on is great for your hiking hats, gloves and underwear; while larger ones will hold your down jackets and spare pants. A dry bag can also be used as storage for all your wet, muddy garments while you're on the trail. In addition to all of this, you can use a dry bag to wash your clothes while camping.
How to keep your tent clean while camping: a dozen top tips
So, we're proficient at keeping dirt out. Now let's go through a dozen tips on how to keep your tent clean…
1: Choose your pitch wisely
When you pitch your tent, consider the terrain carefully. You may want to be quite close to a water source but too close and the ground will be wet and potentially muddier. Dry ground is preferable for keeping your tent clean.
2: Use a tent footprint
A tent footprint is a large groundsheet that goes under your entire tent, essentially forming a barrier between your shelter and the ground. This will keep your tent dry and clean, as well as insulating it against the cold, ideal for winter camping.
3: Erect a tarp over your tent
Shield your tent against the weather and any debris with a well-placed tarp. Useful as a block against the early morning sun or just for repelling the rain, a tarp also provides additional protection against any dirt. It can also act as a lunchtime shelter, meaning you can eat away from your tent while still keeping dry in wet conditions.
4: Keep your inner tent's mesh door zipped up
Spiders and flies have a habit of finding their way into your inner tent. It's the stuff of nightmares for kids on residential trips ("Oh my god! There's a spider in the tent!") and not pleasant even for those of us who like creepy crawlies. More than anything, there's the thought that they might end up squashed or trapped when it comes to rolling your tent up at the end of the trip. The only way to combat this is to keep your mesh door zipped up as much as possible.
5: Eat outside
If you're in a one-person tent or similar, there's not going to be a great deal of room and you're certainly not going to be able to replicate anything like the comfort and stability of your dining table at home. Noodle juice spillages, biscuit crumbs and lost crisps are just some of the offenders you can expect if you eat in your inner.
In larger family tents, the living area is usually big enough for a table and camping chairs, often acting as a dining room. However, a bit of al fresco dining is definitely preferable if you're wanting to keep your tent clean.
6: Clean your camping cookware
Keeping on top of your camping utensils and your pots and pans is not only important for hygiene reasons but to also stop scavengers sniffing around your tent. Learn how to clean camping cookware, do it outside and keep your tent nice and fresh.
7: Set up a trash bag / bin and use it
Okay, so you were naughty and ate a chocolate bar in the tent. Perhaps it was raining outside and you needed a sugary pick-me-up. We're not judging. What we can't abide by is then just popping your wrapper down on the groundsheet. Now there's bits of chocolate melting in your inner tent and the wrapper has got lost in the folds of the fabric. You'll probably discover it on your next camping trip.
Whether you're car camping or backpacking, you should always have a system for trash and in order to leave no trace you must dispose of it properly at the end of your trip. A system that allows you to recycle items like plastic bottles and food waste is even better. Though be aware that food waste can attract unwanted visitors to your site, so keep it in a sealed location such as your car or a cooler box. Speaking of which…
8: Use a camping cooler
A sealable camping cooler is brilliant for storing all your food and drink, thus keeping them out of your inner tent. As they are fully watertight, you can leave them in the porch of your tent, where they can make a handy seat too.
9: Bring a dustpan and brush
This doesn't really apply to backpackers, who will be too busy counting every gram to even consider such a luxury, but if you are car camping, bring a dustpan and brush along. This allows you to give your groundsheet a quick spruce once in a while and clear out any dried mud and crumbs.
10: Kitchen roll and wipes
Kitchen roll and wipes are great for cleaning up any spillages that might occur.
11: Keep your tent tidy
It's easier to keep a tent clean if you also keep it tidy. A tidy shelter makes it easier to spot any mess and clean it up. Most decent tents come with mesh pockets for easy storage and little innovations like gear lofts. Utilise these to keep everything ordered.
When on a thru hiking expedition or wild camp, don't liberate the contents of your backpack all over the inner tent, as things can get a little chaotic. Large backpacks should have multiple zippered entry points and various compartments, allowing you to have a system for easy access to various bits of gear. Add in your dry bag system and you soon see there's no reason to have individual items slung across the tent.
If you're camping with kids in a larger tent, collapsible boxes are great for storing their frisbees and footballs. Imagine the havoc wreaked by a ball allowed to roll freely around the living space – it doesn't bear thinking about!
12: Clean your tent and gear at the end of the trip
You'll be much more motivated to keep everything fresh during your next camping adventure if your tent and gear are as good as new when you pull them out. Learn how to clean a tent and get into the habit of doing it at the end of a longer trip.
All the latest inspiration, tips and guides to help you plan your next Advnture!
Alex is a freelance adventure writer and mountain leader with an insatiable passion for the mountains. A Cumbrian born and bred, his native English Lake District has a special place in his heart, though he is at least equally happy in North Wales, the Scottish Highlands or the European Alps. Through his hiking, mountaineering, climbing and trail running adventures, Alex aims to inspire others to get outdoors. He is currently President of the London Mountaineering Club, training to become a winter mountain leader, looking to finally finish bagging all the Wainwright fells of the Lake District and hoping to scale more Alpine 4000ers when circumstances allow. Find out more at www.alexfoxfield.com