Best large tents: for family camping and adventures with friends
Our selection of the best large tents will help you choose the perfect basecamp for your next family holiday or group camping trip
Included in this guide:
1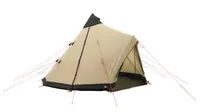 Robens
Chinook Ursa
2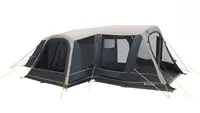 Outwell
Airville 6SA
3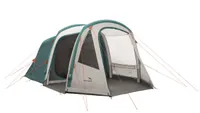 Easy
Camp Base Camp Air 500
4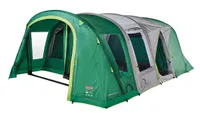 Coleman
Valdes Deluxe 6XL Air BlackOut
5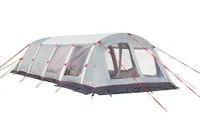 Terra
Nova Zonda 8
6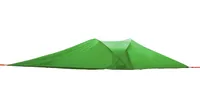 Tentsile
Trilogy 6-person Super Tree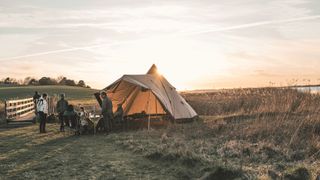 (Image credit: Robens)
Pick the best large tent and you'll have a trusty and reliable vacation option for years to come. After all, the staycation with family or friends is on the rise – and rightly so. It's a great and inexpensive way to discover the incredible countryside right on your doorstep and create everlasting memories with loved ones. So, if you're planning to take a vacation somewhere close to home this year, it's well worth swapping the hotel, apartment or B&B for a campsite.
To make the most of a camping vacation, it's worth investing in the best large tent your budget will stretch to. The latest large tents are the ideal solution for family getaways or weekends away with friends, offering more creature comforts than you might expect, with spacious and roomy interiors and often separate bedrooms, as well as generous communal spaces to enjoy meals together and hang out.
They're also lighter and more packable than ever before, meaning you won't need to tow a trailer just to accommodate everything. Unlike the heavy, cumbersome tents of old, they're also quick and easy to pitch (for help with this, see how to pitch a tent), with intuitive designs and robust yet lightweight poles – or even, in some cases, no poles at all. Technological advances in tent design have led to the rise of air tents, which use inflatable integrated beams instead of traditional tent poles. They're an increasingly popular option that still offer good durability and a sturdy construction with minimal fuss and reduced set-up time.
We've carefully picked out a top selection of large tents from the biggest and most reputable brands, designed for a range of needs and uses – so whether you're looking for a portable take on the iconic tipi or bell tent for your next glamorous glamping getaway, or a roomy tent with plenty of living space to house the whole family, there's an option for you.
All of the shelters featured in this review of the best large tents are high-capacity models designed for groups and families. If you don't need quite so much legroom, check out our best 4-person tents, best 2-person tents, and all-inclusive buying guide for the best tents for all kinds of adventure.
If you're assembling kit for the upcoming camping season, we'd also recommend casting an eye over our best sleeping bags, best camping tech, camping checklist, best camping chairs, and best camping stoves.
The best large tents for family or group camping
Robens Chinook Ursa
A traditionally styled tipi tent that uses modern materials and an innovative design to create a versatile and adaptable space, ideal for convivial camping trips
RRP: €1,400 (EU) / £1,180 (UK) | Sleeps: 8 people | Style: Tipi tent | Weight: 21.7kg/47lb 13.45oz | Pack Size: 106 x 30cm/3ft 5.7in x 11.8in | Dimensions: 475 x 425cm/15ft 7in x 13ft 11in | Max headroom: 3m/9ft 11in** | Compartments: 1 (inner tent with 2 compartments can be purchased) | Porches: 1 | Waterproofing (fly): HydroTex HD 100% 75D 185T polyester, Hydrostatic head: 5000mm | Compatibility: 3-season
Well-designed and adaptable configuration
High-quality materials
Accommodates a stove
Easy to pitch
Single-skin construction (unless used with optional inner, sold separately)
Only one living/sleeping space (unless used with optional inner, sold separately)
Optional inner tent and stove cannot be used together
Despite its traditional looks, this unusual tent employs modern materials and an innovative, superbly engineered design to create a versatile space for families or groups. It can be configured as a conventional tipi with an A-frame doorway but can also be transformed to open up into what is essentially an airy shelter with an open, three-poled front canopy. If you're looking for an adaptable tent that works in varied conditions, this is a great option.
It also has a vent for a stove pipe, allowing it to be used with a frontier or outbacker-type stove. That addition creates a very cosy space that comes into its own on chilly evenings. It also effectively extends usability beyond summer, permitting year-round use.
The tent is part of Robens' popular Outback range, which is a series of eye-catching tents with a retro canvas look, based on the designs used by early American pioneers. The Chinook Ursa is actually one of our favourites from the range. It has a better cowl design than some of the other tipi styles, with improved Linelok guyline runners and reinforced fabric panels at the A-frame entrance to prevent leakage. It also has plenty of character and charm – but like all the Outback tents, rather than canvas, the fabric is actually a quick-drying but waterproof polycotton blend. That saves plenty of weight, making transport and pitching the tent simple and convenient for such a large, eight-person design.
It's also easy to look after, yet very durable too. Once it's up, you get ample headroom, with enough room at the centre pole for a six-footer plus to stand up, and plenty of interior space. Of course, the tipi design means there are no separate bedrooms or vestibules, though an inner tent can be purchased separately, creating two three-person bedrooms either side of the main pole. The inner tent and stove cannot be used in conjunction, however. In any case, this tent really comes into its own when used as a single communal and convivial space, and it's a great place to spend a warm and cosy evening with a roaring stove – in fact, a night in the Chinook Ursa is pretty much camping heaven, as far as we're concerned.
Outwell Airville 6SA
Deluxe large family tent with plenty of thoughtful details to make this a real home from home – creating a pleasant place to stay, whatever the weather
RRP: £1,625 (UK) | Sleeps: 6 people | Style: Air tent | Weight: 41.3kg / 91lb | Pack Size: 95 x 50 x 50cm / 37.4 x 19.7 x 19.7in | Dimensions: 760 x 520cm / 24ft 11in x 17ft | Max headroom: 2.05m/6ft 8.7in | Compartments: 4 (2 bedrooms and 2 vestibules) | Porches: 1 | Waterproofing (fly): Outtex 6000 Pro, 100% polyester, Hydrostatic Head: 6000mm | Compatibility: 3-season
Air system makes for easy pitching
Spacious and roomy, with configurable interior
Great features
Excellent insect-proofing
Not worth pitching for one or two nights – too big to bother!
Relatively heavy and bulky when packed
Rolling suitcase-style case only has small wheels, so you'll need a trolley or transporter for muddy campsites
The Outwell Airville 6SA is a seriously large tent. Provided your family will fit into its two bedrooms, it has all the living space you'll ever need. Pitching is easy thanks to the inflatable air beams employed throughout – there are no poles at all. A combination of guylines and webbing straps create a secure and sturdy weatherproof structure, aided by a polyester flysheet with a highly waterproof 6,000mm hydrostatic head.
The tent is basically configured in three zones – from rear to front, these are a sleeping zone, a living zone (with a handy side wing) and a front porch area, which can be used with or without a groundsheet. As well as the large front entrance, there are two additional side doors, offering flexible access and plenty of ventilation. Each bedroom will accommodate three sleeping mats or two camp beds. Though it can sleep six, it's the ideal setup for a group of four – either two couples, or parents and a couple of kids. Bedrooms utilise darkened fabric and Outwell's 'Quick & Quiet' magnetic doors, so if someone needs to get up in the middle of the night, they won't wake everybody by unzipping a door.
At 2.3m, sleeping areas are long enough to accommodate tall adults, with decent headroom thanks to near-vertical side walls. These also have storage pockets and a cable entry point to provide power to the bedrooms – ideal for charging a smartphone or plugging in a tablet to watch a late-night film. You also get a large vent to help manage condensation effectively.
The main living space has internal doors to screen it from the porch, which can be rolled back to form a huge single space. The living area will accommodate a large table, while the porch is long enough to take a kitchen or mess table for food prep. The living space also incorporates Outwell's HookTrack system, which provides flexible lighting options, enabling you to hang camp lanterns or a linked lighting system wherever you like. One side of the tent also has a wing lounge, with a large privacy window that offers plenty of light and unzips, so it could even be used as an additional doorway. It's a good storage space but is also a great place for a lounger or an inflatable sofa.
The front porch can be left open or enclosed via zipped doors, also with large privacy windows and blinds for night use. Behind the doors, there is also a useful insect mesh screen – ideal for keeping wasps and other bugs out in summer. The porch can be used with or without a floor. With a groundsheet down, it offers even more living space, while with the groundsheet up, it creates an effective wet room for storing muddy gear, camping chairs or even bikes.
Easy Camp Base Camp Air 500
A practical and relatively inexpensive air tent that is ideal for short getaways with a small family or a couple of friends
RRP: £640 (UK) | Sleeps: 5 people | Style: Air tent | Weight: 15.6kg / 34lb 6.3lb | Pack Size: 78 x 35cm / 30.7 x 13.78in | Dimensions: 490 x 300cm / 16ft x 9ft 11in | Max headroom: 1.7m/5ft 6.9in | Compartments: 3 (2 bedrooms and main vestibule) | Porches: 1 | Waterproofing (fly): PU coated polyester, Hydrostatic Head: 3000 mm | Compatibility: 3-season
Practical porch
Pitches all-in-one
Good value
Noisy Velcro seal on doors
Not the lightest
Priced at the lower end of the spectrum for an air tent, Easy Camp's Base Air 500 promises quick and easy pitching with minimal fuss. It delivers – simply peg out the base, then inflate the three hooped tubes using the supplied pump. The process is intuitive, simple and far more convenient than pitching with conventional poles. The tent feels very stable and sturdy once it's up, and when properly guyed out withstands moderate gusts and breezes very well too. It's well made, with a polyester fabric flysheet that is rated at 3,000mm hydrostatic head – slightly lower than premium family tents, but still fully waterproof.
Inside, there's a generous living area that will easily accommodate a table and two or three camping chairs. To the rear, Easy Camp's 'Sleep-Tight' inner creates a sleeping area with a toggled divider to form two bedrooms in a 60/40 split. The larger right-hand bedroom is intended for up to three sleepers, while the left-hand side can accommodate two. These spaces provide enough room for sleeping mats up to 55cm in width to lay flat, side-by-side. Overall internal length is 210cm, so there's enough space for tall adults to lie out too.
Bedrooms are darkened, though a little light does seep in through the vents and the mesh upper section of the doors, meaning it does not have the same 'blackout' effect as other rivals. Indeed, the Base Camp Air 500 understandably lacks some of the features of more expensive tents, but it does get a couple of nice extras – like the toggled thresholds over the front and side entrances, which can be raised to form a bathtub style groundsheet but also spread out flat in use, preventing you from tripping over the doorway.
We were less keen on the Velcro seal used for the lower section of the doors, which is noisy at night and awkward to use. This also tends to pick up campsite debris, like grass and twigs, and ripping the Velcro apart seems to place a fair amount of stress on both fabric and seams. A separate porch or vestibule would also be nice to store muddy boots and other camping gear.
Still, this tent is a practical size and design for shorter breaks, with a more compact packed size and reduced weight compared to bigger alternatives. In its bag it will fit happily in the boot of a small family car. As an air tent, it is a little more expensive than comparable poled designs, but we think the ease and convenience of pitching makes the extra cost well worth paying.
Coleman Valdes Deluxe 6XL Air BlackOut
A family-focused tent with generous internal proportions and blackout bedrooms designed to offer a better night's sleep
RRP: £999 (UK) | Sleeps: 6 people | Style: Air tent | Weight: 38.4kg/84lb 10.5oz | Pack Size: 78 x 58 x 53cm / 30.7 x 22.8 x 20.9in | Dimensions: 665 x 450cm / 21ft 9.8in x 14ft 9in | Max headroom: 2m/6ft 6.7in | Compartments: 5 (3 bedrooms and 2 living spaces) | Porches: 1 | Waterproofing (fly): PU coated Polyester, Hydrostatic Head: 4500mm | Compatibility: 3-season
Great bedroom space
Roomy and spacious
Plentiful storage pockets
Air system not as intuitive as some rivals
No porch/vestibule door
The Coleman Valdes Deluxe 6XL is the latest evolution of this popular family tent. As with many similar designs, it essentially consists of three distinct zones – sleeping, living and porch areas. The sleeping area at the rear consists of three almost equally sized bedrooms, with generous proportions of 235cm x 140cm – significantly larger than most tents on the market, which can easily accommodate a double camp bed or inflatable mattress.
The right-hand bedroom is removable, so space can be configured according to your needs. In addition, each uses Coleman's BlackOut system, which blocks out up to 99% of daylight. The idea is to help light sleepers get a more restful night, although it also ensures that these spaces are cooler in the day – by up to 5°c – and slightly warmer at night too. Bedroom doors have half-height zipper stoppers, ensuring that zips are always within easy reach for children – a thoughtful safety feature that reflects the family orientated design.
Thanks to near-vertical side walls, there is a generous 2m head height throughout virtually the entire interior. The 2.7m x 4.5m living space is large enough to house a table and chairs, and a spacious porch extends to the front. This has a canopy and side walls for shelter but no front door or groundsheet. The main door has an unusual rigid frame, meaning it opens and closes without needing to be folded or rolled away. There's also an additional side door, which has a framed peak to provide shade and rain protection.
The tent is made from PU-coated polyester with a hydrostatic head of 4500mm. There's a tough bathtub groundsheet and multiple windows fitted with roll-up blinds, ensuring an airy interior but also plenty of privacy when required. Ventilation is also good throughout the tent, with mesh-lined vents above and below the main windows. There are ample storage pockets in the bedrooms and outside the bedroom doors, plus hanging loops for positioning camp lanterns and cable entry for power points.
Pitching is relatively quick and easy, with a little practice. Coleman's air beams inflate via valves that are positioned inside the tent, meaning access is a little trickier than rival designs when inflating them using the supplied pump. It means reaching through a zipped flap with the pump hose and nozzle, which then twist-locks securely to the valve. Once all the beams are inflated, the tent is secured using a series of storm flaps and guylines. It feels sturdy and stable when fully pitched, even in moderate winds.
We loved the sense of space that this tent offers, with plenty of room to relax in the bedrooms. The living quarters are airy and well ventilated, and the extended porch offers plenty of shelter for cooking or relaxing. Unlike some other tents, however, it cannot be fully enclosed. We also preferred the inflation systems of rival designs, though with a little practice Coleman's offering is easy enough to use.
Terra Nova Zonda 8
A huge, hassle-free air tent that is robust, stable and well-built, making it the ideal basecamp for extended breaks with family or a group of friends
RRP: £1,399 (UK) | Sleeps: 8 people | Style: Air tent | Weight: 46.5kg/102lb 8oz | Pack Size: 100 x 80 x 60cm/39.4 x 31.5 x 23.6 | Dimensions: 790 x 450cm / 25ft 11in x 14ft 9in | Max headroom: 2.1m/6ft 10.6in | Compartments: 5 (3 bedrooms, 1 optional hanging bedroom and main living space) | Porches: 1 | Waterproofing (fly): 150D Rip Stop Polyester, Hydrostatic Head: 6000mm | Compatibility: 3-season
Excellent air flex pole system
Sturdy and robust
Fully enclosed porch area
Heavy
Difficult to transport
As the entry-level arm of renowned British expedition tentmaker Terra Nova, Wild Country tents are known for their affordability, durability and practicality. Compared to other brands, they are a relative newcomer to the family market – the Derbyshire manufacturer is, after all, better known for its excellent range of lightweight backpacking tents – but with the Zonda series, they've created a modest range of large, high-quality designs that employ the latest air beam technology.
Wild Country's 12cm-diameter Air Flex poles are wider than most for increased stability, while the well-established tunnel-type structure is a family camping favourite. For such a big tent it's surprisingly straightforward to pitch, with sturdy end guy straps and reflective side guy lines that don't pose a trip hazard and don't whistle or vibrate in high winds. The flysheet is made of a tough ripstop polyester, with taped seams and a 6000mm Hydrostatic Head rating, which puts it up there with the very best tents.
With a broadly rectangular floor plan and walls that are designed to maximise internal space and headroom, this is a roomy and capacious tent. The living space is light and airy, with large tinted windows that come with adjustable privacy curtains. There are lantern hanging points and twin electrical hook up access on either side of the tent. Adjustable, mesh-lined ventilation ensures good airflow and a comfortable ambient temperature. Off the main quarters are three side-by-side bedroom compartments, each measuring 215cm x 140cm, equipped with black fabric and removable partitions, enabling you to customise the sleeping space as needed.
At the front of the tent, an extended porch offers room for storage, cooking or just hanging out, with a detachable bathtub groundsheet that means you can use it as a wet or dry space. It also has a fully enclosed front door, which is a big plus. Many tents of this size are a real pain to take down and pack away, but the Zonda comes with an oversize tarp-style tent bag that makes this task – always the least fun part of any camping trip – less arduous than most.
Our only quibble is that at over 46kg, this is no lightweight, and so we'd have appreciated a more rigid carry case equipped with wheels, as some other brands offer, to make transporting it to and from the car a little easier.
Tentsile Trilogy 6-person Super Tree
A giant suspended tree tent that offers a unique camping experience for family or friends, bringing a true sense of adventure to any group getaway
RRP: £1,354 (UK) | Sleeps: 6 people | Style: Tree tent | Weight: 30.5kg/67lb 3.8oz | Pack Size: 56 x 33 x 25cm (x3) / 22 x 13 x 9.8in | Dimensions: 8m x 8m x 8m / 26ft 3in x 26ft 3in x 26ft 3in | Max headroom: 1m / 3ft 3in | Compartments: 3 (3 bedrooms, plus covered porch area) | Porches: 1 | Waterproofing (fly): 70D PU-Coated polyester, Hydrostatic Head: 5000mm | Compatibility: 3-season
Comfortable
Roomy
Fun and unique
Superbly engineered
Can be chilly
Consistent pitching requires practice
Requires a very large area
Requires very robust trees
Tentsile's tree tents offer an undeniably unique camping experience. The Trilogy is essentially three of Tentsile's two-person Connect tents interlocked together, with a huge dome centrepiece that creates a covered porch area. It is a truly impressive bit of kit that creates a spectacular tree-fort basecamp for six people.
Each of the three Connect units has a comfortable sleeping platform, fold-away doors, four large storage pockets and a mesh inner. The central canopy attaches to the three Connect units, providing plenty of cover. The setup utilises a sturdy three-point anchor system. It has enough flex to ensure it is very comfortable, making it more practical than pitching a tent on the ground – particularly in wooded areas, where tree roots, leaf litter and pine needles can often make it tricky to find a flat, dry spot to camp.
The Trilogy tent is built to hold 6 adults (plus their gear) and has a 1,200kg weight capacity, so it's ideal for family and group camping. You also get six underfloor storage nets and two internal storage pockets in each bedroom area, keeping all your gear organised and protected. Two alloy crossing poles inside each compartment form a 4m by 2.5m triangular sleeping area, with 1m of head height at the highest point. A reinforced central webbing strap down the middle of the tent floor effectively creates separate sleeping bays for each person, ensuring you don't end up squashed together in the middle of the tent.
For an optimum setup, you need to find a very widely-spaced trio of trees in a triangular configuration. The tent attaches to three durable webbing straps and tension is created via heavy-duty ratchets. It's best to use Tentsile's tree protector wraps when setting up the tent to ensure you don't damage any trees. Admittedly, it requires a little practice to get a perfect pitch. You need to try and make sure your anchor points are all placed at the same height. Tentsile's nifty webbing ladders allow you to pitch higher up, which means you can also utilise the area underneath the tents. It's a comfortable and convivial system.
You still need to use a sleeping mat or a couple of very thick blankets though, because otherwise – just like a hammock – it can be chilly. Whether a tree tent will replace your usual tent depends on how much you value the idea of being up off the ground – for some, the added comfort and the unique appeal will be well worth the cost.
Choosing the best large tent for you
Large tents for families and friends are a popular piece of outdoor kit, and a serious investment if you opt for quality (which is best both in the short and long term, because cheap tents don't perform or last). There is a huge array of models available, scattered across a broad landscape in terms of features, quality, style and price point. The best large tent for you will depend on what car camping adventures you have planned, but before investing in a shelter, consider the following factors.
Features
Selecting a large tent for family holidays or a group camp comes with different considerations compared to choosing a lightweight backpacking tent. Of course, in all cases you still want a tent that will be durable and robust, ensuring that your purchase will deliver plenty of value for years to come. However, other factors that are critical for small tents, like weight and packed size, are less important – though you should still check your big tent will fit in the car and that it isn't too heavy to make carrying or transporting it to your pitch overly difficult. That's the kind of thing that can ruin a camping holiday before it has even started…
Size and layout
The size of your group will principally determine which tent you should buy. You want a tent that will comfortably accommodate everybody, with enough space for sleeping that will still leave plenty of storage – including enough room for things like camping chairs and other furniture, clothing and cooking gear, and even bikes and outdoor equipment. It may be tempting to simply buy the biggest tent you can afford but remember that larger tents often have a huge footprint, limiting your pitching options and sometimes restricting your choice of campsites. Bigger tents also leave huge expanses of fabric to billow and ripple in the wind, making good pitching even more important. Smaller tents are often quicker and easier to pitch, and more stable when erect, meaning they are less susceptible to wind (and quieter).
If you're camping as a family, think about the importance of separate bedroom compartments and other areas. Privacy is particularly important to teens, and a configurable interior layout (many tents have removable bedrooms) can add versatility as kids grow older. Some tents feature blackout bedrooms, which can make sleeping easier.
Make sure there is a spacious living area, with enough headroom to stand up in. Nothing makes a tent more unbearable than being constantly stooped when you're inside. Don't overlook other design elements either, such as the porch or vestibule, doorways and entrances, windows and ventilation. These all make a huge difference to practicality and overall liveability. For example, large windows offer a bright and airy feel, but make sure they have blinds for privacy. Good ventilation will keep the tent cool – though ensure there is insect mesh so as not to let wasps (the bane of any camper) and other bugs in. Two or more entrances are useful if people will be going in and out of the tent all day. Make sure that these have a flat threshold rather than a bathtub lip, which is easy to trip over – especially at night. Check that the tent has plenty of places to hang camping lanterns to provide good illumination, that there are enough storage pockets (particularly in the bedrooms) and that there are cable entry points for electric hook-ups, if you need them.
Your tent will be a refuge in poor weather, so make sure it's a pleasant and comfortable place to spend time in. This is obviously more important if you're staying on a campsite for a week, 10 days or even longer. If you're just taking a weekend break, don't buy a huge tent – you'll spend all your time setting up camp and packing everything away again, leaving precious little time to actually enjoy yourself.
A good porch is one of the most important elements of the tent, as this is where you'll probably do a fair amount of food prep and cooking, as well as – hopefully – relaxing. Make sure it can accommodate a cooking/mess table or camp kitchen, as well as a couple of camping chairs. Porches are also very useful for storing wet clothes and muddy boots, as well as offering additional shelter. The best designs have a front door so that they can be fully enclosed, effectively increasing your living space.
Construction
The tunnel-type tent is a popular choice for large tents, as it maximises internal space and headroom. Increasingly, however, modular-type designs are available, as are more traditional tipi or bell tents – with the rise of glamping, these have seen a resurgence in popularity.
The tipi-style is a very convivial design that is ideal for hanging out as a group. They're also very stable and (usually) easy to pitch, as they normally rely on just a single central pole and possibly an additional A-frame for the doorway. Many tipi-style designs also have a flue for a wood-burning stove (see our best wood-burning stoves), which is a great addition that ensures the tent stays cosy even in cold weather (obviously follow instructions to the letter when operating this, for safety reasons, and do not attempt to use a wood-burning in a tent that doesn't specifically cater for it). With a stove, you can effectively extend camping season beyond the summer months, and even – if you're brave enough – go winter camping; a real adventure.
Most quality tents will be made of either ripstop polyester or polycotton. There are different grades of polyester, which are usually rated by weight (or denier), reflecting toughness and tear strength. In addition, they are often given a hydrostatic head rating (expressed in mm), which indicates the waterproof qualities of the fabric. Large tents usually range from 1,500mm HH (waterproof) to 6,000mm HH (very waterproof). (For more on waterproofing, check out our explainer what is hydrostatic head?) Polycotton, unsurprisingly, is a blend of polyester and cotton. It is a breathable fabric that regulates temperature well, keeping you warmer in cold weather and cooler on warm days. It is also very weatherproof. For tips on maintaining your tent's performance, check out our guides how to store a tent and how to waterproof a tent.
Tent poles are usually made of either rigid steel or an aluminium alloy. Avoid cheaper tents with fibreglass poles, which are prone to shearing. In the last few years, technological advances have also led to the rise of air tents. Rather than using traditional poles, they use inflatable beams or sleeves. They are actually far sturdier than one might think, and surprisingly resilient. Almost all the major manufacturers of large tents now make air ranges, which are well worth considering, despite the extra cost. They can cut down pitching time substantially.
Performance
The primary function of any tent is to keep you protected from the elements – primarily wind and rain. But ideally, a tent should also be a comfortable shelter, offering enough storage for you, your family and all your possessions. Ventilation is another important factor – a tent may be fully waterproof, but without adequate moisture management you'll still get wet from condensation build-up.
Unlike a mountain tent, which might need to withstand strong winds in exposed locations, large tents are likely to be pitched at lower level in more sheltered campsites. As such, weather resistance is less important, though they still need to be able to withstand wet weather. The sheer size of a large tent also means it is more susceptible to wind, so ensure that the tent has good quality guy lines and stakes. Many tents also feature storm straps or webbing rather than cord at main stress points for added stability.
Weight and pack size
If you're car camping, these figures are less important – but you'll still need to ensure that the tent will fit in the car! Most premium tents come with a durable bag or carry-case, which are sometimes fitted with wheels – a bit like a rolling suitcase – to make transportation easier. Of course, if you're on a muddy campsite and have some distance to travel between your pitch and your car, you'll probably still need to be able to carry the tent or load it onto a trolley.
Make sure the tent isn't too difficult to get back into its bag when it's time to pack up either. Struggling with an unwieldy tent is no fun.
Value
To a certain extent, the old adage 'buy cheap, buy twice' is true. Cheaper tents may look similar in design to more expensive rivals, but they are typically made from poor-quality fabrics and components. The build quality is also unlikely to be as good compared to a reputable manufacturer. Large, inexpensive tents – such as those that are often abandoned at festivals – are difficult to recycle and have a significant environmental cost.
However, there are good value tents at cheaper price points. Easy Camp is one of the best examples of an entry-level brand that make high-quality tents for those on a budget. The largest manufacturers – like Outwell, Vango, Zempire and Kampa/Dometic – also make a wide range of tents at different price points. Danish brand Robens' Outback series of polycotton tents are also well worth looking at if you prefer a traditional-style tent. They are made of modern polycotton rather than old-school canvas, which means they are much lighter and, in relative terms, more affordable – particularly when you consider that a heavy canvas bell tent, like those used for glamping holidays, can cost up to $5000/£4,000.
Though the best large tent might seem like a big investment, with many priced at $1300/£1,000 or more, it is worth shopping around – many retailers offer bundles that include a tent carpet or footprint, adding useful extras. In addition, if you plan to use the tent for years into the future, regard it as an investment. Provided you look after it, a good tent ought to last for years, even decades. Think about how much you'd spend on holiday accommodation in that time, and suddenly it looks a far more attractive prospect...
An outdoors writer and editor, Matt Jones has been testing kit in the field for nearly a decade. Having worked for both the Ramblers and the Scouts, he knows one or two things about walking and camping, and loves all things adventure, particularly long-distance backpacking, wild camping and climbing mountains – especially in Wales. He's based in Snowdonia and last year thru-hiked the Cambrian Way, which runs for 298 miles from Cardiff to Conwy, with a total ascent of 73,700 feet – that's nearly 2½ times the height of Everest. Follow Matt on Instagram and Twitter.
All the latest inspiration, tips and guides to help you plan your next Advnture!
Thank you for signing up to Advnture. You will receive a verification email shortly.
There was a problem. Please refresh the page and try again.