Backpack alternatives for hiking: 4 ways carry your gear
We compare four backpack alternatives for hiking, so you can still hit the trail with everything you need for a day hike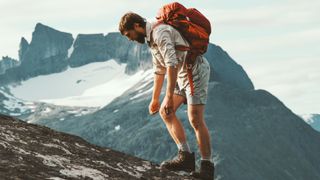 (Image credit: Everste)
A backpack is considered a staple piece of gear for a hike of virtually any distance. It's where you stash all your essentials, like your water bottle, waterproof jacket and first aid kit so that you can keep your hands free for using your trekking poles or scrambling on steep stuff. But what if you absolutely hate carrying a backpack? Maybe you find it negatively affects your posture or perhaps you have an injury that makes it difficult or painful. In this article, we compare four possible backpack alternatives for hiking, so you can still hit the trail with everything you need for a day hike. (Sorry folks, if you're going on an overnight adventure, we still think a good backpack is your only realistic option).
Before we dive into the backpack alternatives for hiking, however, it's important to consider that the reason you hate carrying a backpack might be to do with the backpack you have. You can read more in our article on how to choose a backpack, but you will be happier with a proper hiking pack that is contoured to fit your body, and not your old book back from college which might lack padding and support. In addition to getting a good hiking backpack, you'll want to get the right size backpack for your body. We recommend heading out to your local gear store with a couple of books and trying on some packs with some weight to see if you can find something that will convert you to the backpack brigade.
But what if you already have a great backpack, and it's the right size, and you still hate it? One other possibility to consider is that it just needs to be properly fitted to your body. Read our tips on how to adjust a backpack to make sure yours is getting the weight off your shoulders and onto your hips, where you want it.
Now, if you've done all of the above to no avail, you don't have to quit hiking, buy a mule, or set off without any gear. Here are some realistic backpack alternatives for hiking that don't involve you carrying a tote back up a hill or trundling a suitcase up a mountain:
Running vest
Also called hydration packs, running vests have a little crossover with a backpack, but are much more minimal and snug, fitting over the shoulders and the chest like a vest (or waistcoat if you're in the UK). The neat fit ensures they don't bob around or rub too much as you bound along the trail, and they'll work even better if you're hiking, not running. They come with a built-in pocket for your water reservoir, meaning no need to carry a bottle, and have other small pockets for key items like snacks, your phone and perhaps even your best hiking gloves. You won't be able to carry much more than the bare essentials, and you might want to invest in some very lightweight and packable gear, but you can also use pockets in your hiking pants to supplement your vest storage and chances are, you'll like this option more than carrying a backpack.
Waist pack
Also called lumbar packs, hiking waist packs sling around your hips and offer a surprising amount of storage these days. Typically these fasten at the front and you carry more of your gear in pockets around the sides and back so it won't get in the way of your climbing. Many of the big backpack manufacturers are making hiking waist packs nowadays and they come with pockets for water bottles and other gear. The big selling point is that these are nowhere near your shoulders, so they won't impact your posture, and they allow you to move your arms normally. That said, many people do find they move and bounce around a little which can be annoying. However, if you're dead set on nothing around your shoulders, this is your best option.
Crossbody backpack
So yes, this is still a backpack, but some people do find crossbody backpacks more tolerable than your regular two-strap affair. Long favored by bicycle couriers and cool people in the 1990s, the cross body backpack has one strap that crosses your body diagonally from one shoulder to the opposite hip. These won't offer as much storage as a regular backpack, which some might see as a positive because it will make you pack light. A major downside is that these are asymmetrical, which isn't ideal when it comes to your posture, however some major backpack manufacturers have invested in these, like Osprey, so if you're going for it, try to find one that's designed for action rather than fashion. We don't love this option, but it's worth a go.
Get creative with pockets and carabiners
Finally, there is the no-bag option that is possible if you're just going for a short hike in good weather. We still always recommend carrying water, a first aid kit and an extra layer, but the best hiking pants and jackets come with lots of large pockets where you can pack a maps, compass, beanie, emergency gear and snacks. You might even be able to clip certain lightweight items like packable waterproofs and gloves to loops on your jacket or trousers with a small carabiner, though too much of this can get annoying and overstuffed trouser pockets can inhibit your range of movement.
A waterproof or fleece jacket can be tied around your waist and if it's a sunny day, you can apply sunscreen before you set off. For your water, you can carry a bottle in your hand or use a hydration belt as we recommend in our article on how to carry water while running. The slight risk of this is that you end up ditching gear you really need, but if you dress properly in hiking layers and understand the hiking essentials, you might be able to make this option work for you and hike unencumbered by pack or belt.
All the latest inspiration, tips and guides to help you plan your next Advnture!
Julia Clarke is a staff writer for Advnture.com and the author of the book Restorative Yoga for Beginners. She loves to explore mountains on foot, bike, skis and belay and then recover on the the yoga mat. Julia graduated with a degree in journalism in 2004 and spent eight years working as a radio presenter in Kansas City, Vermont, Boston and New York City before discovering the joys of the Rocky Mountains. She then detoured west to Colorado and enjoyed 11 years teaching yoga in Vail before returning to her hometown of Glasgow, Scotland in 2020 to focus on family and writing.