The 10 best desert National Parks in the US
These 10 best desert National Parks delight with deep canyons, surprising flora and stunning rock formations that are a world-class playground for hiking, canyoneering, mountain biking and rock climbing adventures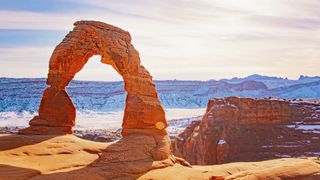 (Image credit: Kryssia Campos)
North America is the most ecologically diverse continent on the planet, from the soaring peaks of the Rocky Mountains that make up the landscape's backbone through lush prairies and rainforests all the way to rugged and white sand coastlines. As someone who loves the outdoors, you could easily stick to the mountains, forests, lakes and rivers and never run out of places to explore, but if you haven't discovered them already, the area's large swaths of desert landscape are worth a second look.
The US is 30% desert, with four major deserts to choose from: Chihuahuan, Great Basin, Mojave and Sonoran. From the lowest point in Death Valley to the slick rock trails around Moab, many of these spaces are protected as National Parks due to their exceptional natural beauty and, despite initial appearances, the vast biological diversity they host. If you're ready to get your hiking boots a little sandy, we've rounded up the best desert National Parks in the US for you to explore this year.
Though childhood cartoons might have made you think that deserts are featureless places, these National Parks delight with deep canyons, surprising flora and stunning rock formations that are a world-class playground for hiking, canyoneering, mountain biking and rock climbing adventures. Make sure you read up on both desert hiking and desert camping to ensure you set off prepared. Deserts are lands of extremes and you'll want to carry a water bottle or two as well as an extra base layer and down jacket in your backpack for when the sun drops. Understand desert-specific risks such as flash flooding and know what to do if you see a snake on the trail so you can stay safe. Most importantly, have fun!
Joshua Tree
Joshua Tree National Park is in southern California near the city of Palm Springs, and straddles two distinct desert ecosystems: the Mojave and the Colorado. It is named for the trees native to the Mojave, which takes up the western portion of the Park and sits a bit higher and is therefore cooler – sometimes even experiencing snow in winter. This diverse desert environment is characterized by alternating dense and sparse collections of Joshua trees and large boulders, some of which are billions of years old. The best hikes in Joshua Tree National Park give you some of the best sunrises and sunsets you'll ever see across the windswept vistas of this desert landscape.
Fun fact: The trees for which Joshua Tree is named aren't trees at all; rather, they're the world's largest yucca plants.
Death Valley
Death Valley holds the distinction of being the hottest, driest and lowest National Park in the US, and while that may sound foreboding, its geography also means it stuns its visitors with looming sand dunes and peaks, endless salt flats and basins and – despite the name – surprising diversity of wildlife. Situated in the northern Mojave desert, the park straddles California and Nevada, and is approximately four hours from LA and just over two hours from Las Vegas. The best hikes in Death Valley deliver volcanic fields, multi-colored rock canyons, sand dunes the size of mountains and deep, salt-covered basins.
Fun fact: Despite its desert ecosystem, Death Valley occasionally bursts into color when rainfall creates a "superbloom" of wildflowers.
Grand Canyon
Grand Canyon National Park in Arizona is about a three-and-a-half hour drive from Phoenix, four-and-a-half from Las Vegas. The canyon was carved by the Colorado River on its journey from the Rockies to the Gulf of California, though at over a mile deep you can rarely see it. The canyon is 277 miles long and up to 18 miles wide, making it one of the biggest canyons in the world. Scientists don't know how old it is, but some estimate parts of it may be 70 million years old. The Grand Canyon is home to the Hualapai, Hopi and Havasupai tribes, the latter of which live in the canyon's only town, Supai Village, an eight-mile hike from the canyon's rim. The best hikes in Grand Canyon National Park range from short, easy strolls along the rim to epic overnight trips all the way down to the canyon floor and back up, and all of them take in the splendor of this geological marvel.
Fun fact: The Grand Canyon is bigger than the entire state of Rhode Island.
Arches
Arches National Park is like no other place on earth. Proclaimed as a red rock wonderland, Arches is famous for having over 2,000 natural sandstone rock arches as well as hundreds of other spectacular rock formations like pinnacles, fins and balanced rocks. The best way to experience this National Park is by foot on its slickrock trails, and the best hikes in Arches National Park range from short strolls to day-long primitive adventures that will take you up close and personal with geological evolution. Located in eastern Utah, four miles north of Moab, the landscape of Arches was formed by a sea bed 65 million years ago that was forced up to thousands of feet above sea level before being slowly eroded by wind and water over time.
Fun fact: The soil crust here is cryptobiotic crust, meaning it's alive, and you shouldn't step on it
Canyonlands
Canyonlands National Park is a geological mecca for rugged desert adventure. South of Moab, Canyonlands holds the distinction of being the largest National Park in Utah, preserving 337,598 acres of canyons, mesas, arches, spires, buttes and fins. Less than ten miles from Arches, Canyonlands is so big that it's divided into four sections by the Colorado and the Green River: Island in the Sky, The Needles, The Maze and Horseshoe Canyon. The best hikes in Canyonlands National Park deliver dramatic desert landscapes, stunning spires and perfectly preserved rock art.
Fun fact: The outlaw Butch Cassidy and his gang used to hideout in Canyonlands
Zion
Also in Utah but down in the southwest corner of the state lies another treasure trove of geological phenomena in Zion National Park. While the best day hikes in Zion National Park are by no means lacking in red sandstone canyons and spires, they also feature magical waterfalls, pools and streams that turn this canyon into a desert sanctuary rich with rare flora and fauna. Easily one of the best National parks in a state that's chock full of them, the park centers around Zion Canyon, which frankly should be on everyone's bucket list. The Virgin River cut this 15 mile long canyon up to 2,640ft deep into the earth leaving high red sandstone walls, sparkling waterfalls, emerald rock pools and hanging gardens.
Fun fact: The word "Zion" is a hebrew word meaning "sanctuary" or "refuge" and the area was so-named by mormon settlers in the 1800s
Great Sand Dunes
This National Park is often overlooked because it sounds, well, just like a giant sandbox. In reality, here you'll find virtual mountains of wind-sculpted sand, some up to 750 feet high, making up the tallest sand dunes in North America over an area of about 30 square miles. The otherworldly dunes were formed by sediment from the surrounding mountain ranges after lakes receded from the San Luis Valley and are a must-see in Colorado. The best time to see the sand dunes is at dusk, so plan to arrive by the late afternoon to set up camp. From Denver down the Great Sand Dunes it's more or less a straight shot down I-25 through Colorado Springs and Pueblo, with mountain views most of the way.
Fun fact: Though the main dunes remain largely the same year after year, the sand dunes do move before your eyes in a breeze
Black Canyon of the Gunnison
This National Park is sometimes described as the Grand Canyon in miniature, but don't let that description fool you into thinking it's small. This 48-mile long canyon plunges over 2,000ft into the earth and is easily big and deep enough to be vertigo-inducing. Carved out by the Gunnison River, and time, this near-vertical canyon is so-named because it is so deep that parts of the river receive no more than 33 minutes of sunlight per day. Fourteen miles of the canyon were declared a National Park in 1999 offering visitors the chance to marvel at geological history like the 2,250ft Painted Wall, the tallest sheer cliff in Colorado as well as activities like hiking, rock climbing, kayaking and camping. It's close enough to Great Sand Dunes to visit both in one Colorado road trip.
Fun fact: The Gunnison River drops, on average, 43 feet per mile as it rushes through the canyon – that's six times more than the Colorado River through the Grand Canyon.
Carlsbad Caverns
Carlsbad Caverns are in the Chihuahuan Desert of southern New Mexico. The true appeal of Carlsbad Caverns are its 119 caves, the longest of which is over 120 miles. In addition, you can explore this park above ground with hiking trails that take you across the ancient sea ledges and deep rocky canyons of the Chihuahuan Desert and the 100 mile Guadalupe Ridge Trail.
Fun fact: The landscape here was once part of an ancient underwater reef called Capitan Reef, and marine fossils can be found embedded in the rock
Big Bend
Down in Texas, you'll find Big Bend National Park near the Chihuahuan border. Because it is so remote (300 miles from Paso, the nearest city) Big Bend is well off most people's radar, but this fabulous desert landscape has loads to offer those who love hiking, backpacking and a true backcountry experience. In fact, when we spoke to Anwar Mamon, executive director of the NatGeo show America's National Parks, he revealed that Big Bend was by far his favorite park. Big Bend is home to the Chisos mountain range and much of the Chihuahuan Desert.
You can hike through the shallow waters of the Santa Elena Canyon Trail, Big Bend's answer to The Narrows, and along the high ridges of the Lost Mine Trail, backpack in the Chisos Mountains, float along the Rio Grande river admiring the steep limestone cliffs and soak in the Langford Hot Springs. It also stakes the claim to having the least light pollution of any of the National Parks in the lower 48 states, making it a prime spot for stargazing. At night, you can enjoy with their Night Sky program, featuring star parties and moonlight walks.
Fun fact: Big Bend is the only National Park to have an entire mountain range (The Chisos mountains) contained within its borders.
All the latest inspiration, tips and guides to help you plan your next Advnture!
Julia Clarke is a staff writer for Advnture.com and the author of the book Restorative Yoga for Beginners. She loves to explore mountains on foot, bike, skis and belay and then recover on the the yoga mat. Julia graduated with a degree in journalism in 2004 and spent eight years working as a radio presenter in Kansas City, Vermont, Boston and New York City before discovering the joys of the Rocky Mountains. She then detoured west to Colorado and enjoyed 11 years teaching yoga in Vail before returning to her hometown of Glasgow, Scotland in 2020 to focus on family and writing.