6 ideas for celebrating the autumnal equinox outdoors
Outdoor activities can be a truly terrific way to honor the fall equinox and observe the changing temperament of the natural world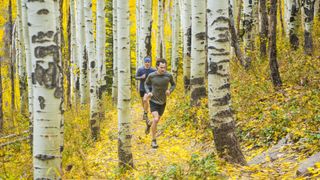 (Image credit: Cavan)
It's just past 7 a.m. and I'm setting out on the trail. For the first time in months, the sun has only just cleared the hills to the east when I start out and there's the faintest nip in the air, a puff of vapor with each exhale. The heady scents that accompany the blossom-laden bows of summer have dissipated and in the trees above me, yellow highlights are beginning to stake their claim on the landscape.
Autumn is on its way, heralding my favorite time of year to be out in my hiking boots. Summer's intense heat has faded, leaving me to wrap up in a cozy fleece jacket and feel the thrill of crunchy leaves underfoot as the landscape transforms around me in preparation for deep hibernation. Though with darkening mornings and cooler temperatures, you might feel inclined to head indoors and use the gym for your workouts at this time of year, outdoor activities can be a truly terrific way to honor the fall equinox, or autumnal equinox, and observe the changing the temperament of the natural world.
What is the autumnal equinox?
The autumnal equinox marks the conclusion of summer and the onset of fall, and it is a moment in time when neither of the earth's poles is tilted towards the sun. The word "equinox" comes from the Latin words "aequi," which means "equal," and nox, meaning "night." At this time, the sun will illuminate the northern and southern hemisphere equally.
In the northern hemisphere, the autumnal equinox occurs in September while for those of you in the southern hemisphere, it takes place in March, when we in the north are experiencing our vernal, or spring equinox. At this moment, and for several days before and after the equinox, we experience about 12 hours of daylight and night, which means there's still lots of time to spend outdoors even without a headlamp.
According to the Gregorian calendar, the autumnal equinox marks the official first day of fall, even though for many of us, it may have felt like fall for weeks already by the time the equinox arrives, while in some places, it could still feel very much like summer. The autumnal equinox usually falls between the 20th and 23rd of September in the northern hemisphere, and though we think of it as a day, it is really just a moment in time. In 2023, the autumnal equinox occurs on Saturday, September 23 at 2:50 a.m. eastern time and at 7:50 a.m. in the UK.
How do people celebrate the autumn equinox?
Symbolically, the autumnal equinox is a time of planetary balance and shifting towards a more introspective pace as we move closer to winter, while on a practical level, it's historically been a time of harvest celebrations. Pagan festivals and rituals have long honored the autumnal equinox and typically center around having harvest feasts and festivals, making offerings at a natural alter such as Stonehenge and spending time in nature.
How to celebrate the autumn equinox outdoors
Because spending time in and with nature is an intrinsic part of celebrating the autumnal equinox, anything you already do outdoors can be turned into an equinox celebration on the day, from gardening to rock climbing. You can lace up your trail running shoes and hit the ground at a fast pace, wrap up in a camping blanket and meditate outdoors or just go for a walk with a flask full of hot tea.
What I do recommend is leaving the headphones at home and using your time to really engage with nature's sounds as well as the smells, sights and feels you get along the way. Take your gloves off and touch the leaves and bark as you travel.
Here are a few of my favorite ways to celebrate the autumnal equinox outdoors:
1. Sunset hike
I'll just clarify this by saying that hiking at any time of day is a perfect way to honor the equinox, but you might notice that the sunsets are more beautiful at this time of year when summer's humidity subsides and the skies get clearer. For that reason, fall is one of my favorite times to enjoy a sunset hike. Remember to bring an insulating layer like a down jacket and carry gloves and a hat as it will be cooler in the evening.
Because this may mean you're out after dark, bring a headlamp or plan to be close to the trailhead during sunset, and if you're in bear or mountain lion country, be aware that wildlife is more active at this time of year as they seek to fatten up or move to lower elevations before winter. If you're hiking with a dog in elk country, keep it on a leash.
2. Have a bonfire
Fires are a traditional component of equinox and solstice celebrations going back through the ages, since each of these points in time marks the patterns of the universe's great fire, the sun. The heat of a fire balances the external chill and growing darkness, and fire is symbolic for transformation, something we're vividly experiencing at this time of year.
Since it's getting cooler, it's an excellent time to have a campfire, whether you're out wild camping or just hanging out in your backyard. Pull up a few camping chairs and cozy blankets and sit around the fire when you can gaze at the flames, share stories or even write down behaviors that you'd like to give up and throw them into the fire.
3. Have an outdoor feast
Feasting is a huge part of any equinox celebration, as historically this is the time that many crops turned out their bounty. These days, of course, you can buy most things at any time of year, but that's no reason not to give thanks for nature's offerings.
If the weather is dry, why not have an autumn cookout? You can bring your double burner camping stove or grill or even use a Dutch oven if you're having a fire, and cook up hearty fare using squashes and pumpkin.
4. Nature journaling
Because nature's transition is more vivid at this time of year than any other, it can be a really powerful time to do some reflection while you're out in nature. Nature journaling is the practice of recording your observations of nature. It includes both detailed written descriptions as well as illustrations, and can cover any aspect of the natural world, from a sunset or the wind in an aspen grove to animal habits and plant life cycles.
You can bring your journal and pen on any hike and stop for 20 minutes, or even find a beautiful outdoor space by the river or in the park closer to home and spend some time in contemplation. Learn more in my article on nature journaling.
5. Wildlife watching
Though the changing of the leaves gets all the glory at this time of year among the leaf peepers, wildlife is extra active at this time of year. Bears are fattening up for torpor, elk are mating and birds are flying south. Viewing wildlife is exciting at any time, but fall is one of the best times to spot some curious activities, whether you're watching elk rutting in Rocky Mountain National Park, the Fat Bear Week camera up in Katmai or just grabbing your best binoculars and heading out into the forest for some quiet bird watching. Nature has so much to teach us – just make sure you observe wildlife safety and keep a good distance.
All the latest inspiration, tips and guides to help you plan your next Advnture!
Julia Clarke is a staff writer for Advnture.com and the author of the book Restorative Yoga for Beginners. She loves to explore mountains on foot, bike, skis and belay and then recover on the the yoga mat. Julia graduated with a degree in journalism in 2004 and spent eight years working as a radio presenter in Kansas City, Vermont, Boston and New York City before discovering the joys of the Rocky Mountains. She then detoured west to Colorado and enjoyed 11 years teaching yoga in Vail before returning to her hometown of Glasgow, Scotland in 2020 to focus on family and writing.