6 summer hiking safety tips for happy days on the trail
It's easy to become complacent when you know you're not going to freeze, but there are still some perils of summer hiking to be aware of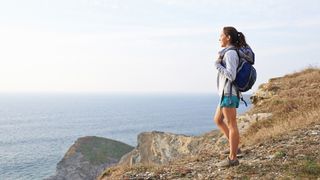 (Image credit: Getty)
When it comes to hiking safety, you'd be forgiven for thinking that you only need to worry during the winter months. After all, winter brings a higher risk of avalanches, hypothermia and frostbite plus slipping and falling on icy trails, while summer delivers long days, perfect weather and bone dry trails. What could possibly go wrong?
As it turns out, there are some unique hazards to summer hiking that mean you'll have to be just as cautious about hitting the trails as you are in winter, though granted you can get away with a light pair of hiking boots and a hiking shirt instead of your usual wool base layer. Summer weather can make us all feel safer and it's easy to become complacent when you know you're not going to freeze or lost in the dark, but there are still some perils of summer hiking to be aware of.
If you have plans to get out on the trails this summer, read on to learn about summer hiking safety. These tips are in addition to safety protocols you should observe before every hike in any season, such as telling someone where you're going, carrying a map and compass and checking the weather before you set off.
1. Heat-related illness
It's easy to think that most hikers who get into trouble in the mountains fall afoul to mountain lion attacks or fall off cliffs, but many hikers actually fall into difficulty due to extreme heat, and sometimes not even on long or difficult trails. The heat can be extremely taxing on your body, so read our tips for hiking in hot weather and make sure you hike early or late to avoid the peak heat of the day to avoid heatstroke, choose shady trails or head to higher altitude where it's cooler.
Obviously, you can get sunburn in winter too, but UV rays are at their greatest in the summer, and you might have more skin on display, so make sure you follow our sun protection tips for hikers.
2. Lightning strikes
Most of us really look forward to summer weather and, especially if you live somewhere with severe winters, you'll be glad for the break from snow and ice. As the National Severe Storms Laboratory explains, however, summer's increased instability and moisture in the atmosphere raise the risk of lightning strikes, so if you're hiking up above treeline you'll want to read our advice on how to avoid getting struck by lightning, and again, stick to morning hikes since storms usually occur later in the day.
3. Rockfall
If you're hiking somewhere free of snow, which is a lot of places in the summer months, you don't have to worry about slides occurring, but in rocky areas with steep cliffs, you'll want to be on alert for rockfall. Rockfall increases during warmer weather because of the temperature fluctuations, according to an article published in Eos.
Rockslides are hard to predict, but avoid hiking in steep, craggy areas after heavy rainfall and keep your eyes peeled for evidence of recent rockfall.
4. Flash flooding
Flash flooding is another natural event that can pose danger to hikers and worsens in the summer months, when rainfall can be heaviest. Avoid hiking during extreme rainfall and in particular, avoid narrow canyons and be especially vigilant when hiking in the desert, since that type of terrain is most prone to sudden flooding even with a small amount of rain.
Though the river levels are usually going down by the summer months, recent heavy rainfall can also make river crossings more difficult and dangerous, so read up on how to cross a river safely and pick your trail wisely.
5. Wildlife encounters
Wildlife activity increases in the summer months, when hibernation is over and there is plenty of food available. Wildlife encounters on their own aren't necessarily a hazard, but they can become dangerous if you don't understand wildlife safety and try to snag a selfie with a black bear. Make sure you understand what types of wildlife you're likely to be sharing the wilderness with and give all animals a wide berth, enjoying them only from afar via your binoculars.
6. Ticks and bug bites
This might not be a totally separate point from wildlife encounters, but not all menaces are bear-sized. One downside to summer hiking is that there are more ticks hanging out in the long grass waiting to leap onto your hiking socks and work their way up your leg, which can leave you exposed to tick-borne illnesses like Lyme disease.
All around you, there are more mosquitos, midges, wasps and bees in the air which can be more than a nuisance if your bites end up getting infected or if you're allergic to wasp and bee stings. Lather on a good insect repellent for summer hiking and cover your skin with light hiking pants and long sleeves.
All the latest inspiration, tips and guides to help you plan your next Advnture!
Julia Clarke is a staff writer for Advnture.com and the author of the book Restorative Yoga for Beginners. She loves to explore mountains on foot, bike, skis and belay and then recover on the the yoga mat. Julia graduated with a degree in journalism in 2004 and spent eight years working as a radio presenter in Kansas City, Vermont, Boston and New York City before discovering the joys of the Rocky Mountains. She then detoured west to Colorado and enjoyed 11 years teaching yoga in Vail before returning to her hometown of Glasgow, Scotland in 2020 to focus on family and writing.