6 ideas for celebrating the summer solstice outdoors
Celebrate the longest day of the year with these ideas for healthy and fun outdoor activities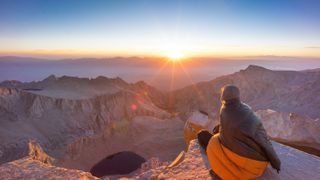 (Image credit: Nick Ocean Photography)
It's barely 4:30 a.m. and already the sun is streaking across the Trossachs. I sit up and unzip the door of my one-person tent, crawling out onto the summit of Ben A'an with my sleeping bag wrapped around me so I can properly enjoy the dawn light transforming Loch Achray and the distant Arrochar Alps with pink and crimson hues. As I watch the sunrise, I boil water over my camping stove then wrap my hands around a steaming mug of coffee, and think that this must be the perfect way to celebrate summer solstice.
Wild camping, known as backcountry or dispersed camping in the US, has become my favorite way to mark the summer solstice, a day which I love to celebrate outdoors. It's definitely getting hot out there, but spending time outside during the summer solstice is truly the most appropriate way to honor the transition from spring into summer. This guide to how to celebrate the summer solstice outdoors explains the significance of the day, plus some of my favorite ways to celebrate it in nature.
What is the summer solstice?
The summer solstice, also known as midsummer, marks the moment when either of the earth's poles reaches its maximum tilt towards the sun. In the northern hemisphere, the summer solstice occurs in June while for those of you in the southern hemisphere, it takes place in December. At this moment, we experience the longest day night and shortest day of the year, while the sun will remain at its highest level in the sky throughout the day.
According to the Gregorian calendar, the summer solstice marks the official first day of summer, even though for many of us, it may have felt like summer for weeks already by the time the solstice arrives. The summer solstice usually falls on the 21st or 22nd of June in the northern hemisphere, and though we think of it as a day, it is really just a moment in time. In 2023, the summer solstice occurs on Wednesday, June 21 at 7:57 a.m. pacific time, 10:57 a.m. eastern time and at 3:57 p.m. in the UK.
The summer solstice occurs six months after the winter solstice, when either of the earth's poles is furthest from the sun, and on that day we experience the shortest day and the longest night. The midway point between the two solstices is called an "equinox," and these occur in spring and fall.
How do people celebrate the summer solstice?
Summer solstice celebrations have pagan roots in the UK and Europe and early cultures including Celtic, Druid, Germanic and Slavic people have long celebrated the peak of the sun's power with bonfires in the hopes of ensuring continued good weather for growing season and harvest. Other traditions include feasting, dancing traditional dances and singing traditional folk songs.
Perhaps the most famous summer solstice ritual takes place at Stonehenge in England, one of many sets of ancient standing stones that appear to have been established specifically to take advantage of the light of the rising sun on the solstice. Other renowned solstice celebrations include Sweden's Midsomer festivals, Anchorage's Summer Solstice Festival, visiting Ireland's Newgrange Cairns or climbing Ben Nevis, the highest point in the UK.
How to celebrate the summer solstice outdoors
Because the summer solstice is a natural event, spending time outdoors with the long summer day doing virtually anything that's respectful of nature is an apt way to celebrate. Plus, as a hiker or trail runner, you might be keen to take advantage of the longest day of the year. If you're in the Pacific Northwest, you will enjoy more than 17 hours of daylight on the solstice, while those in Scotland get 19 hours and in the northernmost parts of Alaska, the sun simply won't set at all. Basically, you can play outdoors more now than at any time of year.
If there are no festivals where you live, or you'd simply like to marry your summer solstice with your love of the outdoors, here are a few ideas:
1. Build a fire
Since bonfires are the most traditional means of celebrating the summer solstice, what's more fitting than grabbing your camping axe, chopping some firewood and building a beautiful campfire for yourself and your family or neighbors? As long as there isn't a fire ban in place, a campfire can be a wonderful way to celebrate the life-giving energy of the sun and gather with friends and family for live music and storytelling long into the short night.
2. Wild camp
As I've already mentioned, a wild camp is my favorite way to enjoy the summer solstice. Great weather isn't guaranteed just because it's now summer, but the chances of you enjoying warm and reasonably dry weather is better now than in other seasons, so it can be a great time to grab your tent and sleeping bag and go.
Because the days are so long at this time of year, I can easily head for the hills after work and still get to the top of a small mountain before sunset. I set up my tent and get to bed, knowing that I'll be up early, then rise with the sun and watch it rise with a hot cup of tea or coffee before an early hike down.
3. Take a hike
If wild camping sounds a little too adventurous for your taste, or the solstice falls on a weekday and you simply can't make it work with kids and your job, at the very least you can pull on your hiking boots and hit the trail. Summer trails mean no mud or ice, luscious scents and tons of wildflowers, so remember to walk mindfully and take it all in.
Again, depending on where you are you probably have time for a super early hike, before work, or an evening hike without losing daylight. Don't plan on going too far afield in the evening if you're not super prepared, bring a headlamp, and know that wildlife is most active at dawn and dusk, so if you're hiking in bear or mountain lion country, read up on wildlife safety before you go.
4. Practice yoga outdoors
The sun is an important symbol in yoga, representing the energy of action whereas the moon represents rest. Many yoga traditions begin with an east-facing practice to bestow the benefits of the sunrise on the practitioner, or with a series of warming movements called "sun salutations" and for years, I taught a summer solstice class each June.
Though your local yoga studio might be offering a special class, you can also take your own yoga practice outside and enjoy your sun salutations facing the sunrise, or even just practice our yoga for hiking sequence in a clearing or when you get back to the trailhead to stretch it out.
5. Meditate in nature
Because both solstice and equinox traditions are often centered around setting intentions for the season ahead, you might find it to be a powerful time to enjoy meditation outdoors. Pull on your stretchiest running leggings so you can sit comfortably, head to your favorite nature spot like a mountain summit, the banks of a river, a forest of giant sequoias or an alpine lake and sit for a few minutes of contemplation. If sitting isn't your thing, try a walking meditation instead.
The benefits of meditating outdoors include exposure to immune-boosting antigens and better air quality as compared to indoor environments, as well as subtler benefits, such as a natural environment providing "fascinating objects" to focus your mind on.
6. Dine al fresco
Feasting is an important summer solstice tradition and having a picnic with your kids or friends or even taking dinner out into the backyard is a really lovely, and low-key way to celebrate the solstice.
If you don't have a patio set up, all you need is a camping blanket for a picnic or a camping table and camping chairs for a more luxurious affair. Load up your camping cooler with cold food or bring your camping stove and enjoy cooking and eating in the fresh air.
All the latest inspiration, tips and guides to help you plan your next Advnture!
Julia Clarke is a staff writer for Advnture.com and the author of the book Restorative Yoga for Beginners. She loves to explore mountains on foot, bike, skis and belay and then recover on the the yoga mat. Julia graduated with a degree in journalism in 2004 and spent eight years working as a radio presenter in Kansas City, Vermont, Boston and New York City before discovering the joys of the Rocky Mountains. She then detoured west to Colorado and enjoyed 11 years teaching yoga in Vail before returning to her hometown of Glasgow, Scotland in 2020 to focus on family and writing.