8 of the best and most beautiful countries for wild camping
If you love getting away from it all, visit these countries which boast both jaw-dropping scenery and liberal camping laws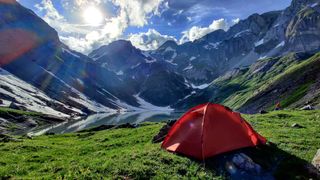 (Image credit: Getty)
Wild camping – or camping outside of developed campgrounds – is a great way to get away for the weekend close to home, but it's also a brilliant way to travel internationally if you have a sense of adventure. Pitching your best tent in the wild instead of holing up in a hotel means you can save a lot of money when you're traveling, and of course you can really immerse yourself in the majestic wilderness of whatever country you're visiting and get away from the tourist hot spots.
Not all countries allow wild camping, which might be a surprise to you if you come from a place that does. In France and England for example, both countries where we'd all quite like to do a spot of wild camping, it is not allowed and pitching your tent can lead to a fine, or being at the mercy of a very angry farmer, which isn't the best way to wake up in the morning. Some countries, however, have ample opportunities for wild camping and offer stellar scenery and hiking adventures while you're at it. We've rounded up eight of the best countries for wild camping, which combine access with natural beauty, to help you start planning your next adventure.
In every country, do remember that wild camping always means keeping a low profile and adhering to the principles of Leave No Trace. There are always exceptions to wild camping laws, such as in urban areas, so it's important to do your research and make sure you're camping legally. Keep your campsite minimal, check that you can have a campfire before lighting up, and leave the land as you found it. Other than that, you can go and have an amazing adventure in any of these eight spectacular countries.
1. Canada
With just 11 people per square mile, the Rockies, the Yukon, more natural lakes than any other country and the longest coastline in the word, it's hard not to mention Canada when it comes to great countries for wild camping.
Much of Canada's wild camping, better known as backcountry camping or boondocking in North America, can be found on so-called Crown Land, which accounts for a whopping 8 percent of the country's land and is essentially public land. The best way to find Crown Land is by using a map of the province you are visiting. Canada consists of 10 different provinces and three territories, each with their own different rules, so like anywhere it's important to check what's allowed before you get your tent pegs out.
We've no doubt that you can find a pitch with some of the best scenery in the world in Canada, but don't forget that it's also home to lots of bears and tends to suffer severe wildfires, so make sure you know how to use bear spray and how to secure your food at camp with a bear bag, and check air quality before you go.
2. United States
From the Appalachians to the Rockies and from the Great Lakes down to the desert, America has a whole lot of jaw-dropping scenery on offer, and for a lot of it, you don't have to pay a dime to camp. In the US, much of the backcountry (or dispersed) camping takes place on land managed by the Bureau of Land Management (BLM) which oversees some 245 million acres of public land including Wilderness Areas, historic trails and landmarks, almost all of which is up for grabs if you're looking for a spot to legally pitch your tent.
BLM land is concentrated in the western states, where there's more wide open space and fewer people. Any good map will indicate BLM land and that area is usually fair game as long as camping doesn't interfere with other authorized activities or negatively affect local wildlife or natural resources. Any area closed to camping will have a sign announcing the closure. You're limited to 14 days in one area within a 28 day period, but other than that, the sky's pretty much the limit.
3. Scotland
Scotland frequently tops the list of the most beautiful countries in the world, thanks to its dramatic mountains, sweeping glens, rugged moorlands, deep lochs and wild beaches. Unlike the rest of the UK, you can largely camp in all of these locations for free, thanks to the 2003 Land Reform Act.
This act establishes public rights of access to land, meaning that you can camp anywhere on unenclosed land, including mountains, forests, beaches and most of Scotland's National Parks. That said, some areas – such as Loch Lomond – do require permits during the busy summer months, so you should still check before you set off to hike the West Highland Way as you may need to take care on one or two nights. Compared to a lot of Canada and Scandinavia, the weather is more temperate here and you may be able to wild camp year-round.
Remember that this law doesn't extend into England, Wales or Northern Ireland, but so long as you're north of the border, you can sleep in the wild.
4. Norway
With its frozen, dramatic mountains, deep blue fjords and excellent views of the northern lights, The Land of the Midnight Sun is one of the most picturesque countries in the world and camping here is a true privilege. A visit to Norway, like any Scandinavian country, isn't cheap, but you can save a lot of money by pitching your tent and fortunately, Norway has a very liberal policy when it comes to wild camping.
Basically, thanks to a 'right to roam' law, you can camp for two nights at a time on any uncultivated land in the country. If it looks like farmland or forestry land, it's not up for grabs, but otherwise, you can pitch your tent, stretch out and watch the sky for a midnight show.
Be warned that while all of the Scandinavian countries on this list might be free of pests like grizzly bears, far northern Norway is home to polar bears which can be dangerous. Furthermore, all Scandinavian countries can be rampant with mosquitos in spring and fall, so pack a good insect repellent with DEET.
5. Argentina
From the high Andes down to the desert and from the jungle to rugged coastline, it's no surprise if Argentina is on your bucket list for an adventure holiday. Here you can go glacier hiking and alpine trekking, spot jaguars and guanacos, and sip the local wine – and with a subtropical climate, you'll be quite happy doing a lot of this with a tent as your primary residence.
Wild camping is legal in Argentina, and is quite common among the locals as well as tourists. The policy is pretty liberal, but do your best to stick to uncultivated land.
6. Sweden
From frozen lakes and snowy mountains to vast wilderness and sandy beaches, Sweden really is a natural haven for anyone seeking respite from the frenetic pace of modern life.
Though this gorgeous Nordic nation has some common sense rules around wild camping, such as staying 500 meters away from roads and buildings and 100 meters away from natural water sources, wild camping is broadly permitted outside of nature reserves and national parks. The main rule to observe is that you can only wild camp here for one night at a time, so it really lends itself to trekking and backpacking where you want to travel across these northern landscapes. For camping meals, what's more fitting than firing up your Swedish-made Trangia stove and enjoying a delicious hot meal under the stars?
7. Finland
Like Norway, Finland has 'right to roam' laws, and considers wild camping on both public and private land to be a right that everyone should be able to enjoy. Unlike Norway and Sweden, Finland may not be known for its mountains, but this country has beautiful stretches of wilderness including most of Lapland, lots of saunas and frequent glimpses of the northern lights.
Though you can camp just about anywhere, obviously there are caveats. Don't camp in someone's garden or on land that's obviously in use, such as agricultural land where crops are being grown. Don't stay in one place for more than a few days, and travel with a camping stove so that you can still cook your meals even if fires aren't permitted. In addition to mosquitos, Finland is home to lots of midges too so consider a head net as well as long sleeves, pants and bug spray.
8. Estonia
This northern European country might not be on your travel radar yet, but it really should be. Bordering Russia to the east, Latvia to the south and just over the Baltic Sea from Finland, Estonia is a hidden gem boasting gorgeous stretches of forest, lakes and coastline.
Estonia's everyman laws mean you can also wild camp on any uncultivated land and even feast on local berries and forage for other fruits and mushrooms unless explicitly forbidden by the landowner. Late summer can bring heavy rainfall, so make sure you bring a waterproof jacket and rain pants and that your tent is well proofed with taped seams too.
All the latest inspiration, tips and guides to help you plan your next Advnture!
Julia Clarke is a staff writer for Advnture.com and the author of the book Restorative Yoga for Beginners. She loves to explore mountains on foot, bike, skis and belay and then recover on the the yoga mat. Julia graduated with a degree in journalism in 2004 and spent eight years working as a radio presenter in Kansas City, Vermont, Boston and New York City before discovering the joys of the Rocky Mountains. She then detoured west to Colorado and enjoyed 11 years teaching yoga in Vail before returning to her hometown of Glasgow, Scotland in 2020 to focus on family and writing.