How to be a more sustainable trail runner
5 tips to help you to be a more sustainable trail runner, from buying gear to keeping the trails trash-free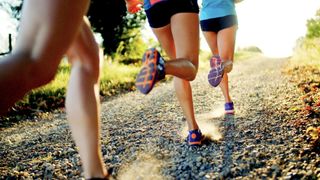 (Image credit: Getty)
When your sport is as self-powered as trail running, it's easy to think that you're dashing across the earth with the light touch of a forest sprite and maybe, compared to snowmobilers and skydivers, that's true. But when you factor in everything that you do and consume in order to fulfill your love of trail running, from cycling through three pairs of trail running shoes a year to sucking down running gels and using disposable race cups, you might be a little shocked to see the size of your carbon footprint.
If you really want to keep the trails you love pristine and keep filling your lungs with clean air, there's always more work you can do, so we've put together seven tips to help you to be a more sustainable trail runner, from buying gear to keeping the trails trash-free.
How to be a more sustainable trail runner
1. Shop sustainably
Running might not require as much clothing as hiking, but the bulk of your carbon footprint is going to be formed by your kit. Let's face it – your running shorts and top are bound to be made using synthetic fabrics, which don't biodegrade, and they see a lot of wear, which means that they'll end up in the landfill faster than street clothes.
There are a few things you can do to reduce your impact on the environment, however. First, shop with eco-friendly running brands that have a clear sustainability statement and prioritize the use of recycled materials in their manufacturing process.
When possible, choose clothing made using natural materials, such as running socks and tops made using merino wool (we like the Ultimate Direction Jason Schlarb Merino Running Tee). Not only does merino wool feel better on your skin and perform well, it doesn't require as much washing and breaks down when it's reached the end of its life.
Finally, though the price tag on that merino wool shirt might give you whiplash, a key component to shopping sustainably is choosing higher quality items up front. These will last longer than more budget-friendly options, which cuts down on end-of-life waste.
2. Love your gear
Obviously, your running gear will take a bit of a thrashing and can't last forever, but if your MO is to just trash it when it starts to fade and replace it, you'll want to think again. Treating your kit with love will help it last longer. That means washing your stinky running kit and cleaning your running shoes so dirt and grime doesn't break them down and reproofing your waterproof running jacket when it starts to wet out.
When possible, repair gear that's fraying or torn before you replace it, and when it does come time to replace your running shoes, see if you can recycle your old pair rather than just dropping them in the trash.
3. Minimize driving (and flying)
Trail running is a foot sport, so it doesn't require you to fill up the tank – or does it? If you regularly drive to and from the trailhead, or are always signing up for races that mean hopping on a plane, your cumulative carbon emissions might shock you.
Whenever possible, walk or bike to the trailhead as your warmup, use public transportation if available and consider carpooling to the trails and choosing races closer to home.
4. Say no to finisher shirts
Most races will gift you a "free" finisher T-shirt (that's actually paid for by your entry fee) and though these can make a nice souvenir, in a race that has 3,000 entrants, that's a lot shirts that are probably going to end up in drawers along with other shirts that never get worn. Some races are starting to make finisher shirts optional, but even if they're not, if we all start to say no to them, the whole idea will soon become extinct. If you want a great memory, just snap a picture.
5. Use a hydration pack
Most of us probably train with a hydration pack (or running water bottle) then for race day, ditch the pack and grab cups from the hydration stations. This definitely means you're running lighter, and lots of races are at least using paper cups these days, but it's still a big source of waste. If you train wearing a hydration pack, you should be able to run with it on race day and cut down on waste.
6. Make your own snacks
You might be a big fan of those convenient running gels which provide you with a highly portable pouch of energy when you start to bonk. Running snacks make life easier, but they mean yet more plastic heading to the landfill.
Consider making your own running snacks and cutting down on packaging and waste. Believe it or not, you can make your own energy gels as well as protein bars, trail mix and jerky and carry it in a reusable bag.
7. Keep the trails clean
Even if you're fastidious about taking all your protein bar packaging home with you to put in the trash – and you should be – other runners might not be. Litter on trails isn't just unsightly, it's a serious hazard for wildlife and can affect soil and water sources.
It's easier to just keep going and mentally criticize other runners, but more productive to stop and pick up those wrappers. Carry a bag to pick up trash on the trail when you can, and join the occasional clean up crew on the trails you use the most.
All the latest inspiration, tips and guides to help you plan your next Advnture!
Julia Clarke is a staff writer for Advnture.com and the author of the book Restorative Yoga for Beginners. She loves to explore mountains on foot, bike, skis and belay and then recover on the the yoga mat. Julia graduated with a degree in journalism in 2004 and spent eight years working as a radio presenter in Kansas City, Vermont, Boston and New York City before discovering the joys of the Rocky Mountains. She then detoured west to Colorado and enjoyed 11 years teaching yoga in Vail before returning to her hometown of Glasgow, Scotland in 2020 to focus on family and writing.