5 phone accessories you need for your next hike or backpacking trip
Let's face it – none of us is going hiking without a phone anymore, so let's capitalize on that technology with these five accessories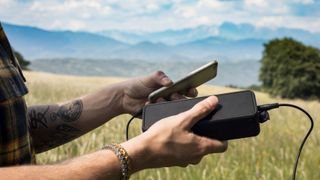 (Image credit: kmatija)
There's nothing I love more than getting out in the wild. In my home country of Scotland and my previous home of Colorado, you can escape into the backcountry where there's barely any cell service and not see another soul for days. It's bliss.
But do I venture out without my phone? Don't be ridiculous.
My phone comes with me on every backpacking trip and hike I take. Primarily, it's to take photographs but I also do use it to read up on trail descriptions and occasionally download a GPX map and, though I haven't had to use it to give mountain rescue a ring yet, it's nice to know that I can usually get a message out to friends and family when I'm gone for a few days.
If you also live on planet earth and like to hike, chances are you also bring your phone along, and no one, least of all me, would fault you for doing so. So why not make the most of it? Rather than debate the pros and cons of bringing your phone with you on your adventures, this article is all about some great phone accessories you can buy to protect and enhance your phone's functions on the trail.
1. Power bank
First and foremost, if you're taking your phone with you into the wild, you need to keep it charged, otherwise it's just a heavy and expensive rectangle. Even if your phone battery is relatively new, exposure to the elements (both extreme heat and cold) can drain your battery quickly, as can using a navigation app.
Start out with our tips on how to keep your phone charged on a hike, and get yourself a portable charger that you can use for backup if your battery starts to die or if you're on a long adventure. Reusable portable power banks such as this one on Amazon are getting lighter and slimmer by the day, while for a more eco-friendly approach that's ideal for thru-hiking, consider a solar charger that you can keep juiced on the trail.
2. Protective case
One of 2023's hot new terms, "stealth wealth," described behaviors like ditching your phone case to show how little it matters to you if you break it and need to replace it. Unless your name is Roman Roy, this is obviously a terrible idea, and while you might get away with the occasional phone drop onto a plush carpet at home, the hiking trail tends to be a lot less forgiving.
Fumble your unprotected phone when you're pulling it out of your pocket with cold fingers and you'll no doubt end up with a cracked screen at best, making it impossible to follow your map. No one thinks you look cool on the trail with a phone without a case (and no one thinks Roman Roy is cool anywhere) so get yourself a sturdy protective case like an OtterBox which offers protection against drops and accidental dunks if you end up trekking in a downpour. They can seem a little pricey, but remember they're cheaper than replacing your phone, or phone screen.
If you already have a protective case that you're happy with, it's still a good idea to enhance it with a screen protector to reduce the risk of shattering, If your existing case isn't waterproof, pick up a waterproof pouch for hiking like the Pelican Marine, which can save your phone from heavy downpours, river crossings, waterfall walks and any wild swimming you might be planning to embark on.
3. Lanyard
Speaking of dropping your phone, there are three reasons why this is more likely to happen on the trail than on your couch. First, you're probably using it while you're on the move and a bit distracted. Second, your fingers might be numb if it's cold, or less nimble if you're wearing hiking gloves. And third, if you're using it to take pictures and to navigate, it means you're constantly pulling it out of your pocket.
For hiking, a phone lanyard for the outdoors like this one by Rugged Beast means you can keep your phone around your neck within easy reach if you see an incredible sunset or some wildlife you want to photograph, and eliminate the possibility of dropping it. If it's wet out, you can secure it under your waterproof jacket, and still easily access it when you reach a trail junction and aren't sure which way to turn. It's a surprisingly effective, simple and affordable way to avoid damage to your device on the trail.
4. Spider tripod
If you're one of the four billion or so people in the world using the camera on your phone to take pictures, you might want to invest in a spider tripod. These tripods can come in surprisingly lightweight and packable designs these days and allow you to set up shots of yourself and control your camera remotely – great news for solo hikers.
Spider tripods like my UBeesize Phone Tripod Pro S add less than half a pound to your backpack weight and the spider design means you can stabilize them on rough ground or even wrap the flexible legs around tree branches and dry stone walls when you want to grab the perfect pic.
5. GPS watch
Finally, if you love your tech and you're an active person, you'll really like owning a GPS watch that's compatible with your phone. Whether you opt for a more basic COROS Pace 3 like mine which will record your hikes, a Garmin Instinct 2X Solar which charges with the sun or an Apple Watch Ultra with comes with a maps app, you'll not only love the functionality of a sports watch, it will mean you look at your phone less, and save battery.
All the latest inspiration, tips and guides to help you plan your next Advnture!
Julia Clarke is a staff writer for Advnture.com and the author of the book Restorative Yoga for Beginners. She loves to explore mountains on foot, bike, skis and belay and then recover on the the yoga mat. Julia graduated with a degree in journalism in 2004 and spent eight years working as a radio presenter in Kansas City, Vermont, Boston and New York City before discovering the joys of the Rocky Mountains. She then detoured west to Colorado and enjoyed 11 years teaching yoga in Vail before returning to her hometown of Glasgow, Scotland in 2020 to focus on family and writing.