Most US National Parks have terrible cell service – here are my top 7 tips for successful offline adventures
Ceasing contact with the modern world is one of the most healing parts of a National Park adventure, but you'll need to learn some analog skills to survive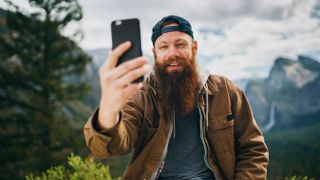 (Image credit: rez-art)
America's 63 National Parks hold more adventure than you can possibly have in just one lifetime. Across millions of acres from the highest peak of Denali to the lowest point on the continent in Death Valley, you can hike, run, raft and camp in their mountains, deserts, beaches and rainforests and never run out of trails to explore. And do you know what my favorite part of all is? The terrible cell service.
I've visited dozens of US National Parks and the vast majority of them have, at best, spotty cell service. These parks are often out in remote areas where this isn't likely to change, and as far as I can tell, it's a massive bonus. Poor signal means I can use my National Park adventures to properly unplug and recharge in nature, without feeling like I need to respond to emails or share snaps of my travels in real time.
In a lot of parks, there is Wi-Fi at the visitor's center, and if there are hotels and restaurants, you may be able to hop on their network – but if I'm being honest, I can't think of anything worse than being huddled over my phone next to a rack of postcards depicting Old Faithful when actual Old Faithful is behind me.
If you're eager to explore some of America's most amazing natural wonders but feel apprehensive about potentially being offline for a few days – or have just forgotten how to navigate without the internet – here are my best tips for a successful offline adventure.
1. Do some research before you go
One of the biggest mistakes people make is not realizing how huge and remote National Parks can be, and ending up disappointed when they leave the giant sequoias in Yosemite till their last day only to realize they're too far away to visit.
I know it's a little outmoded in an era where going on an adventure means entering your destination into Google maps and hitting "start," but for the best experience, do some research before you go. You don't necessarily need to have a detailed daily itinerary, but you should make note of details like where you're staying and how to get there, and it's a good idea to find out where you can fill up with gas and whether there will be anywhere to buy food or if you need to load up your camping cooler and haul it all in with you.
Furthermore, it's a really great idea to research some of the sights and hiking trails you might be interested in exploring ahead of time so you don't spend an hour each morning trying to get on the Wifi in order to make a plan. We have lots of great hiking guides to many of the best National Parks from Yellowstone to Glacier just to get you started, and I really recommend picking up an analog guide, such as Yosemite Day Hikes or Falcon's Best Easy Day Hikes Great Smoky Mountains, that you can carry with you in your backpack.
National Parks can be massive, with long distances between trailheads, so to maximize your time, it's good to see everything you want to see in one area when you've ventured all the way out to a particular far flung corner for the day
2. Ask questions when you arrive
If you've just pulled up at the park entrance having ignored my first piece of advice, don't panic. One of the fantastic things about US National Parks is the terrific and knowledgeable members of staff who really want you to head in prepared.
Even if there's a huge queue of cars behind you, when you're paying your entrance fee, don't be afraid to take a minute or two of the staff member's time. Tell them it's your first time here, ask for a park map and directions to your campsite or wherever you're going first. The staff here will be more than happy to help you get your bearings.
3. Hit up the visitor center (and not just to get on Wi-Fi)
Visitor centers are another thing that can seem a bit archaic when the internet exists, but in the absence of Google, they're literal gold mines. Not all National Parks have amenities like shops and showers, but even Gates of the Arctic, the country's least visited National Park up in Alaska, has a visitor center.
While the visitor center might actually have public Wi-Fi, it's most valuable with other resources, such as maps, exhibits and trip planning tools, plus helpful staff to answer your questions. One of your first stops should be the visitor center where you can learn more about the park and flesh out your plans for your visit.
4. Take advantage of park rangers
Believe it or not, park rangers aren't just out there to tell you to stop feeding wildlife and enforce parking rules. Rangers provide information about the park they love and usually, once you get them talking it's hard to get them to shut up.
You probably won't be able to check on things like weather conditions using your phone, and while the visitor's center should post daily updates, if it isn't nearby, keep your eyes peeled for a ranger you can talk to about the forecast and whether there are any other park conditions you should know about, such as wildfires, closures or wildlife migration.
It's the job of these knowledgeable public servants to have their finger on the pulse of the park at all times, and you might find even them to be more accurate than Google – so utilize this fine, taxpayer-supported public resource.
5. Phone home the old fashioned way
If the thought of being away from your kids, parents or partner without being able to check in leaves you in a cold sweat, it's not actually the case that you won't be able to get in touch. Lots of National Parks have a good old fashioned phone box or two. If you were born after the millennium, this might all seem a bit foreign, but it's as simple as picking up the handset, putting in some money and entering a number – just like using the vending machine at school to get a Heath Bar.
These antiquated relics from the the days of yore have even been updated to accept credit cards – just remember to write down all the numbers you need to dial. When you've finished with that trip down memory lane, you might even take a stroll down to the gift shop and mail a postcard like it's 1904.
6. Be self-sufficient
Though there is a network of emergency support surrounding National Parks, from rangers to mountain rescue and local fire and police departments, you can definitely go all day without seeing any officials and without cell service, the risk of getting injured or lost on a trail does increase.
Knowing that you'll probably be unable to call for help should things go awry on a hike, it's extra important to be self-sufficient when you go hiking. Research your route and verify that it's within your ability level. Carry a map and compass. Wear hiking boots for rocky trails. Bring plenty of water and a first aid kit. If you're heading out into the backcountry, bring a satellite communicator like the Garmin InReach which relies on GPS rather than cell service.
You can't always avoid taking a tumble or falling ill on a hike, but do everything you can to be sure you're prepared for the worst.
7. Unplug and enjoy it
Finally, enjoy the peace and quiet that comes from not being pinged every 30 seconds with mundane news stories, irrelevant text messages and quirky TikTok videos. My favorite part of going into a National Park is how rejuvenated I feel by ceasing contact with the modern world for a few days and getting stuck in with Mother Nature.
Hearing the sounds of nature and the deafening thoughts in your own head might feel alien at first, but soon you'll enjoy the down time so much you might not want to power your phone back up when you leave.
All the latest inspiration, tips and guides to help you plan your next Advnture!
Julia Clarke is a staff writer for Advnture.com and the author of the book Restorative Yoga for Beginners. She loves to explore mountains on foot, bike, skis and belay and then recover on the the yoga mat. Julia graduated with a degree in journalism in 2004 and spent eight years working as a radio presenter in Kansas City, Vermont, Boston and New York City before discovering the joys of the Rocky Mountains. She then detoured west to Colorado and enjoyed 11 years teaching yoga in Vail before returning to her hometown of Glasgow, Scotland in 2020 to focus on family and writing.