Is Camelback Mountain really that dangerous?
Camelback Mountain is the site of regular search and rescue missions each year, but is it really as dangerous as it seems?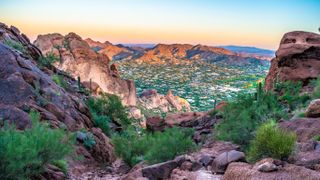 (Image credit: Jeremy Janus)
Whether it's down to treacherous terrain or sensational media coverage, some mountains seem to have a lot more rescues than others. New Hampshire's Mount Washington is known as the deadliest mountain in the US, California's Mount Baldy has been keeping mountain rescue busy all year, and then you've got Camelback Mountain in Arizona.
Creating a unique silhouette on the skyline east of downtown Phoenix, this distinctive dual hump-shaped mountain is popular amongst locals and visitors to the state, attracting thousands of visitors in hiking boots each year. It's also the site of regular search rescue missions for injured and stray hikers and climbers – to the tune of 154 rescues over four years, according to an analysis by the Arizona Republic.
So is Camelback really as dangerous as news coverage makes it seem, or is there another explanation for why so many fall foul to this mountain?
Is Camelback mountain difficult to hike?
Standing at just 2,706 ft above sea level, Camelback Mountain definitely isn't going to induce altitude sickness, though it's worth noting that its prominence is 1,334 ft, which means that you'll have to cover that to get to the top. The temperatures around here rarely get cold enough for snow, so that's also not an issue.
For hikers, the summit is typically reached via one of two trails. You can choose from the 2.5-mile roundtrip Echo Canyon Trail, which entails a steep and rocky ascent using handrails and requiring scrambling to reach the top, or the 2.6-mile Cholla Trail, which begins with a fairly moderate first mile before testing hikers with scrambling and maneuvering through rocks at "The Saddle." Both trails are rated extremely difficult by City of Phoenix Parks. When you get to the top, however, you're rewarded with stunning views of the surrounding valley.
Hikers are obviously gaining elevation at over a thousand feet per mile, which definitely makes for some strenuous climbing, but then again, there's a clear trail with handrails – so what gives?
Why is Camelback Mountain so dangerous?
In truth, we don't always get all the details about accidents and rescues on Camelback, usually to protect the privacy of the people involved. There are, however, some factors that increase the risk of having an emergency no matter what mountain you're on.
High traffic
Like many dangerous mountains, the higher instance of rescues on Camelback could be in part down to sheer volume of people going up. There's room for 135 cars in the parking lot and though there isn't an entry gate at the bottom to count visitors, general estimates for annual visitorship are in the hundreds of thousands, and City of Phoenix Parks notes that people from around the world hike Camelback each year. The more people you have climbing a mountain, the more sprained ankles and heat-related illnesses you get, so part of the issue might be down to simple math.
Easy access
This one is harder to quantify, but the easy accessibility of Camelback may pose a problem, and this can be true of many mountains that lie close to urban areas. Camelback lies only about 25 minutes drive from of downtown Phoenix and 10 minutes from Scotsdale, which in itself makes it a more attractive prospect to many than driving for hours into the backcountry, especially since you can get there on a city bus.
Further, because it's only just over a mile to the top, many people who don't hike a lot might feel like they can reasonably reach the summit, and be rewarded with stunning views. All of this might be leading people to set off unprepared, without the required fitness, footwear or water to safely complete the hike.
Extreme heat
This factor certainly isn't limited to Camelback, but especially for visitors to the Phoenix area, it's important to note that Arizona experiences dangerous heat well in excess of 80°F for more than half the year. This makes for dangerous hiking conditions, and while Camelback Mountain is closed from 11 a.m. to 5 p.m. on days with excessive heat warnings, this doesn't always deter people from attempting a summit. Hiking in hot temperatures greatly increases the risk of dehydration and heatstroke and several overheated hikers were rescued from the mountain this summer alone.
Tricky terrain
Falls are another cause of injury and death on Camelback. The trails to the top of Camelback are, for the most part, easy to follow, but that doesn't necessarily mean they're easy. As we've already pointed out, they're steep and they're also rocky, requiring scrambling and using handrails in parts to essentially pull yourself up. If you're an adventurous sort, this can seem more fun than daunting, but most of us don't hike with a helmet, and if you do take a tumble things can go seriously wrong.
There are a few areas where the directions can become confusing and if you go off trail, either on purpose or by accident, things can become even more treacherous and quickly turn deadly. Things can be made worse when hikers eschew proper footwear and attempt to summit in street shoes, another problem common with easily accessible hikes.
Swarming bees
This certainly isn't as big a risk factor as heat and terrain, but it's worth knowing that swarming bees can be an issue on Camelback at certain times of year. In 2012, a 19-year-old hiker was tragically killed when he fell trying to escape swarming bees on the mountain, while three years later two hikers required rescue after being attacked. There are often signs at the trailhead warning hikers of active bees in the area and they are most active in spring and summer in Arizona.
How to hike Camelback Mountain safety
The above isn't intended to discourage you from hiking Camelback Mountain. Remember, hiking is an inherently dangerous activity but it carries many amazing rewards, from physical and mental health to brilliant views. There are, however, some precautions you can always take to ensure you're hiking safely:
Check yourself: Do you have the fitness required to successfully hike Camelback? If not, why not build up some fitness and experience first on easier trails at South Mountain park?
Research the route: It's a good idea to read up on the route before you go and carry a map for any points where you get confused about directions – hikers have gotten off trail and into trouble here.
Check the weather: If temperatures are going to be in the 80s, or higher, you may want to reconsider hiking, or leave early in the morning to avoid the hottest part of the day.
Prepare for heat: In spring, summer and fall, you should expect it to be hot on Camelback. That means not setting off dehydrated, carrying two water bottles or a larger capacity hydration bladder, wearing light, breathable hiking clothes and using sun protection like a brimmed hat, sunscreen and sunglasses.
Get a grip: You'll need hiking shoes or trail running shoes with good traction such as that provided by Vibram soles for this one.
Heed the warnings: If there are advisory notices at the trailhead when you arrive, about bees or closures, don't ignore them – they're there for your safety.
All the latest inspiration, tips and guides to help you plan your next Advnture!
Julia Clarke is a staff writer for Advnture.com and the author of the book Restorative Yoga for Beginners. She loves to explore mountains on foot, bike, skis and belay and then recover on the the yoga mat. Julia graduated with a degree in journalism in 2004 and spent eight years working as a radio presenter in Kansas City, Vermont, Boston and New York City before discovering the joys of the Rocky Mountains. She then detoured west to Colorado and enjoyed 11 years teaching yoga in Vail before returning to her hometown of Glasgow, Scotland in 2020 to focus on family and writing.