Camping gear you should splash out on vs camping gear you can save on this Amazon Prime Day
Our expert advice on which items of camping gear you should splash out on for a worthy investment, and which you can probably scrimp on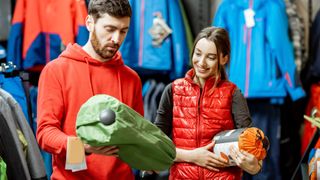 (Image credit: Getty)
Unless you're so rich and removed from society that you haven't been paying attention, you'll know that there's a cost-of-living crisis on both sides of the Pond. Undoubtedly, millions of Americans and Europeans are looking to spend a little less on their summer vacation this year. While jetting off to exotic climes may be a bit of a stretch for some at the moment, there's always the more affordable option of a camping vacation.
This might be good news for manufacturers of camping gear, particularly of the budget variety. However, buying cheap can often mean buying twice when it comes to kit that's expected to perform in the often harsh conditions of the backcountry.
To help you to avoid falling into the trap of this kind of false economy, we've written this advice on which items of camping gear you can scrimp on and which you should really be investing in. From the best camping tents to travel pillows, we take you through the main essentials on the camping checklist, giving our recommendations on some of the products to look out for.
Looking for a bargain? We've hand-picked all this year's best Amazon Prime Day camping deals to guide you to the best offers on equipment from brands you can trust.
Tents
The tent is the foundation of any camping trip, unless you're going ultralight and bivvying, of course. Even a one-person tent designed for lightweight backpacking can set you back a fair amount, let alone a palatial fortress of fabric for the whole family.
How much you end up spending on your tent will depend on how exacting your needs are. New, lightweight backpacking tents with cutting edge technology and freestanding structures can be very expensive, as can four-season tents. However, unless you're a gram obsessed fastpacker or a serious winter camper, you can definitely save some money here.
For example, a brand spanking new 2-person tent can cost up to half a grand, whereas you can get some excellent 2-person tents at around the $250 mark. Do your research and try to find reputable older models that are still in production but that are no longer a given brand's shiny new offering. We like the value of the Sierra Designs Meteor 3000 or the Wild Country Zephyros Compact 2. The Snugpak Journey 4 is a great value option for a small family
We've mostly used 2-person tents as the examples here, but the same applies across the size range, all the way up to large family tents. Do your research and find a reputable shelter that's no longer brand new and see if you can bag a bargain.
Verdict: Invest, but not too much – unless you're a winter camper or expeditioner.
Sleeping bag
With sleeping bags, it's often the insulating fill that dictates how expensive a bag is. In the age-old battle of down vs synthetic insulation, both have their advantages and disadvantages. Down has the superior warmth to weight ratio and packs down small. This makes it ideal for campers looking to stay warm with a lightweight and expedition ready sleeping bag.
However, synthetic materials are cheaper and, while your bag is likely to be heavier, ask yourself whether or not it's worth the price difference. We get on just fine with synthetic bags, even on wild camping expeditions. The caveat here is that synthetics are worse for the environment, so it's worth doing your research to make sure you are getting a bag that is likely to last you a while.
Of course, this is all irrelevant if you're a vegan, in which case you've got no choice, as down is harvested from ducks and geese.
Verdict: If money is tight, a quality synthetic-filled bag will do the job just fine.
Camping stove
When it comes to choosing a camping stove, the most popular kinds are screw-type stoves that use a fuel canister. These are your classic backpacking stoves, designed to be nicely light and portable. However, if you're staying at a campsite with your tribe, the best camping stove for you will probably be a heavier double burner stove that gives you the option of multiple flames and better temperature regulation.
Backpacking stoves that feature an integrated pan have become very popular in recent years, offering an all-in-one solution for life in the backcountry. Models like the Jetboil Flash are very popular and also boast impressive boil times. However, they can be more expensive and less versatile than a more affordable stove. Where backpacking is concerned, we love the Soto Windmaster for its good price, performance and lightweight qualities.
Another factor to consider is whether or not your chosen camping stove has a regulator. This controls the flow of fuel to the stove and means that performance isn't noticeably worse when your canister is low, or when the temperatures plummet.
As for double burner stoves, you can easily spend way over the odds if you're not careful. We'd recommend looking for a reputable manufacturer that's been around the block a few times, find a unit that fits your budget, read some reviews and then make a judgement. For us, the Vango Combi IR Grill Compact and the Coleman Triton Propane 2 Burner both represent good, budget conscious options from brands you can trust.
Verdict: avoid the cheapest stoves but you don't need to spend a fortune.
Sleeping pad
Should you spend big on a sleeping pad? Do you even need a sleeping pad?
Well, first of all, yes you need a sleeping pad. As well as providing comfort, which is obviously important, a sleeping pad also insulates you from the cold ground beneath. This is very much a requirement in summer and shoulder seasons and absolutely vital in winter.
Spend wise, we'd recommend forking out for more than one of those classic foam mats, as they're not particularly packable or comfortable. However, once you get into the realms of self-inflating mats, there's not going to be a great deal to choose between different brands. Again, choose a brand with a solid reputation. Mountain Equipment's Helium 3.8 Warm Zone sleeping mat does everything required of it and it won't empty your wallet.
Verdict: get one, but shop around for a good price.
Camping pillow
If you're car camping and weight and space aren't issues, there's nothing wrong with bringing your pillow from home. If it's soft and comfortable enough for your bed, bring it camping.
However, normal pillows are surprisingly massive, as you'll know if you've ever tried to stuff one into a hiking backpack. So, for backpackers, a camping pillow might be a good idea for those who really value their comfort. We've recently been using the Nemo Elite Ultralight pillow, which packs down to almost nothing and is supremely cosy.
Big however here, though. The Nemo Elite does cost quite a bit and, actually, on a wild camping trip, you can often use your spare clothes to fashion a makeshift pillow for a night or two. We know we've spent plenty of nights like this in the backcountry. So, if the budget is tight, you can forego a camping pillow altogether.
Verdict: only get one if you're backpacking and really value comfort – otherwise bring one from home.
Lighting
Do you really need a camping lantern, flashlight and a headlamp? Probably not.
Most decent headlamps these days have multiple beam settings, such as a focussed light for homing in on objects or a diffuse setting that fills a given space with soft light.
This diffuse setting really comes into its own around the campsite at night. You can pop your torch on your head when cooking and then hang it from your tent's gear loft, creating a lantern like effect for bedtime stories.
What we're getting at here is that a good headlamp with a few beam settings is well worth spending money on. Then, you can then probably forego bringing a lantern and a flashlight along too. The Black Diamond Storm 500R is among the best headlamps around and is worth the investment. While modern lithium-ion cell powered headlamps like these are easily rechargeable, we'd always recommend bringing a cheap spare along just in case too.
Verdict: Invest is a quality headlamp and buy a cheap spare for emergencies.
All the latest inspiration, tips and guides to help you plan your next Advnture!
Alex is a freelance adventure writer and mountain leader with an insatiable passion for the mountains. A Cumbrian born and bred, his native English Lake District has a special place in his heart, though he is at least equally happy in North Wales, the Scottish Highlands or the European Alps. Through his hiking, mountaineering, climbing and trail running adventures, Alex aims to inspire others to get outdoors. He is currently President of the London Mountaineering Club, training to become a winter mountain leader, looking to finally finish bagging all the Wainwright fells of the Lake District and hoping to scale more Alpine 4000ers when circumstances allow. Find out more at www.alexfoxfield.com