Eco-friendly camping: the ultimate guide to sustainable adventures
Our guide to eco-friendly camping helps you lessen your carbon footprint, and not your fun level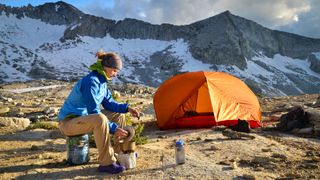 (Image credit: Getty)
Without the infrastructure required by hotels and holiday resorts, camping has always been considered more eco-friendly than other types of vacationing, and it is. But as more people take to the outdoors and camping gear becomes more high-tech and disposable, we might be leaving a bigger footprint than we ought to. More gear is being purchased, more people are driving to campsites, more hiking boots are trampling the earth, more trees are being pillaged for firewood and more campfires are smoldering away for hours, none of which is doing the natural world much good.
The good news for those of you who love sleeping under the stars is that with our eco-friendly camping guide, you can keep enjoying the outdoors sustainably without spoiling it for future generations. Follow our tips for all types of camping to help lessen your carbon footprint, not your fun level.
1. Go local
When it comes to picking a destination, consider what natural spaces are available closer to home that don't involve much travel to cut down on fuel emissions.
2. Hike, use public transport or carpool
If you can get to your campsite by any means other than driving, consider that. Backpacking instead of car camping can be an incredible experience that really immerses you into the natural world. For frontcountry camping, research the public transportation options available. A lot of the best US National Parks like Yosemite are well served by buses from major metropolitan areas and have free electric shuttles for getting around within the park. If you have to drive and you're going with a group, organize a carpool and try not to use your car once you arrive, which means bringing everything you need with you.
3. Rent/borrow gear
This is one of our top tips for camping on a budget, but it also helps to protect the planet. If every person who loves the outdoors buys a new tent this camping season, that's a lot of energy and resources going into manufacturing, for something you might only use once or twice. If you don't camp often, consider borrowing some bigger items, or renting them from a nearby gear store. Here is some camping kit you might want to rent or borrow:
4. Camp off grid
It seems like all camping should be off grid, really, but you may be surprised at how many modern conveniences you can find at campsites these days, from hot showers to RV hookups that all use energy. In fact, electricity and heat production account for a quarter of all global greenhouse emissions, according to the EPA (Environmental Protection Agency), so anywhere you can cut back helps.
If you're camping to spend time in nature, why not escape the hum of electricity altogether and use a camping cooler to keep your food fresh and skip the daily bathing or choose a way to shower while camping that doesn't involve hot, running water.
5. Cut down on campfires
Campfires are everyone's favorite part of camping, and they keep the mosquitos at bay. While they're certainly nowhere near industrial-level offenders for releasing harmful greenhouse gases, they are a source of air pollution and they endanger vegetation and local wildlife. Here are some ways you can make your campfires less harmful for the environment:
Use existing campfire rings to minimize soil damage and avoid wildfires.
Burn only dead firewood which you find on the ground that hasn't been treated with paint, glue or finishes.
If you're buying wood, buy only sustainably sourced wood.
Never use accelerants.
Don't burn trash.
Don't make your fire too big, or keep it burning for too long – an hour or two before bed is plenty.
Cook over a camping stove that relies on recyclable fuel canisters to minimize the length of time you need a fire.
Consider foregoing the campfire altogether and bringing a smokeless wood burning or gas fire pit instead – an advantage of these is that you may still be able to use them during a fire ban.
6. Use biodegradable soap
For washing dishes and hands, bring a biodegradable dish soap like Dr Bronner's, and make sure you don't dump out dirty water anywhere near a lake or river.
7. Ditch disposable items (and wet wipes)
Even though they're convenient, relying on disposable plates, cups, forks and barbeques can generate a lot of unnecessary waste. Get reusable camping dinnerware or simply bring old dishes from home. And please, leave the wet wipes at home. We get that they make life easy, but most of them aren't biodegradable. Set up a handwashing station instead, using a hydration bladder and that biodegradable soap we mentioned earlier.
8. Use solar powered chargers and appliances
It's nice to have your phone charged for taking photos and using your GPS app on a hike, but you should invest in a solar powered charger so you're not tempted to run the car every time you need to charge it. If you like your camping gadgets such as coffee makers, speakers and camping showers, make sure you get solar powered ones too to cut down on your energy usage. Avoid appliances that rely on disposable batteries.
9. Stay on the trail and stick to existing campsites
If you're hiking in the mountains, do not cut switchbacks. Stay on the trail to minimize soil erosion, and for dispersed camping (wild camping in the UK), look for sites where people have already camped and use those for the same reason.
10. Pack everything out (even your poop)
Finally, adhere to the principles of leave no trace and pack out everything with you. Bring enough waste bags that you can have a station for trash and another for recycling (and even one for food scraps if you're able to compost back home), and take it all home with you to be disposed of properly.
Believe it or not, this golden rule is starting to even apply to your poop. For a long time, campers agreed that the best way to poop in the woods was to dig a hole, then cover it up. While this is still OK for occasional episodes, with more people camping than ever before, it's become clear that the 'cat hole' method doesn't actually protect the environment from your poop. In fact, as far back as 2016, the Durango Telegraph reported that record high levels of E coli found in the San Juan River were due to human excrement, and today, land agencies like the Inyo Forest Service are asking campers to pack out their poop. You can bring a waste kit, find a campground with composting toilets, or invest in your own portable camping toilet.
All the latest inspiration, tips and guides to help you plan your next Advnture!
Julia Clarke is a staff writer for Advnture.com and the author of the book Restorative Yoga for Beginners. She loves to explore mountains on foot, bike, skis and belay and then recover on the the yoga mat. Julia graduated with a degree in journalism in 2004 and spent eight years working as a radio presenter in Kansas City, Vermont, Boston and New York City before discovering the joys of the Rocky Mountains. She then detoured west to Colorado and enjoyed 11 years teaching yoga in Vail before returning to her hometown of Glasgow, Scotland in 2020 to focus on family and writing.