Spring running: the best kit for off-road adventures
With the arrival of warmer weather and sunshine, plus longer daylight hours, it's time to hit the trails for more running miles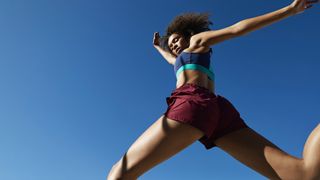 (Image credit: Getty)
Nature comes to life in spring – and for trail runners, it's the time of year when you can start to make plans to explore wider and further afield. The longer and warmer days provide more opportunities for enjoyable running adventures. It's always so much easier to be motivated by a sunny day for a run, compared to a cold day of rain, isn't it?
I like to reassess my running kit needs in spring, putting away some of my winter equipment, such as running spikes and crampons and headlamp, and instead picking out my favourite warmer weather clothing and items.
Spring running clothes and kit
Here are some of the items I choose to use for spring and summer running.
Running shorts or skort
Spring is when I ditch the running tights, in favour of trail running shorts or, more likely, a Flanci running skort. Although, if I'm heading to higher altitudes in the Scottish mountains, I am likely to pack a spare pair of tights and lightweight waterproof trousers in my running pack, in case the wind picks up, it starts to rain or the temperature drops.
It's lovely to feel the sun and breeze on bare legs and to enjoy the freedom of running in lightweight shorts or a skort.
I prefer shorts or a skort with a fitted undershort because this avoids chafing, which can be an issue when you sweat while running in warmer conditions.
A running vest or t-shirt
If it's sunny, it's great to feel the warmth of the rays on my arms, so I'll choose a favourite summer running top, such as a running vest or a running t-shirt. In the colder months, I add a long-sleeved base layer or two for warmth but in the spring and summer, my choice of top is to keep me cool.
The best running tops for warmer weather are made with lightweight fabrics and allow sweat to easily evaporate. I find that the airier the better, is my motto in spring and summer.
Windproof jacket
Since I live in the UK, spring and summer can still bring wet weather. A lightweight waterproof jacket is a very useful item, but so is a water-resistant or windproof running jacket.
There is less chance of becoming cold from a wet running day in the spring and summer and so I rarely wear the waterproof running jacket, a Montane Spine jacket, that is my go to for winter running.
Of course, a day of running in the hills or mountains is safer if you pack a good quality waterproof jacket in your pack but it's less likely I'll actually put it on.
Trail running footwear
My favourite trail running footwear in winter is a waterproof inov-8 shoe. These help to keep my feet drier and reduce the chances of blisters. I often combine the shoes with waterproof socks.
In summer, waterproof running footwear make my feet too hot and sweaty. So, in spring, I am more likely to choose a lightweight trail running shoe such as the Saucony Peregines.
The spring and summer hills will be a bit drier and less muddy – and that means I do not need the aggressively grippy soles of my winter trail running shoes.
I like to run further in the summer as well – and, for this reason, I might choose to wear trail shoes meant of ultra runners, such as Dynafit Ultra 100 shoes. The extra cushioning is a bonus on the longer outings.
Running pack
I tend to run with a smaller hydration vest pack in the summer. I don't need to carry so much spare kit, although the pack must have enough volume for carrying lots of water. Hydration is a big consideration in the spring and summer months of running.
My favourite vest packs are Harrier, Montane and Ultimate Direction. I like an easily accessible pocket for my phone and snacks. I also want a place to add running water bottles, such as soft water flasks.
Spring accessories for runners
In the warmer seasons, I wear a running hat and I always carry gloves. I suffer with Raynaud's Syndrome even in summer and I always have gloves ready to wear when the temperature drops.
Running sunglasses are another vital accessory to keep the sun's harmful rays from the eyes. In addition, sun cream will be on my spring running kit checklist.
Like most runners, I can't wait to enjoy longer days of warmer weather and daylight.
All the latest inspiration, tips and guides to help you plan your next Advnture!
Fiona Russell is a widely published adventure journalist and blogger, who is better known as Fiona Outdoors. She is based in Scotland and is an all-round outdoors enthusiast with favourite activities including trail running, mountain walking, mountain biking, road cycling, triathlon and skiing, both downhill and back country. Her target for 2021 is to finish the final nine summits in her first round of all 282 Munros, the Scottish mountains of more than 3,000ft high. Aside from being outdoors, Fiona's biggest aim is to inspire others to enjoy the great outdoors, especially through her writing. She is also rarely seen without a running skort! Find out more at Fiona Outdoors.