Trail running essentials: everything you need before you head off road
All the trail running essentials you need to make sure you're comfortable and safe – no matter how wild or far you are venturing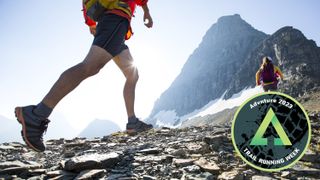 (Image credit: Getty / Future)
It is easy to see the appeal of trail running – escaping from busy streets, swapping traffic noise for the sounds of nature, breathing in fresh air and running in beautiful scenery. In order to make your run a successful one, however, you need to think about some trail running essentials before you start.
While you're not going to get hit by a car or choke on exhaust fumes, running in wild areas does come with a set of different risks. If you run in urban areas it is fairly easy to get yourself out of trouble. If you get caught in an unexpected freezing shower, you can seek shelter; if you twist your ankle you can get a bus or taxi home, and if you get lost you can ask for directions. If the same happens on a remote trail, the situation is potentially a lot more serious – especially if you're running on your own.
Acquiring some basic knowledge, doing some planning ahead and taking/wearing appropriate kit is the best way to protect yourself against risk. If you intend heading into the hills you need to be aware that temperature decreases and wind speed increases as you gain height, for example. Real conditions on the summits can be several degrees colder than the valley below, even on a sunny day, so make sure you layer up.
None of this should put you off trail running, it just makes sense to be well prepared before you hit the trails. Following are a few trail running essentials that will help keep you safe and comfortable.
Trail running shoes
First on your list of trail running essentials, you'll need a pair of the best trail running shoes with a good grip. Trail shoes tend to have a more aggressive tread pattern than road shoes and so can help keep you upright in muddy terrain. There's a wide choice, from heavily studded shoes for very muddy conditions to more cushioned ones for hard packed trails – and it's okay to own more than one pair!
Running jacket
A water- and windproof running jacket is an essential piece of equipment for a trail runner. Wet and windy conditions are uncomfortable at best, but a decent jacket will protect you from the worst of the elements (which is especially important if you suffer an injury, or have to stop running for any reason). It should have a hood, ideally one that can be tensioned so that it doesn't blow down in the wind. Pockets aren't essential but can be useful. Jackets designed specifically for running are very light and pack down extremely small, so they can easily be carried in a small backpack or hydration vest. If you're forced to stop running prematurely, before you reach home, put your jacket on before you cool down and start to shiver. For ultralight missions, you might want to check out the best lightweight running jackets, which prioritize keeping the gram count down above all else.
Headwear and gloves
A simple hat or buff-style headwear is really useful. It will take up hardly any space and can be carried in a pocket if not needed. A Buff can be used to protect your head and face from everything from cold winds, sleet and hail through to sand storms and severe sun, or you can use it as an impromptu face mask if required. Cold hands aren't much fun so a pair of trail running gloves is needed. Mittens tend to keep hands warmer although at the cost of dexterity. These needn't be running specific, an inexpensive pair will generally suffice although you can buy more expensive insulated or waterproof gloves and mitts for winter running.
Extra layers
In colder weather, or if you're heading for remote trails, an extra base layer is a trail running essential. Also consider wearing running leggings or tights, which will provide a layer of thermal insulation in colder conditions, and protect against things like ticks when it's warmer. If you need to stop running for any reason you will produce less heat and soon get cold. Midlayer down or puffer jackets made with synthetic or down fillings compress very small and offer excellent warmth to weight ratios.
Navigation
You don't need to be an expert navigator to enjoy trail running but you certainly don't want to get lost! Simply knowing that you are running in the right direction and being able to identify major landmarks can avoid an embarrassing or potentially dangerous "Help, I'm lost" scenario. That said, it doesn't hurt to know how to read a map or how to use a compass. Route-planning apps like komoot can also point you in the right direction.
Hydration
On longer runs, hydration is a trail running essential – especially in warmer weather. While you might love the thought of quenching your thirst in clear mountain streams that's probably not a good idea unless you are well away from people and animals. Trail runners tend to carry their own drinks in either hydration bladders inside their backpacks, or soft-flasks/bottles.
Emergency food
If you are planning on running for several hours you will need to refuel along the way. The choice is wide ranging, and it doesn't need to be running specific food. While some runners might want to take energy gels for ease of use others prefer real food such as slices of pizza! Anything goes as long as you can carry it and it remains edible after being squashed in a hot bag for several hours. It is also worth carrying some extra food just in case of emergencies. Trail mix, chocolate, dried fruit and boiled sweets are all popular and won't go off if left at the bottom of your pack for weeks.
Sunglasses
Running into the sun, particularly when it's low in the sky, can be intensely painful and squinting can cause you to tumble on the trails – try and find a good pair of running sunglasses that stay in place while you run and don't distort your view of the path immediately ahead.
Poles
Not everyone likes to run with poles, but on some terrain they can be invaluable for all kinds of reasons, including stability and safety. Modern poles designed specifically for ultrarunners and fastpackers are extremely light and easy to stash in a running backpack, so if you think you might need them, it's worth packing them.
Mini first-aid kit
Cuts, grazes and blisters are not uncommon in trail running so it is worth carrying a mini first aid kit with a few wipes, plasters and a dressing. Sunscreen and insect repellent may also be useful depending on time of year.
Phone
If you did have an accident out on the trails you may need to call for help so a mobile phone is a definite trail running essential. However, be aware that there might not be a signal in remote areas. An app that gives you an accurate grid reference even without a signal can be really useful. Your phone isn't just for emergencies though – you might also want to record your route and photograph the fantastic views.
In areas without cellular connectivity, a satellite communicator (like a Garmin inReach device) will let you send an emergency message including your GPS location.
Headlamp
Trail running at night, away from the streetlights and under a starry sky is fantastic. A headlamp gives you the chance to try a whole new running experience (see our guide to the best headlamps for some good options). It doesn't need to be super-bright, 200 lumens should suffice although you can get more powerful torches if you intend racing down technical terrain in the dark. It would also be wise to pack a torch if heading off on long or remote runs in case they take longer than planned. Trying to find your way in the dark by the light of your mobile phone is probably the wrong type of memorable experience.
Backpack
Once you've got all this kit you'll need something to carry it in. A running specific backpack, or race vest as they are sometimes called, is a good investment. These are designed not to bounce around when you run while front pockets allow you to access items without needing to take the pack off. There are a wide choice of pack capacities suited to everything from short runs up to multi day trips.
So, get kitted up and get out and enjoy running the trails.
This article is part of Advnture's Trail Running Week 2023 (running from Monday 27 March to Sunday 2 April), our in-depth look at how to train smarter, choose the right gear, and have fun when things get muddy.
All the latest inspiration, tips and guides to help you plan your next Advnture!
An experienced, competitive, fell runner and UK Athletics coach, Dave specialises in fell and mountain running. His personal achievements include winning the 2015 English Fell Running Championships (V50 category) and completing the Bob Graham, Paddy Buckley and Charlie Ramsay Rounds. He has contributed reviews and training articles to magazines including Trail Running, Outdoor Fitness and the Fellrunner magazine. His most embarrassing moment was having a running shoe fall apart completely while high in the Lake District fells.