Camping vs backpacking: home comforts, or roughing it?
We compare the merits and downfalls of camping vs backpacking to help you decide on the best method for sleeping wild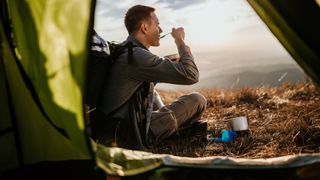 (Image credit: StefaNikolic)
So you've been looking into the different types of camping and you've decided you want something a bit more rustic than glamping, but do you go with car camping or backpacking? On the one hand, you can still feel like a lumberjack if you drive in and chop some firewood, but you can bring a six pack of beer or two, and on the other hand, if you're willing to put in the miles you can get out into the wilderness with no one else around for miles. So what do you do? We compare the merits and downfalls of camping vs backpacking to help you decide on the best method for sleeping wild.
What's the difference between camping and backpacking?
While backpacking is a form of camping, if we're assuming that camping refers to car camping, then the primary difference between the two is how you get there. For backpacking, you get to your campsite on foot, hiking in and carrying everything you need for the night in your backpack. Yes, that means your tent, best sleeping bag, sleeping pad and camping stove as well as clothes and food. Backpacking might involve a single overnight on an out-and-back trail, let's say hiking to alpine lake and back out the next morning, or you might be continuing on for several nights, camping in various spots along the way.
When we say camping, we usually mean car camping but when you go car camping, you don't camp in your car. You drive to your campsite carrying everything you need in your car, then set up your tent, also known as front-country camping. Car camping often takes place in designated camping areas where there are facilities like showers, but you can also camp on BLM land in the US, or go wild camping in the UK, as long as there's a road.
Let's compare the two in terms of what you need, how comfortable they are and how much it all sets you back to help you decide which is best for you.
Camping vs backpacking: gear
For both camping and backpacking, you need a lot of the same gear: a tent, a sleep system, something to cook with, etc. For backpacking, you're restricted to what you can carry, so you'll be looking for a one-person tent or bivy sack, an ultralight sleeping bag and a backpacking stove. Everything needs to pack down small and weigh as little as possible, and you won't be bringing any non-essential items.
You could definitely go car camping with your backpacking kit and it would all work just the same, but because you have your car, if you want to, you can take a bigger tent, a camping pillow, a double-burner camping stove and a cooler full of food. One style doesn't necessarily win out over the other in this department, but the gear possibilities are often different.
Camping vs backpacking: skill
Any time there's equipment involved, you have to know how to use it, but overall, backpacking definitely requires more skill because you'll need to know how to navigate on the trail and understand things like where not to camp and how to purify water in the wild.
Camping vs backpacking: preparation
Even though backpacking seems like it should be simpler than car camping because you're limited to what you can carry, it usually involves more preparation. After all, you have to make sure you have everything you need and it all has to fit inside one backpack. If you mess up, you might find yourself out in the wild without clean water, enough food or the right clothing, which could be a disaster.
Car camping on the other hand can take a lot of preparation, especially if you like to prep elaborate camping meals before you go, but you can just as easily chuck all your gear in the back of your car, swing by the grocery store and head for the woods. If you forget something, you can drive back to the store.
Camping vs backpacking: effort
Naturally, hiking for miles with a heavy backpack then having to find a spot, pitch a tent and build a campfire takes more effort than driving in, but the plus side of that is that you get exercise.
Camping vs backpacking: access
Even though there are lots of great wild spots you can drive to, you're still limited to roads and places that you're allowed to park your car when you're camping. When you're backpacking, you can get well off the beaten track, into the wild and far away from other people.
Camping vs backpacking: comfort
Because you've got your car, you can drive in with a lot of home comforts when you're car camping. That doesn't just mean a bigger tent and a cooler – you might bring your down comforter and pillow from your bed and your portable camping coffee maker for a shot of espresso to start the day. Plus, if you're camping at a designated campsite you might have flushing toilets, hot showers and bags of ice available for purchase.
Backpacking is not exactly synonymous with comfort. You're definitely looking at an inflatable sleeping pad instead of a mattress, you might be using a rolled up fleece jacket as a pillow and you're likely to be eating freeze-dried meals.
Camping vs backpacking: cost
Because you can go car camping with your backpacking gear, one doesn't necessarily cost more than the other in terms of gear. In fact, if you're focusing on state-of-the-art ultralight gear, backpacking could get pricey. But car camping can definitely rack up some big costs once you start cooking gourmet meals, paying for campsites and looking into fire pits and barbeque grills. You might think you'd save on the cost of gas when you're backpacking, but in reality you could be driving to the trailhead anyway, so that's not a major factor, and you often have to pay for permits to go backpacking. The chances are, you'll spend less on food and drink when you go backpacking, however, so it's probably the winner if you're on a budget.
Swipe to scroll horizontally
Camping vs backpacking

| Header Cell - Column 0 | Car camping | Backpacking |
| --- | --- | --- |
| Gear | You can bring more and bigger gear if you want | You're restricted to what you can carry, lightweight is key |
| Skill | Medium: You need to know how to set up your tent and operate your stove | HIgh: You need to know how to use your gear plus navigation, mountain safety and how to purify water |
| Preparation | You can chuck everything in your car and swing by the grocery store if you want | Lots of planning to make sure you have (and can carry) everything you need |
| Effort | Medium amount of effort required | Takes a lot of effort |
| Access | You're limited to places you can drive to, and park at | You can really get into the wild |
| Comfort | You can bring an air mattress, your comforter and maybe even enjoy showers | Not exactly synonymous with comfort |
| Cost | You can keep it cheap, but you'll have to pay for gas and campsite fees | Meals will be cheaper, but there are often backcountry permits to be paid |
Camping vs backpacking: the verdict
As you can see, there can be quite a few differences between car camping and backpacking, though you can still do both with a lot of the same kit. Let's be honest though, if your idea of a good time involves a steak, a cold beer and a camping cot, car camping is obviously the choice for you. If your idea of roughing it is, well, roughing it, then you will love backpacking. And finally, if you know you want to do both (great choice!) and you're on a budget, you can get everything you need for backpacking and use it for car camping too. Chances are, there will be someone else who'll let you use their cooler and fancy camping stove anyway!
All the latest inspiration, tips and guides to help you plan your next Advnture!
Julia Clarke is a staff writer for Advnture.com and the author of the book Restorative Yoga for Beginners. She loves to explore mountains on foot, bike, skis and belay and then recover on the the yoga mat. Julia graduated with a degree in journalism in 2004 and spent eight years working as a radio presenter in Kansas City, Vermont, Boston and New York City before discovering the joys of the Rocky Mountains. She then detoured west to Colorado and enjoyed 11 years teaching yoga in Vail before returning to her hometown of Glasgow, Scotland in 2020 to focus on family and writing.