How many pairs of socks do you need for backpacking?
Avoid walking in soggy socks or carrying too much gear with our helpful guide to packing socks for backpacking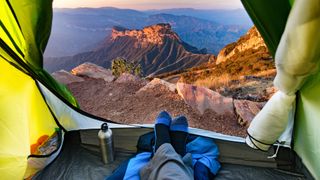 (Image credit: Getty)
How many pairs of socks do you need for backpacking? This is a common question among those preparing for an overnight adventure in the wild, and it's no wonder. No one wants to have to put on wet, muddy socks from the day before when they set off on another eight-hour trek, and every article about what to wear hiking specifies that you should always carry extra socks in your backpack – but how many extra pairs do you need?
If, at home, you wear cotton socks and are reasonably active throughout the day, you might be used to changing your socks daily, or nearly every day. But if you're embarking on a seven-night section hike or backpacking trip along the West Highland Way, that's suddenly a lot of extra bulk to cram into an already overloaded backpack. Then again, if you're trying to go ultralight, and you only bring the socks on your feet when you set off from the trailhead, all it takes is one rainy day crossing boggy terrain and suddenly you're pretty miserable, with cold feet and at risk for developing blisters or worse, trench foot. No fun.
There are a few different approaches to how many pairs of socks you should bring for backpacking, but the first thing to understand is that you can do yourself a huge favor by always bringing proper hiking socks made from a merino wool blend. Merino wool is magic for hikers – it's moisture-wicking, so it pulls the sweat from your skin and means your feet can stay cool on a warm day and won't be prone to as much rubbing. Unlike synthetic socks, which are also sweat-wicking, it continues to insulate when it's wet, so should you encounter low temperatures and rain or snow, your feet shouldn't get numb, as long as you have a decent pair of hiking boots too. And most importantly with regards to this topic, they don't get stinky.
Trust me here – I wear exclusively merino wool socks for all activities, even sitting around the house, and I rarely wash them. Some say this is due to wool's natural antibacterial properties, others claim bacteria just doesn't like wool while another camp believes it's because wool fibers "trap" bacteria, holding the smell in. Do I know who is correct? I do not. For due diligence, I did investigate to see if there's any research on the matter and discovered an article from University of Alberta researchers concluding that we just don't know why wool doesn't get stinky, but all I need to know is that it's true, and this means you don't have to worry about your merino wool socks getting smelly even without hours and hours of hiking.
Anyway, back to how many socks you need for backpacking. Because I like to travel light, I carry two pairs of hiking socks on each mission: the pair on my feet when I set off, and an extra pair in my backpack. When I get to the end of a long day of walking, it means I have a nice clean, dry pair to put on once I set up my tent. My dirty socks then usually get hung up inside my tent (if they're really wet, and it's still raining, I may sleep with them inside my sleeping bag so my body heat can encourage them to dry faster) and my feet can be warm and dry while I sleep.
When I get up in the morning, my dirty socks should be dry for another day of hiking, but if they're not, I can wear my sleeping socks for walking and hang my still-wet socks from backpack (or inside my waterproof jacket if it's raining) so they'll be dry for that evening's switch. Of course, this means I end up with two dirty pairs of socks instead of a dedicated clear pair for sleeping, but I can always shake them out or even give them a rinse in the river, and it's most important to me not to be walking in wet socks.
When I lived and roamed in the Rocky Mountains, this was always adequate, because rain was so rare there (and I wouldn't go backpacking if there was stormy weather coming because I was at such high altitude). Now that I'm back in Scotland, I'm getting a lot more familiar with rainy conditions and boggy ground, and an informal poll of my hiking friends here shows that quite a few, including my Advnture colleague Pat Kinsella, follow the three-sock rule when they're out for a week or more. That means you alternate between two or three pairs for hiking in, and always have a fall back clean, dry pair for sleeping in.
Hiking socks really don't weigh much – on average, they're about three ounces per pair, so if you're going on a long trip, on the east coast or expecting wet weather, I can't say I can make a great case for not bringing three pairs of socks with you. That extra pair can easily be tucked away inside a stuff sack or pocket of your backpack. That said, if you're backpacking in arid climates out west, I'm a firm believer in the two-sock rule.
Finally, if you're planning a longer thru-hike, such as the Appalachian Trail, even though it's a very wet hike, the same rule of 2 - 3 socks applies. So long as you get good quality wool socks, you'll be looking to keep your pack weight as light as possible and you can have new socks in some of your gear drops that you've arranged to pick up along the way.
All the latest inspiration, tips and guides to help you plan your next Advnture!
Julia Clarke is a staff writer for Advnture.com and the author of the book Restorative Yoga for Beginners. She loves to explore mountains on foot, bike, skis and belay and then recover on the the yoga mat. Julia graduated with a degree in journalism in 2004 and spent eight years working as a radio presenter in Kansas City, Vermont, Boston and New York City before discovering the joys of the Rocky Mountains. She then detoured west to Colorado and enjoyed 11 years teaching yoga in Vail before returning to her hometown of Glasgow, Scotland in 2020 to focus on family and writing.