Is it time to reproof your waterproof kit?
We speak to an expert on how to know when it's time to give you waterproof gear some TLC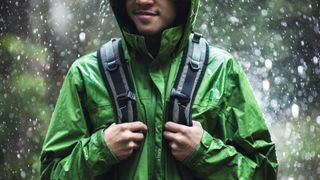 (Image credit: RyanJLane)
Though I absolutely love all my technical hiking gear, in some ways I miss the simplicity of going hiking in gym clothes, wearing sneakers and any old jacket I had lying around the house. Though I might not have been so happy in a hailstorm, it was all so gloriously low maintenance. You hiked in it, it got smelly, you chucked it in a hot wash, it was like new again.
But as I've learned, and perhaps you have too, the more you hike, the more technical gear you acquire and the more gear you own, the more housekeeping you need to – if you want to keep it performing well and lasting a long time anyway.
Though there are some pieces of gear, like your favorite fleece jacket, that are relatively low maintenance, waterproof gear definitely requires more regular TLC. Waterproof jackets, rain pants and even waterproof hiking boots are essential pieces of kit for anyone recreating in rainy climes, but their protection diminishes over time.
Hopefully, you're aware that this gear needs to be treated to keep it functioning properly, but how do you actually know when it's time to reproof your waterproof kit? How often should you do it? And when is it time to retire your old waterproof gear? To get the answers to these questions, I consulted Lorna Preston of UK-based outdoors company Trekitt.
How do I know when it's time to reproof my waterproof kit?
A new waterproof jacket is a thing of great beauty if you live in rainy climes and there are few things more magnificent than watching a heavy rain bead on the outer layer and roll off, leaving you warm and dry on a wet mountainside.
After a few months, or years depending on the frequency with which you hike, that satisfying beading however seems to dissolve into the mist. Your light blue waterproof jacket becomes a dark blue waterproof jacket when it rains, and you start to feel a bit less confident in its ability to give you shelter in a storm. As Preston explains, this is all down to that Durable Water Repellent treatment that was sprayed onto your jacket during production.
"All DWR treatments will wear off over time and through usage, reducing the garment's overall performance."
If you've been wearing your shell jacket for a while, you might have noticed that it's starting to wet out a little more quickly, or turning that disturbing darker shade when it rains. Now, the DWR isn't the only thing standing between you and wet weather. The outer fabric of your jacket should be bonded to a waterproof membrane, such as GORE-TEX or an alternative, and Preston explains that your jacket will still be waterproof thanks to its membrane, but with the face fabric wetting out, you'll feel less protected and less comfortable when out in the rain.
She also says that if you're not sure if your clothing is still waterproof, it's better to test it out at home than to find out at the top of a mountain.
"To check how waterproof your gear is, you can perform a simple test by pouring water on your jacket. If the water beads and runs off, your jacket is still waterproof and performing as it should. If it doesn't bead and absorbs into the fabric, it's time to top up the DWR coating."
If you just performed this test at home and your jacket or pants absorbed the water rather than repelling it, grab some Nikwax and head to our guide to how to waterproof a jacket now.
How often should I reapply a DWR coating?
If you're keeping an eye on your gear, you'll start to detect when it's coming time to give it a refresh, but if you're a planner, you might want to know roughly how often you're expected to perform a reproofing.
Like most gear-sprucing, how much attention your kit needs all depends on how much you're using it, and how rugged your activities are. A waterproof jacket that mostly stays in your backpack or acts more as a wind shell on a chilly day will fare better than one worn on most days of a rainy thru-hike or for anyone living near Snowdonia. Similarly, a waterproof running jacket is likely to get sweatier than one you wear for hiking, and will require more frequent washing, which wears off the DWR faster.
"For those using their waterproof gear frequently for intense activities like hiking or running, topping up the DWR every 3 - 4 months may be necessary to keep it performing optimally," says Preston.
Three or four times a year probably sounds like a lot, but remember that's really for the highest level use. For more moderate or occasional use, you can probably reproof as regularly as you spring clean and winterize your home.
"For less frequent use or milder conditions, reapplying a DWR coating to jackets or trousers every 6 months should more than suffice."
When is it time to say goodbye to waterproof clothing?
Clearly, the best thing for the planet and your wallet is to keep your waterproof clothing in circulation for as long as possible, and it's technically possible the gear you have now could last the rest of your life – if it's good quality and you treat it well.
However, sometimes even reapplying DWR can't revive a garment, and Preston reveals that there are a few tell tale signs for when it might be time to cast off your waterproof clothing.
"When the material on the inside starts bubbling, flaking, or dark patches appear, it may be time to replace your faithful kit with a new model."
If your jacket or pants have indeed reached the end of their life, you can recycle some outdoor gear, though it's sadly not as easy as dropping your plastic milk bottles and aluminum cans off at the recycling center.
Arc'teryx will take select items and reward you with an in-store credit, then refurbish your gear and sell it on at a reduced price. Garmin's Product Recycling Program will take back old GPS watches. Nike has a takeback program for well-worn running shoes. Searching for what you want to recycle and the name of your town will most likely reveal local gear stores that can help. With a few keystrokes and a little effort, you can keep your gear out of the landfill, and help the planet you love exploring. Learn more in our article with pro tips for extending the life of your gear.
All the latest inspiration, tips and guides to help you plan your next Advnture!
Julia Clarke is a staff writer for Advnture.com and the author of the book Restorative Yoga for Beginners. She loves to explore mountains on foot, bike, skis and belay and then recover on the the yoga mat. Julia graduated with a degree in journalism in 2004 and spent eight years working as a radio presenter in Kansas City, Vermont, Boston and New York City before discovering the joys of the Rocky Mountains. She then detoured west to Colorado and enjoyed 11 years teaching yoga in Vail before returning to her hometown of Glasgow, Scotland in 2020 to focus on family and writing.