7 tips for running in humidity
We've put together seven tips for running in humidity so you can keep training – and cope – with sultry conditions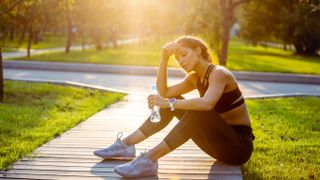 (Image credit: zoranm)
Those who hail from the Midwest have been saying it for decades: it's not the heat, it's the humidity. If you're living through a heatwave, you know that hot weather actually has a lot to answer for, but there is some truth to steamy conditions making life outdoors all the more unbearable, especially for runners.
If you're dealing with more humid conditions than usual and you're eager to get your trail running shoes on and pick up the pace, you're going to have to take care and change your approach to running to stay safe. Sweating is your body's natural cooling mechanism, but it only helps to cool you down when that perspiration on your skin is allowed to evaporate. Clearly, when the air around you is already saturated with moisture, that can't happen and as you already know, humid days leave you extra damp and sluggish on the trail as a result, even when it's not that hot out.
To help you stay hydrated and avoid conditions like heatstroke, we've put together seven tips for running in humidity so you can keep training in – and cope with – sultry conditions.
1. Acclimatize first
If you've traveled to an area that's much more humid than what you're used to, or a recent shift in the weather patterns at home has made things stickier than normal, it's important ease in slowly and carefully. You might be wondering why other runners are tearing down the trails looking unaffected by the humidity, but it's likely that they've just acclimatized.
Regardless of what the thermometer says, because your sweating mechanism won't operate as efficiently as normal, your inner temperature is likely to rise more than usual. The CDC recommends taking a period of between seven and 14 days to properly acclimatize to heat, making sure to expose yourself to the heat for two hours a day (they don't have to be consecutive hours) and gradually increasing your work level.
If you've recently moved to a humid place or are expecting the conditions to persist for a while, consider moving your longer running workouts to a treadmill at first and spending time walking outdoors or going short, easy runs to start to acclimatize. Of course if you're just in town for a few days, you'll want to keep reading for more tips to train smarter.
2. Run in the evening
In hot weather, it's usually recommended to run in the early morning, before the heat of the day sets in. However, if you look at the grass in the morning, it should be clear that early morning is also heavy in moisture. Check a detailed hourly weather forecast and you'll probably see that the hours of around midnight through the morning are actually the most humid, and once the sun gets higher in the sky a lot of that humidity burns off.
Obviously, if you run in the early afternoon, you might also be facing more sun and high heat, so it's best to either find a shaded trail, such as through a forest, or wait until the early evening when the humidity is low and the sun is lower in the sky.
3. Hydrate well
If your steamy conditions are combined with high temperatures, hopefully you'll be on top of this, but no matter the temperature, if the humidity is high, you're going to sweat a lot. Not replacing those fluids and electrolytes can lead to overheating, especially on a longer run, so make sure you're well hydrated before heading out the door and avoid dehydrating behaviors like drinking excessive caffeine and alcohol.
If you're planning on running for more than an hour, carry water in a hydration pack or water bottles if you don't mind hauling them along, and make sure you sip regularly during and after your run. Check out our article on how to carry water while running for more ideas.
4. Slow down
Though it's not a bad idea to use a device like a GPS watch or a heart rate monitor to keep an eye on your heart rate and log your workout, don't use it to try to maintain your regular pace or keep up with your current training plan.
In very humid conditions that you're unused to, it's normal to feel really sluggish as your body struggles to adapt and by maintaining your usual pace, you're placing undue stress on your organs. Slow down, focus on how you feel rather than what your device says, and adapt your approach as you need to.
5. Take breaks
If your training schedule demands that you go on a long run and you're not yet acclimatized, in addition to slowing down you can take regular walking breaks. These are especially important if you're hitting hilly trails, where you might want to walk more of the uphills than you usually do.
6. Wear a visor
You'll probably want to wear a peaked running hat to keep the sun or even the rain off your face, but a top tip from many runners for humid conditions is to don a visor instead, which allows the heat to escape from the top of your head. We love the Dynafit React Visor Band which is lightweight and keeps the sun out of your eyes – make sure to grab it in a light color to reflect the sunlight if it's bright out.
7. Wear breathable clothing
As for what to wear for running in humidity, while we absolutely love the performance of merino wool, for humid conditions we recommend synthetic fabrics that are breathable, quick drying and wick sweat away from your skin. Choose lightweight clothing that is slightly loose, since it's going to get wet and if it's too tight, it will then just cling uncomfortably to your skin and keep you damp and warm.
For a good running top, we like the Inov-8 Base Elite Short Sleeve Base Layer which is actually quite porous when you hold it up to the light to let all that sweat escape, and we recommend leaving the running leggings at home and wearing running shorts like the Montane Razors. If it's sunny, make sure you wear light colored clothing to reflect the sunlight.
All the latest inspiration, tips and guides to help you plan your next Advnture!
Julia Clarke is a staff writer for Advnture.com and the author of the book Restorative Yoga for Beginners. She loves to explore mountains on foot, bike, skis and belay and then recover on the the yoga mat. Julia graduated with a degree in journalism in 2004 and spent eight years working as a radio presenter in Kansas City, Vermont, Boston and New York City before discovering the joys of the Rocky Mountains. She then detoured west to Colorado and enjoyed 11 years teaching yoga in Vail before returning to her hometown of Glasgow, Scotland in 2020 to focus on family and writing.