What to expect from your first ski lesson
First time skier? Find out everything that's covered in your first ski lesson as well as how many lessons you need and what to wear for comfort and safety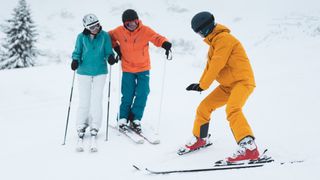 (Image credit: amriphoto)
Learning how to ski means learning a new skill, new wardrobe, new equipment and new language all at the same time, which when you add in the fact that you'll be dealing with moving at high speeds, possibly falling over, and freezing cold weather makes the whole idea a bit daunting. That's why it's a great idea to start with a ski lesson or two to help you get to grips with the basics of skiing.
My first job out of college landed me in Vermont, which is home to 20 alpine ski resorts, but the only time I'd ever set eyes on a pair of skis was when I was about 14 on a school trip to a dry ski slope near Glasgow. So, nearly ten years later I needed help. Fortunately, my cool job at a radio station meant I was able to wrangle myself a free lesson at Mad River Glen, an old-school, skiers-only resort known for its very steep slopes. This was 20 years ago now, but I still remember having a lot of questions before I even left the house. What do I wear? What kind of shoes do I need? And what does après ski even mean?
My questions were so rudimentary that my long-time skier pals actually weren't any help in answering them. I don't think they could compute the fact that I didn't know that such a thing as ski boots existed and my ex-husband was a pretend skier who said something unhelpful like, "whatever shoes you wear, you'll wear another pair for skiing", leaving me with the mistaken impression that I needed to go with two pairs of shoes.
Anyway, the day came and off I went by myself, wearing my running shoes and carrying an extra pair of winter boots in my backpack because god-knows-why. I drove to the resort feeling a bit awkward and nervous, but from the moment I met my instructor for the day, I was totally supported and felt really comfortable as he walked me through all fundamentals, from getting kitted out with ski rentals to riding the chairlift, and by the end of the day I skied the mountain from top to bottom. I've now been skiing for 20 years in the Rockies, the Alps and Scotland. I love cross country skiing and backcountry skiing as well as resort skiing. Basically, I went from a total gaper to someone who puts skins on my skis and skis uphill just to find some untouched powder, and a lot of it is thanks to that first lesson.
I think taking lessons is super valuable when you're learning to ski, and well worth any expense since it helps you to be a safer skier, but I know it can be a bit overwhelming, so here's what to expect from your first ski lesson to answer some questions and be prepared.
Tips for booking your first ski lesson
Some ski resorts have their own ski schools while others will allow outside outfitters to teach on their slopes, but any resort will have an opportunity for you to learn to ski with a qualified professional and you can find out with a quick phone call or google search. If there are multiple options, make sure you pick an outfit that specializes in beginners, since some are for experienced skiers who want to reach expert level.
Ski instructors are usually super keen skiers who want to help newcomers feel comfortable and confident on the hill, because that makes the slopes a safer place for everyone, so you'll be in good hands and should be with someone who is patient, knows the mountain like the back of their hand and won't put you in danger's way.
You'll usually be able to choose between a group or private lesson, and a full or half day. Needless to say, a private lesson is more expensive, but you'll get more individualized attention, while the group dynamic can be really fun. A full day will require more stamina, but there will be a break for lunch, and can be a great way to really immerse yourself in the techniques of skiing. A half day will afford you less time actually skiing since some of the time will be taken up by things like how to get your skis on, but if you have the time and the funds, you could book several half day lessons which won't be as tiring and allow you to get your hours in.
Finally, I highly recommend you rent gear in the beginning. This means you get expert assistance in what size ski boots and what length of skis you need. This way, if you don't love skiing, you haven't splashed out on loads of pricey gear you're never going to use, and it lets you test out different models to see what you like before you buy. Plus, you don't have to figure out how to transport your skis to and from the hill and you'll be able to stash your belongings in a locker at the rental shop.
What to expect from your first ski lesson
1. You don't need a lift ticket
Your ski lesson should include access to the mountain, so don't worry about also forking out for a lift ticket. Just pay for the lesson and you'll be able to ride the lifts on that day.
2. It will be cold
Clearly I don't know what the weather will be like on the day of your first ski lesson, but I do know that however cold it is at the base of the mountain, it will be colder at the top. The trick is to dress warmly enough for riding the chairlift to the top, but not too warmly, and it can be tricky to get this right.
The most common mistake here is to panic and just pull on all your warmest clothes, including two cotton hoodies, your burliest down jacket and rain pants worn over your warmest sweatpants worn over your running leggings, but that's actually not the best approach. First, cotton clothing is a terrible idea because when it gets wet, from snow or sweat, it stays wet and you get cold and miserable. Second, wearing too many heavy layers just makes it difficult to move, which isn't going to help you when it comes to skiing.
Here's what to wear for your first ski lesson:
Either ski pants or waterproof trousers over thermal underwear – everything should be stretchy.
Knee length ski socks made from merino wool or synthetic fabric – these provide warmth and padding from your ski boots.
A base layer, a fleece jacket and a ski jacket which is windproof, waterproof, insulated and has pockets.
Ski gloves that are insulated, windproof and waterproof.
Carry a balaclava or neck gaiter to cover your face if it's very cold.
Ski goggles provide the best eye protection, and are a better choice than sunglasses. If you're wearing sunglasses, make sure they're polarized and rimless for the best visibility.
You can wear a beanie to the slopes, but you should be wearing a helmet when you're on the hill which will keep your head cozy and the beanie goes in your pocket.
You'll be wearing ski boots which you can rent along with your skis, so don't do what I did and bring multiple pairs of footwear, but you might be walking over slick terrain to get to the resort, so wear winter hiking boots or snow boots with good grip.
3. Ski boots are uncomfortable
Alpine ski boots are clunky, heavy, stiff boots made from plastic with metal buckles. They're painful to get on, difficult to buckle up and near-impossible to walk in. The folks at the rental shop will help you with all of that. They'll measure your feet, have you try on a couple of sizes and talk to you to make sure you feel alright in your boots. Basically, when you're seated, your toes should just graze the end of the boot, but when you stand up and bend your knees, they shouldn't touch. If your toes are jammed into the end of the boot, speak up, since you won't be able to ski like this. Likewise, don't pretend your toes are touching if they're not because it's more comfortable, as your foot sliding around in the boot means rubbing and less control.
Once you've got your boots, the rental shop will choose a pair of skis that are good for beginners – shorter and a bit more flexible – adjust your bindings to fit your boots, and send you on your way to meet your instructor. You're not going to know how to carry your skis just yet, but just try not to clobber anyone and we'll get to that next.
4. You'll learn how to use the equipment
Ski lessons aren't just about learning how to turn and stop on skis; before you even get to that, you'll need to know how to carry your skis properly, how to walk in ski boots and how to get in and out of your bindings. All of these will be covered before you start actually trying to slide around on skis.
5. Don't worry, you'll do plenty of skiing
If all of this is sounding a bit boring and you're rethinking the idea of going for a ski lesson after all, stop right there. Once you've got your ski rentals, things will move at a fast clip and you'll soon be on the snow. You'll start out with basic drills to teach you how to stand, start moving, turn and stop. You'll be doing all of these without pole planting and initially on beginner terrain, which means a nearly-flat bunny slope at the base of a mountain, or flatter terrain that can be reached by gondola, which means you don't need to worry about loading the chairlift yet.
Once you're confident with the basics of stopping and starting, you'll get a lesson in how to get on the chairlift and head further up the mountain, where you'll get another lesson in how to get off the chairlift without causing a pileup. Here, you'll be able to practice your techniques on beginner-friendly slopes – make sure to take lots of breaks to enjoy the views.
6. You'll be on beginner terrain
As I mentioned before, you'll probably start on a bunny hill and make your way up to a green run, which is usually a gentle, snow-covered service road otherwise known as a cat track that winds its way down the mountain. You won't pick up much speed on these slopes, and they'll be wider, giving you plenty of room to make your turns. Speedy skiers are usually off bombing black diamond trails so beginner terrain should be quieter too.
7. You'll probably fall, but it won't hurt (much)
Skiing is a game of gravity, and falling is inevitable. Even the best skiers wipe out from time to time, so don't feel embarrassed or worried about falling down. Balancing on two skinny planks that are waxed to slide around on a slick surface is tough! The good news is that you won't be going fast enough for a fall to do you much harm at this stage, barring any fluke accidents, and the snow is quite soft to land on. Getting up after falling is the worst part, but that will be covered in the lesson and it's why it's actually helpful to fall since you don't want to have to figure that out for yourself half way down a blue run in a couple of weeks.
8. Tips are appreciated
If you're taking your first ski lesson in North America anyway, tips are generally appreciated. I know that can seem ludicrous, given the price of a ski lesson, but unless you're skiing with the owner of the company or an independent instructor, the majority of that money doesn't go to the instructor, who might be making a fairly measly hourly wage for a pretty demanding job. Also, the cost of living in and around ski resorts is usually unfathomable, mostly because tourists like us come in and gobble up all the real estate so there's nowhere to live. Anyway, if you're unsure about this, call ahead and ask about etiquette, but the instructor probably won't mind if you sling them a $20 at the end of the day.
9. You're going to be sore
After your first ski lesson, you're almost certainly going to be sore. Even if you're really fit, no activity really uses your muscles quite the way skiing does, and you might have sore quads, calves and ankles. Hit the hot tub and do some stretching with our yoga for skiers sequence, especially if you're planning on skiing again tomorrow.
10. It gets easier
In the beginning, skiing is seriously hard work, but that's mostly because the beginner turning technique of snow plowing your way down the mountain means your quads are basically in eccentric contraction the entire way. Once you learn how to parallel turn, then carve, it gets easier, trust me. In fact, if you end up skiing regularly, you'll be able to ski half days without feeling anything at all. Except joy.
How many hours of ski lessons does a beginner need?
As for how much instruction you need, it really all depends on your learning curve and confidence. At an absolute minimum, a full day is a good idea to get you started, but ideally you'd take two or three lessons to start out, then take improvers and advanced lessons in subsequent ski seasons to help you improve, as I discovered when I finally learned to ski after 20 years of skiing recently in Switzerland. In fact, I'm coming to the conclusion that you're never too good for a ski lesson.
All the latest inspiration, tips and guides to help you plan your next Advnture!
Julia Clarke is a staff writer for Advnture.com and the author of the book Restorative Yoga for Beginners. She loves to explore mountains on foot, bike, skis and belay and then recover on the the yoga mat. Julia graduated with a degree in journalism in 2004 and spent eight years working as a radio presenter in Kansas City, Vermont, Boston and New York City before discovering the joys of the Rocky Mountains. She then detoured west to Colorado and enjoyed 11 years teaching yoga in Vail before returning to her hometown of Glasgow, Scotland in 2020 to focus on family and writing.