Meet the world record carp lake's other monster fish!
The mega prolific Euro-Aqua has also proven it's a mecca for specimens of other fish species.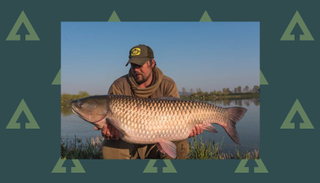 (Image credit: Angler's Mail)
Welcome to Advnture, the new home of AnglersMail.co.uk
Hungary's mega prolific Euro-Aqua is of of best known for its World record carp, twice setting the record and currently No.1 with a fish of 105 lb 13 oz.
But the awesome lake has other impressive coarse fish, which rarely make the news.
Like nearly all visitors, Luke Vanes went over to the 1,500 Euros-a-week 28 acre lake for the carp….
But he ended up with a 41 lb 4 oz grass carp (pictured above) and a 20 lb 10 oz zander. He also landed 16 big carp.
Monster zander and grass carp
Walsall, West Midlands-based Luke believes his zander is a venue record for Euro-Aqua.
The 34-year-old shop fitter explained: "It was amazing to catch a PB zander of 20 lb 12 oz as I was just after the carp.
"It was caught using a fishery–own boilie at 130 yards and my reel went into meltdown on the take and I just thought it was another carp."
"I was shocked when I got it nearer the bank and it turned out to be this huge zander.
"They said they didn't know how big they grow there as they have not been fished for properly.
"It was a great trip and the grass carp was pretty special too," he concluded.
World record carp 'fed up'
The World carp record fell at Euro-Aqua to Tomas Krist from the Czech Republic with a 105 lb 13 oz monster.
And the biggest carp by an English angler also fell at Euro-Aqua to Portsmouth's Stephen Weir at 104 lb 2 oz.
The high cost to fish there also includes all bait, food and beer plus the huge stocks that included 5,000 carp with 226 over 66 lb and 18 over 80 lb and possibly up to four fish over 100 lb.
Venue owner Alexander Horvath keeps the huge stocks fed by feeding up to four ton of maize and 400 kilos of high protein boilies per week for most part of the year.
All the latest inspiration, tips and guides to help you plan your next Advnture!