Is the John Muir Trail the perfect long distance hike?
The John Muir trail delivers outstanding beauty and challenge without the commitment of a longer trek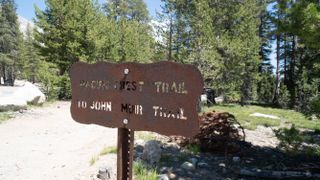 (Image credit: Melissa Kopka)
Are you looking for a long distance hiking trail that's, well, not crazy long? It's fair enough – you might be looking for something that you can cut your teeth on before tackling the Appalachian Trail, or perhaps you're just not able to opt out of your life for the best part of half a year. If so, a long distance trail like the John Muir Trail might be just the ticket.
Named for the so-called 'father of the National Parks,' John Muir, the route was pioneered by explorer Joseph Nisbet LeConte all the way back in 1908 and the Sierra Club began work on construction in 1914.
At 211 miles long, the JMT is a mere tenth of the length of the more famous AT, but this trail packs a lot into those miles. Stretching between the summit of Mount Whitney and Happy Isles in Yosemite National Park, the trail traverses the backbone of the Sierra Nevada mountain range in northern California. Hikers on the trail spend the majority of their trek in the wilderness, exploring high alpine scenery such as 14ers and 13ers, lakes galore and visits to Yosemite, Sequoia and Kings Canyon National Parks. About 160 miles of the trail follow the same route as the far longer Pacific Crest Trail, which stretches from Canada to Mexico. In short, it delivers some of the most dazzling views you can set your eyes on, and doesn't take months of planning or hiking to complete.
How long does it take to hike John Muir Trail?
At just over 200 miles, hiking the JMT is certainly a lesser commitment than something like the PCT, which takes most hikers five months, but how long it takes really depends on your pace and ability. A good average is two to three weeks for the JMT, meaning you'd be hiking between 10 and 15 miles per day, and your total journey would depend on whether you schedule in any rest days or want to stop off and explore the National Parks on the way. There are certainly hikers who fastpack it in less – in fact, ultrarunner François D'Haene ran it in two days and 19 hours in 2017, but if you're planning on doing it in hiking boots, you'll want to leave a bit more time. That said, you could feasibly do this walk using your annual vacation time and have a great story to tell around the water cooler when you get back to work.
How hard is the John Muir Trail?
Don't be fooled – the JMT may not involve five gruelling months of hiking from Georgia's humid heat to the snowy summit of Mount Katahdin, but neither is it an easy jaunt. Almost the entire trail lies above 8,000ft, so if you're not used to high altitude hiking you'll want to give your body time to adapt, and that might mean you don't move as quickly as you're used to back east. Unsurprisingly, the 30-mile section around Mount Whitney is even higher – around 10,000ft above sea level, which means you may encounter cold and snowy conditions. Though the Whitney trail is non-technical, it is strenuous. For this reason, the recommended hiking season on the JMT is quite short, lasting from about July to September, unless you want to hike with a winter tent and crampons.
On the other end of that spectrum, the summer months frequently bring wildfires to northern California, which may cut your hike short and can make for uncomfortable – and even unhealthy – conditions. You'll be at elevation and in very remote areas virtually the entire way, but on the plus side the trail is very well-marked.
Because the trail isn't thousands of miles long, there's no weather advantage of hiking it south-to-north versus north-to-south. The southbound route is far more popular, even though it has more significant elevation gain, because people can build up their fitness for the highest altitude at the end and presumably like the idea of ending their adventure on the summit of the highest mountain in the lower 48. However, if you hike it northbound you'll get the big climbs over earlier, and might find that you get more solo time from other walkers.
Some things that make the experience a little easier is how many resupply stores are conveniently located along the way and how easy it is to get to. In particular, there is public transportation to Yosemite National Park via the YARTS bus system, though a car is needed to get from Lone Pine, CA to Whitney. Though the hike itself is remote, you're never too far from an international airport such as Reno, San Francisco, Sacramento, Oakland, Fresno and Las Vegas.
What arguably makes hiking the JMT most difficult is getting your hands on a permit, so let's talk about that in the next section.
How much does it cost to hike the JMT?
You do need a permit to hike the JMT, though it's not expensive. If you're hiking southbound, you'll need to furnish yourself with a Yosemite Wilderness Permit. Reservations are only $10, but these are awarded by lottery and are available 24 weeks in advance of your hike.
If you're hiking northbound, you'll need a Whitney Portal Permit, which only costs $15 but is in high demand. If you miss the February lottery, another lottery opens up on April 22 for the remaining spots.
Beyond that, you'll obviously need backpacking gear, such as a hiking backpack, one-person tent or bivy, lightweight sleeping pad and sleeping bag and a camping stove, but you will need to invest in less gear than you would for a longer thru-hike. After all, you're unlikely to go through several pairs of hiking shoes in just three weeks.
Beyond that, you just need to supply yourself with enough food for the trip. The cheapest approach is to mail yourself resupply packages to the resupply stores and post offices along the way, or you could pay a little more and stock up at those stores.
Are there grizzlies on the John Muir Trail?
This is a common question, and the answer is no, there are no grizzly bears on the JMT. There are, however, lots of black bears and you'll need to understand what to do if you meet a bear on the trail, carry bear spray and know how to secure your food from bears and other wildlife using a bear bag or bear canister.
All the latest inspiration, tips and guides to help you plan your next Advnture!
Julia Clarke is a staff writer for Advnture.com and the author of the book Restorative Yoga for Beginners. She loves to explore mountains on foot, bike, skis and belay and then recover on the the yoga mat. Julia graduated with a degree in journalism in 2004 and spent eight years working as a radio presenter in Kansas City, Vermont, Boston and New York City before discovering the joys of the Rocky Mountains. She then detoured west to Colorado and enjoyed 11 years teaching yoga in Vail before returning to her hometown of Glasgow, Scotland in 2020 to focus on family and writing.