10 reasons to try urban hiking this weekend
Across the country active, outdoorsy folks are using urban hiking as a means to have an epic adventure right on their own doorstep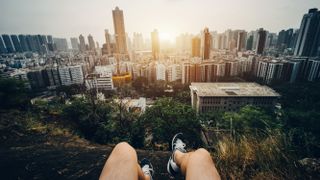 (Image credit: d3sign)
If you live in a city, tales and pictures of other people's mountain escapades might leave you with more than a little FOMO, but when the weekend rolls around, sometimes the last thing you want to do is spend an hour or more in the car to get to the trailhead. If you're thirsting to get outside but can't – or don't want to – drive for hours, the good news is that the gym isn't your only other option. Across the country active, outdoorsy folks are using urban hiking as a means to have an epic adventure right on their own doorstep, spend time outdoors, save on money and get to know their city better. Read on for the scoop on urban hiking and consider it next time you want to head for the hills, but don't have the bandwidth to get there.
What is urban hiking?
Urban hiking might sound like a contradiction in terms, but it really is exactly what it sounds like – using a city landscape for an adventurous and challenging escapade on foot. If you already live in one of the best cities for hiking, you might be able to find dirt trails without leaving the city limits – Mount Sanitas in Boulder, the Hollywood sign in LA or Discovery Park in Seattle, for example. But even if you don't live in one of these locations, you can still make your own urban hiking trail – from San Francisco to Hong Kong, city dwellers are creating their own adventures using combinations of trails, pavement, city parks and stairs in the absence of hills to get in some serious mileage and elevation around town.
What makes it an urban hike and not just a walk is the focus on adventure – the goal is in the activity itself, of moving through the city with a sense of discovery, and not just getting from A to B on foot. Rather than plugging your ears with headphones and getting your head down as you maneuver through the crowds, you can choose to marvel at the people and places you see on an urban hike, finding endless variety in your trails.
What are the benefits of urban hiking?
Being lovers of the mountains ourselves, we're certainly not advocating replacing hiking with urban hiking completely, but we can see a lot of arguments for it on occasion. Before we dive into the benefits, let's just state the obvious – unless you include a lot of green spaces on your urban hike, you will miss out on the mental health benefits of hiking in nature. You also will have to deal with the air and noise pollution that comes part and parcel with city life, and you can't (or really shouldn't) just jump behind a bush when you have to go to the bathroom. But besides those downsides, we think there are still some great reasons to give urban hiking a go this weekend.
1. It's convenient
Whereas getting to a hiking trail typically means at least 30 minutes of travel from an urban area, either in your car, on your bike or via public transport, an urban hike begins the moment you step outside your front door. You're saving at least an hour of travel time which means your hike eats up less of your weekend, and you can spend more time actually hiking.
2. It saves you money
As far as outdoor activities go, hiking is certainly one of the cheaper pursuits, but getting to the trailhead still requires gas in your tank or a bus or train ticket. If you're hiking on a budget, you can skip all the expenses (though it's tempting to stop off in all those great coffee shops on the way).
3. You already have all the gear
Getting kitted out for hiking also comes with a price tag, if you're planning on any mountain hikes and intend to stay safe with hiking layers, a compass and a good pair of hiking boots for those rocky trails. If you're taking off into the urban jungle, however, there's no need for a whole new wardrobe. The best shoes for urban hiking are probably your road running shoes, which are built for the pavement, while you can dress comfortably in a pair of running leggings and, if it's chilly, layer your fleece jacket over any running top you like. Though the ramifications of getting soaked in the city aren't quite the same as when you're up high on an exposed ridge, we do still recommend carrying a waterproof jacket in your backpack, but you can leave your crampons at home.
4. It's great exercise
True hiking is great for your health because it combines aerobic and strength conditioning as you climb uphill. With a lot of urban hiking, you can still get those physical benefits, especially if you're making sure your hike involves plenty of stairs. If you live in Colorado Springs, you can gain almost 2,000 feet on the Manitou Incline, while in San Francisco you could climb up to Coit Tower several times. London residents have got even more creative, using the steps up and down from the metro to get their vertical feet in.
5. It's better for the planet
By no means are we trying to keep you from the hills, but we're all aware that the more of us that flock to the mountains in cars, the greater the environmental impact of hiking. Carpooling is a great start, but staying in the area where you already are means less exhaust fumes pouring into our air and less feet trampling the forests.
6. There are no trail hazards
Naturally, cities have their own hazards, like cars and other people, but there are certain trail hazards that you're very unlikely to encounter in an urban environment – bears, lightning strikes and avalanches, just to name a few. This doesn't mean you shouldn't keep your eyes and ears open for other hazards, of course, just that you can probably leave the bear spray and first aid kit at home.
7. It's a great way to get to know your city
Let's face it, once you've found your favorite coffee shop and the fastest route to work, very rarely do you explore new streets and areas of your city. You tend to wear down the same routes day after day because walking is purely a means to get from one place to another. On an urban hike, however, you'll be amazed at what you discover – quirky streets, historic buildings, hidden green spaces and sweeping city scapes. In fact, urban hiking might be a way to fall in love with your city all over again, instead of viewing it as a place to escape from come the weekend.
8. It's easy to do with friends
There are loads of great benefits to hiking with friends, but it can be difficult to get everyone together, find a trail that suits every ability and even to find friends who have the gumption. There's no excuses to avoid an urban hike, however, since there's no real travel or cost involved. People can drop out and catch the bus home whenever they want to, and you can always turn it into a whole-day event, with a yoga class, coffee or beer afterwards.
9. And safe to do alone
Any mountain rescue personnel will advise you never to go hiking alone. That way, if you sprain your ankle or get hit by rock fall, there's someone around to help you. But you probably think nothing of walking around by yourself in your city all the time. We're not saying that there aren't any dangers of doing so, but urban hiking alone isn't any less dangerous than walking to work alone, and you might really enjoy the contrast between ample alone time and lots of people watching.
10. It's hard to get lost
It's definitely not true that you can't get lost in a city, especially a sprawling one, but with today's technology, you can always rely on your phone to get you out of a pickle, whether that's using Google Maps to find the best bus route home or call yourself an Uber. Are you ready for an urban hike? Download Komoot to find trails near you.
All the latest inspiration, tips and guides to help you plan your next Advnture!
Julia Clarke is a staff writer for Advnture.com and the author of the book Restorative Yoga for Beginners. She loves to explore mountains on foot, bike, skis and belay and then recover on the the yoga mat. Julia graduated with a degree in journalism in 2004 and spent eight years working as a radio presenter in Kansas City, Vermont, Boston and New York City before discovering the joys of the Rocky Mountains. She then detoured west to Colorado and enjoyed 11 years teaching yoga in Vail before returning to her hometown of Glasgow, Scotland in 2020 to focus on family and writing.