Your first hike can make or break your relationship with the outdoors – here's how to make it a lifelong love affair
A bad first hike can make sure you never hit the trail again – here are 6 tips to make sure you have a successful debut on the trail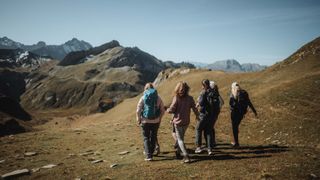 (Image credit: Manon Guenot)
Those of us who have been hiking for a while usually remember our first hike, but not always for the same reasons. When I first moved to Colorado back in 2009, my new friends Kiara and Justin took me on a beautiful 6-mile hike to Beaver Lake near Vail on an old wagon trail that winds up the mountain through aspens and pine. They chose it because it had been their first hike in the area and they had fond memories of it, which was clear by the way they excitedly chatted about it on the way up. It was a testament to the positive experience they'd both had here.
But not all first hikes are good hikes. When Macy Pierson hiked that same trail three years ago, she says it was a horrible experience.
"I totally overestimated my fitness and felt like I was dying, but I was hiking with two other people so I didn't want to slow them down. I couldn't catch my breath, my sneakers were rubbing and I didn't bring enough water. I honestly hated every minute."
Pierson left the mountains for a job opportunity Chicago a few months later, so it's hard to say whether she'd have given hiking another chance, but she thinks it's unlikely.
This topic came up for me recently when I was attending an event organized by Helly Hansen and AKA, a UK-based charity dedicated to creating opportunities for disadvantaged groups to access the outdoors. Antwon, Kevin and Anton, the masterminds behind AKA, hold guided hikes in Peak District for people who might otherwise feel like the outdoors is out of their reach. Their events draw dozens of people who have barely been out of urban areas before, and they explained to me that one of their most important tactics is ensuring that people have a good time the first time.
"If you can make sure people have a good time on their first hike, they'll come back, but if they wear the wrong shoes or they get cold and have a bad time, they won't want to do it again," says Kevin.
Though the trial-by-fire approach can be effective for other activities, when it comes to hiking, when you're dealing with the elements as much as the physical exertion, it really pays to be prepared. If you're unprepared and don't enjoy yourself, statistically speaking you'll still walk off the mountain in one piece, but you might never get on the trail again, and that would be the real tragedy as hiking can have some amazing benefits.
Your first hike can make or break how you feel about the outdoors – here's how to make it a lifelong habit.
1. Hike with a group or a guide
Hiking with others is a common part of mountain safety – if you get injured or fall ill, it means someone else is there to send for help. However, for your first hike, it's even more important because it can ensure that you are supported in every step of the way, from what to pack to pacing yourself. Without a little prompting and advice, your hiking dreams might never get passed the coveting-other-people's-photos-on-Instagram phase, so grab a buddy for reinforcement.
Hiking with a friend can be truly great, but make sure that it's someone you trust not to get you out of your depth or leave you behind if they want to race ahead to the summit. Hiking with a guide ensures you'll be as safe as possible at all times, but may cost more than you're able to afford, so consider instead hiking with a local group that's used to accommodating and welcoming newcomers.
A quick search on social media can help you find groups near you. It's also a great way to meet other new and experienced hikers you can make plans with for your next adventure.
2. Choose the right shoes
One of the biggest factors that contributes to people never returning to the hiking trail comes with wearing the wrong type of footwear. Lack of traction can mean you end up slipping and sliding all over the place, non-waterproof boots can leave you with frozen feet and ill-fitting shoes can rub and give you painful blisters, none of which is likely to have you putting those shoes on again in a hurry.
Though you don't necessarily need to go out and drop hundreds of dollars on all the best hiking gear, you do need to find the right footwear. Whether you're going with sturdy hiking boots or lighter hiking shoes (or even trail running shoes), you'll want to ensure you've got good grip under foot and, as a general rule of thumb, size up by at least a half size to give your feet room to swell and wear bulky hiking socks.
Whether you need boots or shoes or waterproofing all depends a bit on the weather and the terrain, but you can start with our articles on hiking boots vs shoes and how to choose hiking boots to get an idea of what to look for.
3. Layer for success
Spending the majority of your hike uncomfortably cold isn't just miserable – it can be dangerous. Cold-related illnesses like frostbite and hypothermia can pose a real risk to your health, and though it seems a little counterintuitive, if you just bundle up in your heaviest layers, you could end up overheating, getting sweaty and then still getting chilled.
Dressing in hiking layers takes a little practice, but it's a really effective way of staying dry and managing your temperature. Remember that even if it's cold out, you'll be moving and breathing hard, so you need to be able to remove layers, and wear clothes made from moisture-wicking materials so you don't end up soaked.
Basically, hiking layers involve starting with a sweat-wicking base layer, wearing an insulated mid layer such as a fleece jacket, and a shell layer over the top such as a waterproof jacket that fends off both rain and wind. This can be tailored a little for extreme conditions, and you can learn more in our article on hiking layers.
4. Be realistic about your fitness level
Your first hike can be daunting, and the chances are, you'll be able to hike further than you think, but you don't want to fall into the trap that lies at the other end of the spectrum of confidence either. It can be easy to get carried away, point at the most exciting-looking pyramid-shaped peak in the distance and take on something that's well beyond your ability level.
Even if you're generally quite fit and active, hiking is a different kettle of fish to running or gym workouts. Yes, it's just walking, but it's often walking for quite a long time and in an uphill fashion that uses a whole different set of muscles than strolling along the canal towpath.
For your first hike, start easy. Find a low hill, a forest trail or a meandering coastal path that doesn't gain too much elevation too quickly. If you're researching routes on your own, look for routes that don't gain more than 500 feet per mile so they won't be too steep. Start with something in the two to five-mile range for distance, and remember you can always turn back before reaching the summit or scenic point. Focus on the journey; the destination will be there next time you attempt it.
5. Take breaks
Just as runners can be funny about taking breaks when they're on the trot, it might seem like taking lots of rest stops on a hike is a rookie move, but nothing could be further from the truth. The whole point of being on a trail, and not a Stairmaster, is to soak up the splendor of nature.
Pace yourself by not walking so fast you get out of breath every 30 seconds, and take regular breaks to catch your breath, admire the scenery, sip water and just enjoy the whole journey. If you try to push through, you'll just be exhausted by the time you're halfway up the trail which can feel really dispiriting. Remember, at the end of the day you'll still have hiked the same distance, no matter how long it took you, and a slower hike just means you get more time in nature.
6. Bring some fuel
If exercise for you usually looks like an hour-long fitness class or a half-hour run, you're probably not used to bringing along snacks, but when you go hiking it's a good idea. Not only are you likely to need more fuel if you're exercising for several hours and getting cold, but the best hiking snacks can help keep your spirits lifted.
Don't hike like a Spartan – sitting on a chilly summit with a flask of hot chocolate and a slice of cake does wonders for the soul.
All the latest inspiration, tips and guides to help you plan your next Advnture!
Julia Clarke is a staff writer for Advnture.com and the author of the book Restorative Yoga for Beginners. She loves to explore mountains on foot, bike, skis and belay and then recover on the the yoga mat. Julia graduated with a degree in journalism in 2004 and spent eight years working as a radio presenter in Kansas City, Vermont, Boston and New York City before discovering the joys of the Rocky Mountains. She then detoured west to Colorado and enjoyed 11 years teaching yoga in Vail before returning to her hometown of Glasgow, Scotland in 2020 to focus on family and writing.