How to go backpacking on a budget
Our 12 tips for backpacking on a budget get you overnights in the wild without breaking the bank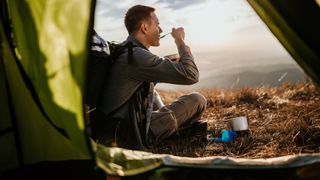 (Image credit: StefaNikolic)
Backpacking is the perfect retreat from the hectic pace of modern life: no possessions other than those you can carry, nothing between you and the trail but the soles of your best hiking boots, and nothing to focus your mind on but the great outdoors. With everything that's going on in the world, it's no wonder that more people than ever are opting for slow travel, taking more time and spending less money to reach new destinations. In fact, that last criteria – spending less – is definitely part of the appeal of backpacking.
However, backpacking still requires some money and that seems to be something there's less and less of these days. Whether you're trying to plan for a thru-hike or just seeking the best cost-saving measures to maximize your hiking season, our tips for backpacking on a budget help you reduce the financial costs of backpacking without shrinking your time on the trail.
If you're not planning on overnight trips and just want to learn how to go day hiking without overspending, check out our tips for hiking on a budget.
1. Rent, or borrow gear
To say that backpacking requires quite a lot of gear is an understatement. In fact, it easily involves more gear than just about any other outdoor activity we can think of. In addition to the hiking essentials such as a waterproof jacket and boots, you need a big backpack, a tent, best sleeping bag and sleeping pad and camping stove, just to get started.
The initial investment in gear is easily the biggest expenditure for most backpacking trips, and if you're going to be using your gear a lot, it's worth buying your own, and we'll explain how to do that on the cheap in the next couple of tips. However, if you're going on a one-off backpacking trip that's not more than a few days, or backpacking is something you do every few years, you should definitely explore renting or borrowing gear instead.
Gear shops often rent larger items like tents, and even brands like Rab are beginning to get in on the act. Though there is a rental fee, it's much cheaper than buying, and if there's no rental option near you, ask friends and family if you can borrow their gear. After all, when you're not using your backpacking gear, it's basically gathering dust in storage.
2. Look for pre-loved gear
If you're planning to get plenty of use out of your backpacking gear, buying it is the best option, but you can help your wallet and the planet by shopping for second hand gear.
Lots of outdoor gear brands and outlets large and small are embracing the practice of selling used gear – REI, Patagonia and Peak Design, to name a few – and they've usually spruced it up with cleaning and repairs. In the UK, where charity shops selling second hand gear are common, we recommend going to backpacking-centric places such as the Lake District, the Peak District and the Highlands. You'll be amazed at the volume of high end, gently used gear you can find at low prices.
For even deeper discounts, individuals are often selling off their old gear online at really good prices, and might even accept your counter offer.
3. Wait for sales
This is a bit of a no-brainer, but if you've got the patience and you want high end gear that hasn't been used, your best bet is to wait for the sales. Black Friday camping deals can get you 50% off (or even more) in November, and in January you'll find retailers unloading great gear at really low prices to clear the shelves for new lines coming in the spring. The thriftiest backpacker gets kitted out in the cold months when no one else is thinking about hiking, then hits the trail in style come hiking season.
4. Buy gear that's versatile
Whether you're shopping new or used, another way to reduce the costs of backpacking gear is to buy items that are versatile. Rather than having a sleeping bag for each season, invest in a three-season bag. In the colder months, sleep with more clothes, and in the summer, unzip your bag. Find a sleeping pad and tent that are light and packable enough for backpacking, but also comfortable and roomy enough for car camping trips so you don't end up with two of everything. Consider using a foam sleeping pad instead of an inflatable one, so it can double as a seat on the trail.
5. Don't let an ounce or two tip the scales
Even though we've shared tips on ultralight camping, and featherlight gear is all the rage these days, there's no doubt that the lighter the gear, the more money you're likely to spend. While a few kilos will certainly make a difference when you're carrying everything, you're not likely to notice a few ounces here and there, if we're being honest. If the difference between two one-person tents is a few ounces but hundreds of dollars, get the heavier one as long as it's good quality. To return briefly to to our previous tip, ultralight gear may not be as versatile, so if you focus on just that, you might end up needing twice the kit when you want to go frontcountry camping.
6. Ask for backpacking gear as gifts
Let's face it – the season of giving can be tortuous for many of us, and not just because of the financial burden. Many of us simply don't have that magic touch when it comes to choosing the perfect gift. Take the stress off your loved ones by asking them for gear – or gift certificates to camping stores – and make everyone's life that bit easier.
7. Choose synthetic down
Though we love the performance of gear made using natural materials, and it's often more environmentally friendly, we'll be the first to admit that it's usually more costly. Synthetic materials have come a long way in terms of performance, and outdoor brands are working hard to make it more eco-friendly by using recycled materials and BPA-free plastic. For insulated items like your sleeping bag and down jacket, you can usually save with synthetic down, and still stay plenty warm.
8. Use a trash bag as your pack liner
This one is quick and easy, but will still save you a few bucks. Instead of forking out for a rain cover for your backpack, line it with a sturdy trash bag. This will do the trick in a downpour and if you take good care of it, you can use it to line your trash can when you get back home.
9. Plan your meals
Pretty much everything in life is cheaper if you plan it ahead of time, and this is certainly true for your backpacking meals. Of course, if you're going to be miles from civilization for days, you'll have to do at least some planning, but it can be easy to just buy everything you know you like, decant it out of its bulky packaging and eat whatever sounds good in the moment.
You can save money by sitting down and planning out each meal for every day, and seeing where one purchase can be spread out over two or three meals. For example, trail mix and peanut butter can bulk up your breakfast oatmeal as well as being a snack, while tortillas can make easy wraps at lunch and camping quesadillas at dinner. Get more inspiration with our ideas for backpacking meals.
10. Make your own meals
Dehydrated and freeze dried meals are amazingly convenient, but they definitely don't come cheap. A single meal can set you back $10, which you could use to buy five days worth of instant noodles and tuna. Better yet, instead of buying pre-packaged pasta and rice dishes, you can just portion out pasta and rice at home into sealable plastic bags and buy packets of powdered sauce to go with them for under a dollar.
11. Cook over the campfire… if you dare
We'll admit, this one is a little risky, but if – and only if – you're a dab hand at building a campfire, you're expecting dry weather, and you know there's lots of kindling where you're going, you could forego buying a camping stove and use good old fashioned flame. It's not as reliable as a stove, but let's face it, humans managed this way for millennia. It does mean building a fire for every meal, so for this option you might want to have breakfast bars and cold wraps for breakfast and lunch, and save your hot meal for dinner time.
12. Use a GPS app on your phone
We love the best Garmin watch as much as the next backpacker, but this pricey piece of tech isn't the only way to navigate. We always recommend using a map and compass first and foremost, but since you almost definitely own a smartphone, why not download a free GPS app instead, at least until the holidays roll around and you can ask for one of the best GPS watches as a gift?
All the latest inspiration, tips and guides to help you plan your next Advnture!
Julia Clarke is a staff writer for Advnture.com and the author of the book Restorative Yoga for Beginners. She loves to explore mountains on foot, bike, skis and belay and then recover on the the yoga mat. Julia graduated with a degree in journalism in 2004 and spent eight years working as a radio presenter in Kansas City, Vermont, Boston and New York City before discovering the joys of the Rocky Mountains. She then detoured west to Colorado and enjoyed 11 years teaching yoga in Vail before returning to her hometown of Glasgow, Scotland in 2020 to focus on family and writing.