How to dry clothes while camping
Get soaked camping or backpacking? Don't worry, it's easy to dry clothes while camping so you can set off warm, dry and comfortable tomorrow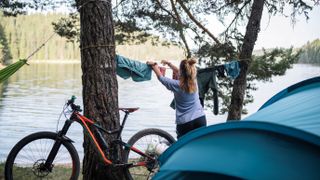 (Image credit: ArtistGNDphotography)
So you get a little wet while camping. It happens. Lots of us, myself included, live in places where if you waited for a dry day to camp, you'd never leave the house. Whether your waterproof jacket and rain pants finally wetted out on a rainy backpacking trip and left you with a damp base layer or your hiking socks got soaked crossing a bog, wet clothes need to be taken care of. If you're facing cold weather, wet clothing can increase your chances of developing hypothermia, while in mild or warm weather, it's just an uncomfortable nuisance. But don't worry, it's pretty easy to dry clothes while camping so you can set off warm, dry and comfortable tomorrow.
Before we dive in, one of the best ways to speed up the drying process of your clothes is to only wear clothes made using quick drying fabrics. That means absolutely no cotton, and probably avoiding bamboo too, even though we know you love how soft it feels. Instead, go for outdoor gear made using polyester (best), nylon and merino wool so that if you do get camp with sweaty base layers or drenched socks, they'll dry quickly. In fact, really lightweight hiking pants like the Black Diamond Alpine Softshell Pants are usually dry again within 20 minutes of the rain letting up.
How to dry clothes while camping
If you arrive at camp with wet clothes, it's best to deal with it as soon as possible. If they're soaked through, hand-wring them out to squeeze out as much moisture as possible before proceeding with one of the following options.
1. Use a clothesline
Since the advent of tumble dryers, using a clothes line can seem a bit old fashioned, but the classic method of drying clothes is still one of the best. A simple nylon clothes line is lightweight and packable, plus it can have plenty of other uses at camp, so there's no reason not to bring one (and a couple of clothes pegs) whether you're backpacking or car camping. In general, this method is most effective if you have some airflow, so try to find a spot where your clothes can flap in the breeze. There are a few ways you can use a clothesline:
Between two trees: If it's sunny (or not raining) outside, just string it up between two trees in a sunny, unsheltered spot where the sun and breeze will have your gear dry in no time. If there aren't any trees, you might be able to get creative using your trekking poles.
By the campfire: If it's already night time by the time you get to camp and the temperatures have cooled off, you might end up with frozen clothes rather than dry ones. You can still use your clothesline, but set it up close to the campfire to speed things up. Don't place your clothes or clothesline so close that they can catch fire or get damaged by stray sparks.
Under a tarp: If the wet weather is socked in, all is not lost, providing you've brought a tarp. A camping tarp is a really handy piece of gear that you can rig up for shelter, and hang your clothesline underneath.
Inside your tent: This is our least favorite option, but if you're backpacking, you may not have room in your backpack for a tarp, so if it's late or rainy, string up your clothesline inside your tent, open any vents to increase airflow and sleep with your clothes drying above you. This does increase the chances of condensation in your tent, so make sure to wring them out well beforehand.
2. Over your tent or on a rock
If you don't have a clothesline and the sun is back out, the easiest way to dry your clothes is to just hang them over your tent once you've pitched it, or lay them out on a warm rock. Make sure to turn them over every half hour to help things along.
3. By the campfire
Even without a clothesline, you can use the campfire to quickly dry your clothes. Lay them out on rocks surrounding the fire, or over your camping chair close enough that the heat will gently steam them dry, but not so close that you risk them going up in flames.
4. On your body
This one might sound like a bit of a contradiction, but if you're wearing clothing made from a quick drying fabric, you might be able to dry it while you wear it. When you get to camp, strip off your wet layers and put on dry clothing. Then you can put your wet clothing on over the top, so that you feel dry and warm, and you're helping to dry out the wet clothes using your body heat. Make sure your outermost layer is breathable, and huddle round the fire, or if you are using a synthetic sleeping bag, you can even climb inside your sleeping bag for the night and dry out your clothes. We don't recommend this with a down sleeping bag, however, as down can lose its insulating properties when wet.
5. Inside your sleeping bag
If you just have small items, like socks and hiking gloves, that you want to dry out. You don't have to wear them. Just bring them inside your sleeping bag and let your body heat dry them out while you sleep.
6. On your backpack or jacket
This is a backpacker's classic method. If you're trying to dry out smaller items, such as socks and underwear, you can hang them from your backpack during the day while you walk. Obviously this only works if the weather is dry. If it's wet, you can hang it inside your waterproof jacket and use your body heat. Always bring a couple of rubber bands or lightweight carabiners for just this purpose.
All the latest inspiration, tips and guides to help you plan your next Advnture!
Julia Clarke is a staff writer for Advnture.com and the author of the book Restorative Yoga for Beginners. She loves to explore mountains on foot, bike, skis and belay and then recover on the the yoga mat. Julia graduated with a degree in journalism in 2004 and spent eight years working as a radio presenter in Kansas City, Vermont, Boston and New York City before discovering the joys of the Rocky Mountains. She then detoured west to Colorado and enjoyed 11 years teaching yoga in Vail before returning to her hometown of Glasgow, Scotland in 2020 to focus on family and writing.